Burn ban expanded to include 30 NC counties as drought conditions continue
Mecklenburg, Iredell, Lincoln, Catawba and other counties are now also included in the ban.
Published: Nov. 8, 2023 at 11:42 AM EST
CHARLOTTE, N.C. (WBTV) - A burn ban has been expanded to include a total of 30 counties in North Carolina.
The ban, which is exclusive to the western half of the state, now includes Ashe, Avery, Caldwell, Catawba, Iredell, Lincoln, Mecklenburg and Watauga counties, among others.
The NC Department of Agriculture & Consumer Services said the expanded ban will go into effect at 5 p.m. on Wednesday.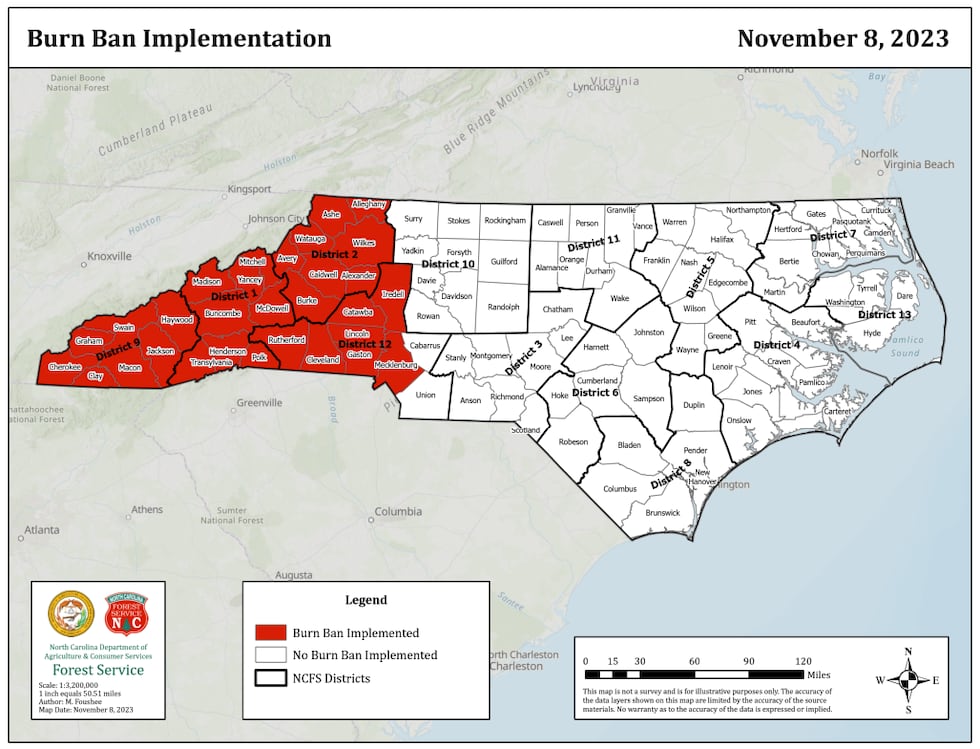 As part of the ban, all open burning is prohibited and the issuing of new burning permits has been stopped.
"With the long-range forecast and conditions on the ground showing no improvement, expanding the ban on open burning to additional counties is a necessary precaution," Agriculture Commissioner Steve Troxler said. "We keep a close eye on weather, fire danger and fuel conditions, especially this time of year."
Troxler said his team is making daily assessments and the ban could be expanded further if necessary.
Under the law, anyone who violates the ban could face a $100 fine, plus court costs. Anyone found liable for setting a fire could also be subject to covering expenses related to putting it out.
Both law enforcement and local fire departments are working to enforce the ban.
In areas outside of the burn ban, Troxler urged state residents to use extreme caution if anything is burned.
Residents with questions regarding a specific county can contact their N.C. Forest Service county ranger or their county fire marshal's office. More information about the ban can also be found here.
Related: Burn ban implemented in several NC counties as state grapples with drought conditions
Watch continuous news coverage here:
Copyright 2023 WBTV. All rights reserved.