'Saw a guy riding down the sidewalk... texting on his phone.' Here come the scooters.
Updated: Jun. 15, 2018 at 8:53 AM EDT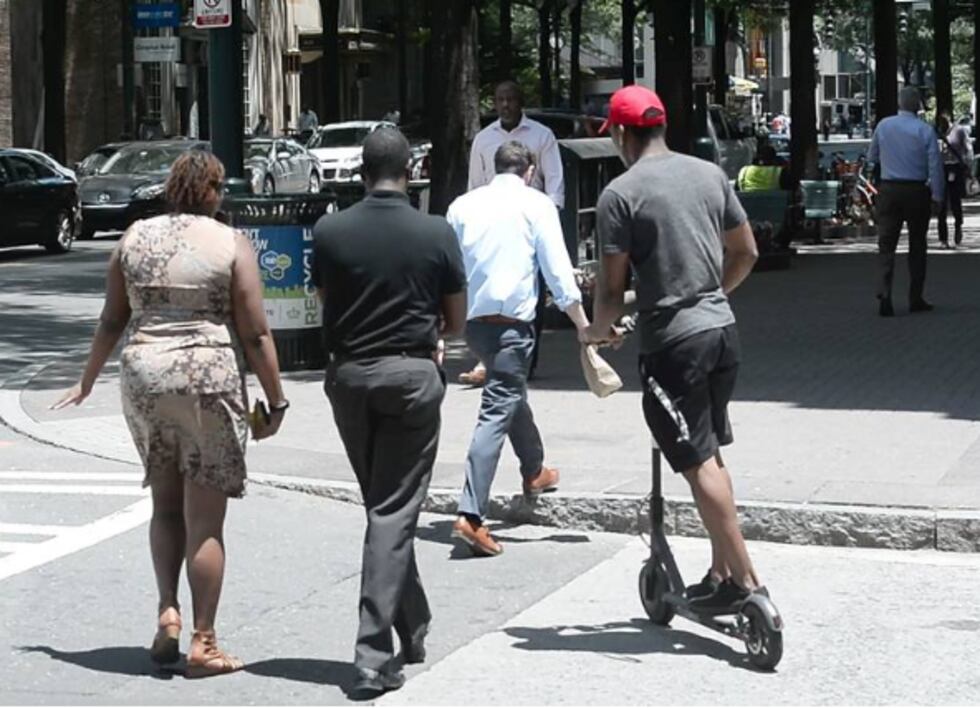 CHARLOTTE, NC (Bruce Henderson/The Charlotte Observer) - The sidewalks of uptown Charlotte have a new hum these days: the whisper of electric scooters, dozens of them, unleashed last month by a city experiment in new ways of getting around town.
The little two-wheelers in uptown, South End and a few other Charlotte neighborhoods are as novel as the first escalators would be in a small town. But as hipsters and businessmen alike whiz past bank towers and 70,000 uptown workers, a debate is already forming. Are scooters also accidents waiting to happen?
E-scooters are neither motor vehicles, bound to the street, nor pedestrian. They go about 15 miles an hour, a speed that is five times faster than the average walking pace and startling even to riders.
"This thing has got a lot of torque to it, I'm a little surprised there," first-time rider Chelton Mitchell, 40, said during a pause down a sidewalk on College Street this week. "It's too fast but at the same time it's real controllable, it's got a good brake system on it. ... I heard they were giving out helmets for free. I would definitely use one."
The scooters are so new to Charlotte that police don't collect specific data on them, including accident reports, but riders have been seriously hurt in some of the dozen or more cities where they're used.
In Charlotte, scooters are a recent addition to a pilot program, intended as an alternative way to make short trips, that began last November and runs through October. Vendors were allowed to scatter hundreds of bicycles that can be rented through a smartphone app and simply left at the destination. Electric scooters work the same way.
But while the program spells out where to park scooters — on or near city-owned sidewalks, leaving room for walkers — the city has no enforceable rules on how and where they're ridden. It's illegal to ride bicycles on crowded center-city sidewalks, for example, but Charlotte has no such ordinance on electric scooters.
"Right now we're being flexible and learning, and our message is that everyone should be practicing safety first," said Amy Mitchell of the city transportation department. "That means wearing helmets at all times and obeying all traffic laws, including traffic signals" such as pedestrian walk signs.
Both the companies that have deployed scooters, Lime and Bird, require riders to be 18 and have driver's licenses. Both recommend that riders wear helmets, and tell customers to ride in bike lanes or roadways, not sidewalks.
Few users appear to read the fine print. Most scooter riders in uptown Charlotte ride the sidewalks and without helmets.
"Saw a guy riding down the sidewalk on an electric scooter texting on his phone," Charlottean Katie Monson wrote in response to an Observer Facebook post. "Oh, and I was in front of Discovery Place with my 3-year-old. Are they vehicles or are they pedestrians? Vehicles belong on the road and have to follow car rules. I'd love to see rules on use and then have them enforced."
Added reader Julian Cuthbertson: "You are not supposed to be on the sidewalk, you are supposed to wear a helmet, and you are supposed to be a licensed driver. The app asks for a valid ID when renting. All three of those rules are broken daily when I'm uptown."
Riders, in turn, say the speedy freewheelers are both useful and enjoyable.
"I just want to have a little fun once or twice a week," Pablo Escudero, 45, said as he unlocked a Lime scooter at the Square. "It just brings the kid out of me in a way, you know?"
Matthew Walls, 26, rides from home in South End to his job uptown at Wells Fargo, turning a 15-minute walk into a five-minute scoot. "When it's crowded you have to, like, weave in and out" on the sidewalk, he said.
Patrick Marseille, 46, who works in special transportation for the Charlotte Area Transit System, hops a scooter almost daily from his North Davidson job to an uptown gym during the time between his split morning and afternoon shifts. For a little more than $1 a trip, the scooter saves him from buying a bike, worrying about theft and 20 minutes each way.
But Marseille, who used to ride motorcycles, also sees trouble lurking. The scooters are "very fast," he said, and best ridden by those with some familiarity with them. He found that the brake lever, for instance, takes all four fingers to fully depress.
"You can ride one of these and if you're not used to the speed or how to brake properly, someone could easily ride right into oncoming traffic and obviously get killed — and it probably will happen," Marseille said. "But does that stop anybody from getting into an automobile, knowing how many people die per year, or a plane? No. It's going to happen eventually. Somebody's going to die eventually with these (scooters) being everywhere, and the carelessness of a cell phone and someone driving, that's a cocktail for someone dying eventually."
Injuries and shutdowns
E-scooters have already caught some unintended publicity in California, where Bird and Lime launched, and in cities including Charlotte.
The companies are each permitted to place up to 300 scooters on Charlotte streets. City officials say it's hard to know how many are available at any one time because the scooters are collected for recharging and moved around where they're needed.
Lime's lime-green scooters appeared in early May — but without permission to store them on city sidewalks, city officials said in ordering the company to stop operating after the first day. Riders flooded the email in-boxes of city council members and the issue was later resolved.
PREVIOUS: Charlotte warns scooter company to end service. Now riders are 'jamming city e-mails'
Bird, which launched nationally last September and is in 14 U.S. cities, deployed scooters in Charlotte's uptown, South End, Belmont, Ashley Park and Optimist Park neighborhoods on May 26. The company bills itself as a solution for trips too long to walk and too short to drive.
A third company, Spin, is part of the pilot program but hasn't placed scooters in Charlotte.
The companies' fast launch has been a little too fast for some cities.
ast week, San Francisco ordered hundreds of scooters off its streets, at least temporarily, saying Bird, Lime and Spin had started operations without permits. Pedestrians had complained about the vehicles being ridden and parked on sidewalks, the San Francisco Chronicle reported. Austin, Texas and Nashville, Tenn., have issued similar orders.
Riders have also been hurt aboard the scooters.
Last month a Bird rider in Santa Monica, Calif., near Bird's Venice headquarters, went to the hospital with head injuries. The rider wasn't wearing a helmet and didn't stop at an intersection, a news report said. In January, the Santa Monica Daily Press reported, another rider was hurt after running a stop sign and hitting a vehicle.
Santa Monica sued Bird for operating without a business license, the San Diego Union-Tribune reported. The company paid $300,000 in fines and began offering helmets to riders, the newspaper said, and Santa Monica started aggressively ticketing those riding on sidewalks.
"Ideally we want to educate people," Bird spokesman Kenneth Baer told the newspaper. "But we can't monitor everything people do once they get a Bird."
Two more Bird scooter riders who weren't wearing helmets were critically injured in a Nashville hit-and-run crash last month, a week after the company's launch there.
Joshua Rollins, an uptown Charlotte bike police officer, says he's seen some near-collisions by zooming scooter riders but can't order them off crowded sidewalks. Scooters occupy such a legal gray area, he said, that officers wonder how they would charge a rider who's at fault. Would a drunken scooter rider be more similar to one behind the wheel of a car or of a golf cart?
"It's only going to take one person getting hurt" to force more regulation, Rollins said.
The Charlotte Department of Transportation says it will soon start an online community survey to see what the public thinks about the scooters, as it has for the shared-bike program.
Lime and Bird say they coach riders on safely using their scooters through tutorials on their apps.
Bird offers helmets to riders who ask for one through its app and at giveaway events. The company says it's committed to picking up its vehicles each night to prevent them from littering public spaces. "Safety ambassadors" in Charlotte do local rider education and move about the community to make sure scooters are ridden and parked safely, said spokeswoman Rebecca Hahn.
"We instruct our riders to use bike lanes where available or on the street and to avoid riding on sidewalks. Similarly, Birds are to be parked out of the public way and near bike racks," Hahn said.
Lime operations manager C.J. Shaw said the company offers safety tips on its mobile app, on social media and at in-person demos at community events.
"We're also currently testing ways to encourage both responsible parking and safe riding practices, like having riders take a picture of the way their scooter is parked before ending their ride," Shaw said. "We plan to continue testing methods of promoting proper usage of our scooters so that we can best and most safely serve the Charlotte community."