Pickled Strawberry Salad & Sunflower Seed Crusted Tuna recipe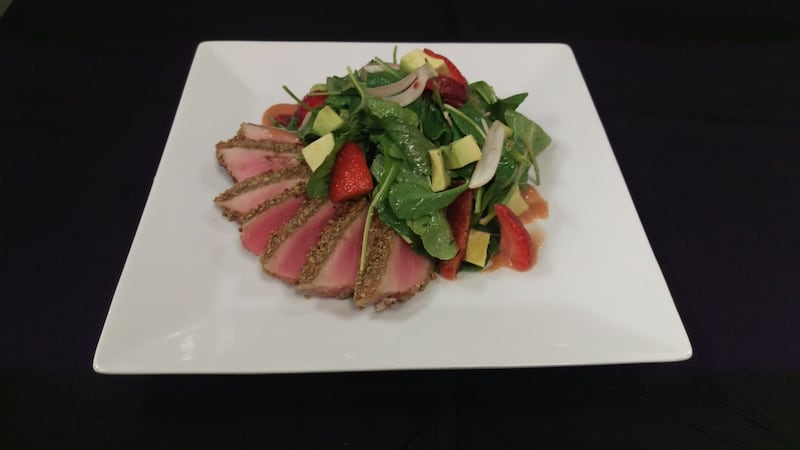 Updated: May. 10, 2018 at 1:19 PM EDT
Pickled Strawberry Salad & Sunflower Seed Crusted Tuna 
Arugula, Toasted Sunflower Seed, Shaved Shallot, Avocado, Citrus Segments, Strawberry Vinaigrette
Recipes
Pickled Strawberries
Ingredients
1 LB freshly picked strawberries, the smaller the better
1 Cup Rice Wine Vinegar
1/2 Cup Water
2 Tablespoon sugar
1 Tablespoon sea salt
1 teaspoon freshly cracked black pepper
2 sprigs fresh tarragon
Instructions
Wash the berries carefully, and remove the stems. If larger than one inch across, slice them in half or quarters.
In a small saucepan, combine the vinegar with 1/2 cup of water, sugar, sea salt and cracked black pepper. Set over high heat and bring to a boil. Stir until the sugar and salt completely dissolve.
Place the tarragon and strawberries in a suitable container
Pour the hot brine (the vinegar mixture) over the berries. Don't worry if it doesn't quite cover them as they will soften and shrink with time.
Let the pickles cool on the counter top until they are room temperature. Then cover, and refrigerate.
Leave strawberry pickles at least 24 hours before eating.
Strawberry Vinaigrette
Ingredients
½ Cup Strawberry Vinegar (Reserved Vinegar Mixture From Strawberries)
¼ Cup Fresh Strawberries
2 Tbls Organic Honey
1Tbls Balsamic Vinegar
1 tsp Chopped Tarragon
2Tbls Water
½ tsp Sea Salt and White Pepper
2 Cup Light Olive Oil
Instructions
Combine all ingredients, except the oils, in blender and blend till smooth
Slowly drizzle in the light olive oil to emulsify.