A 'dinosaur-like-creature' reported on Lake Norman over weekend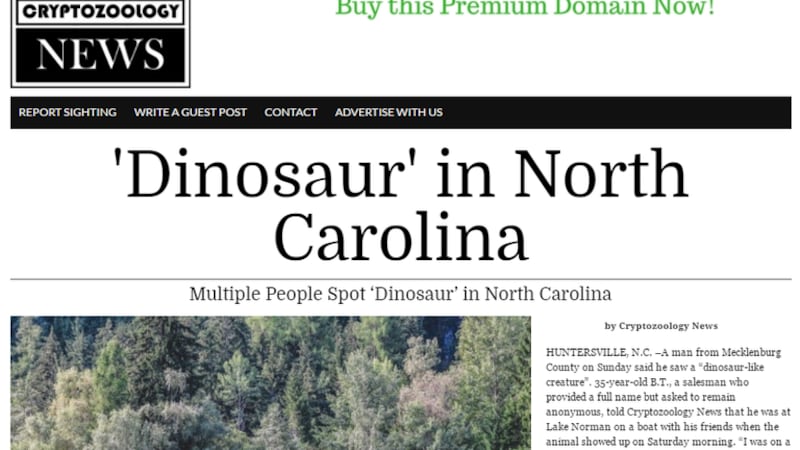 Updated: Jul. 13, 2017 at 8:58 AM EDT
CHARLOTTE, NC (Mark Price/The Charlotte Observer) - The latest in a sporadic series of monster sightings on Lake Norman has appeared on a website called CryptoZoology.com.
A 35-year-old Mecklenburg County man told CryptoZoology he spotted the "dinosaur-like creature" Saturday morning, while traveling on a boat with friends.
"We were near the lake's main channel when we saw something splashing around in the water," he told the website.
The man described the creature as 10-feet-long and reminiscent of the mythical Loch Ness monster. It was visible for about a minute before dropping below the surface, he told the website.
No photos were included with the article, posted on July 10. The source was described as a salesman who declined to let his name be printed by CryptoZoology.com, which reports sightings of cryptids (fabled animals) and strange occurrences.
This is just the latest in an ongoing series of "monster" sightings on the man-made lake.
There is even a website called LakeNormanMonster.com that allows people to post their sightings. Most describe the creature, called Normie, as looking like the famed Loch Ness monster that allegedly inhabits Loch Ness in the Scottish Highlands.
A page is devoted to The Lake Norman Monster on the website UnknownExplorers.com, and it notes there is currently no physical evidence to support the existence of a monster living in Lake Norman. The site speculates the sightings could involve a giant catfish or alligator gar.
"Descriptions of Normie vary from sighting to sighting, and range from a crocodilian like creature to the more classic three humped serpent," says UnknownExplorers.com. "Most that have seen the Lake Norman Monster seem to agree that the beast is more fish like, with a slender body, thick whisker like appendages, flippers and a ragged looking dorsal fin."
The Observer has covered the ongoing Lake Norman sightings, which date back nearly 50 years.
A few dozen witnesses have posted sightings on LakeNormanMonster.com, including some from last year. Descriptions range from a dinosaur-like monster to a giant snake with fins...and thick whiskers.
"I was on a boat when a huge force from below knocked me over board," posted John Edds of Huntersville last year. "I got back on to my boat when i saw a Nessie-like sea monster swimming away from me. it looked about 15 feet long."
A witness identified as Nate from Denver, N.C., posted he and his girlfriend saw the creature while on a Jet Ski in 2014.
"We both saw a large body come to the surface. It was dark, and shiny in some spots but was at least 14-ft long...We both were scared to death...She is now scared to swim there, but I'm really curious."