Arrest made in discovery of opium poppy plants in Catawba County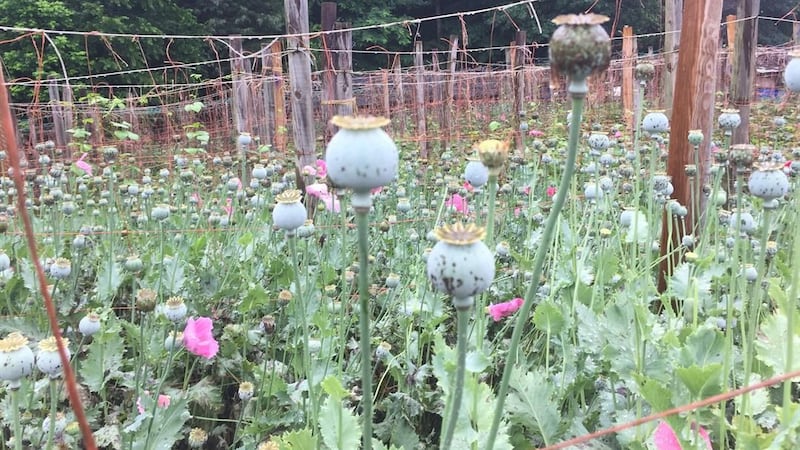 Published: May. 23, 2017 at 4:23 PM EDT
|
Updated: May. 24, 2017 at 10:58 PM EDT
CATAWBA COUNTY, NC (WBTV) - A man was arrested after deputies found nearly an acre of opium poppy in a Catawba County field Tuesday morning.
The Catawba County Sheriff's Office says the plants were discovered off Poultry Lane near Claremont. Deputies got a tip last week and were able to obtain a search warrant.
Tuesday, Cody Xiong was arrested and charged with manufacture and trafficking by possession.
The sheriff estimates the plants could be valued at $500 million or more. He says samples were sent to a state lab to confirm the plants are in fact opium poppy, but added that little doubt remained that they were.
MOBILE USERS: CLICK HERE FOR MORE PHOTOS
"We've been out here for about an hour pulling plants, and we've not made a dent in it yet," said Captain Jason Reid.
Only one other opium poppy plant field has been in the United States this year, which was in California, according to the sheriff.
"This is unbelievable. The DEA agent we talked to this morning while we were trying to get all of our facts together told us he only knew of one other poppy field that's been reported here in the nation," said Sheriff Coy Reid.
Deputies spent the day pulling plants and loading them into their trailers.
Officials do not believe the plants were being made into opium on the property.
"The plants are being harvested here, and sent somewhere else where the opium is being produced from the plant," Captain Reid said.
Sheriff Reid said he's glad these plants were found before they could be turned into opium.
"Right now the crisis in North Carolina is opioids," Reid said.
UPDATE: Authorities return to poppy fields, seize chickens in Catawba County
No other arrests were made. This is an ongoing investigation.
Copyright 2017 WBTV. All rights reserved.