Parents say school 'bomb shelter' assignment promotes racism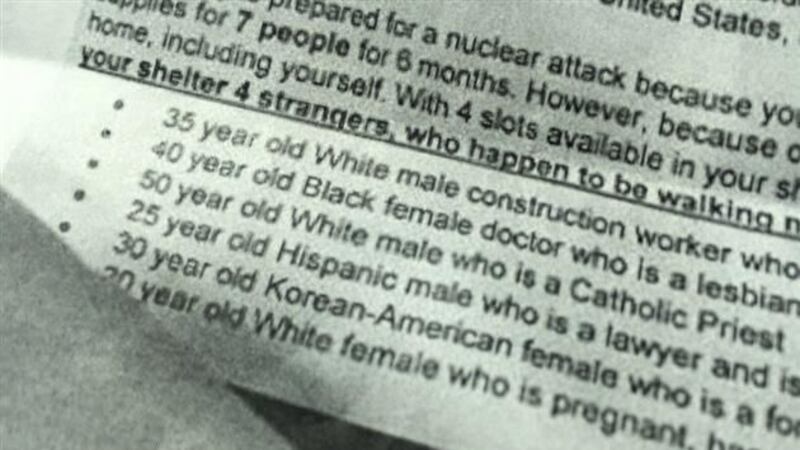 Published: Apr. 20, 2017 at 9:58 PM EDT
|
Updated: Apr. 21, 2017 at 12:47 PM EDT
CHARLOTTE, NC (WBTV) - A controversial high school assignment is getting some attention from parents, who are calling it inappropriate and say it promotes racism.
One parent posted the assignment on Facebook, writing that it came from his son's history class at Olympic High School.
The assignment is called the "Bomb Shelter Activity." The scenario is that the President of the United States issues a warning of a nuclear attack, and the student's family has access to a bomb shelter. The student can pick four strangers to go into the bomb shelter for safety.
The assignment has the student decide between different ethnic groups.
According to the Facebook post, the choices are a "35 year old White male construction worker who is a racist," a "40 year old Black female doctor who is a lesbian," a "50 year old White male who is a Catholic Priest," a "25 year old Hispanic male who is a lawyer and is wheelchair bound," a "30 year old Korean-American female who is a former college athlete," and a "20 year old White female who is pregnant, has a two year old son and is on welfare."
"If you care about people it shouldn't matter," parent Mia Hatten said.
Charlotte-Mecklenburg School District (CMS) leaders confirmed Friday that the assignment came from Olympic High and said the controversial assignment was being pulled.
"The assignment was given in a class as an icebreaker about making decisions," CMS spokesperson Brian Hacker said Friday. "It has been pulled and will not be given out again. The principal at the School of Math, Engineering, Technology and Science spoke with the teacher about appropriate assignments."
Parents say being forced to pick people to save based on their race and sexual identity is not a good lesson to teach.
"Every day more and more of our country is about separation and division," parent Tom Denton said. "And it seems like that's kind of feeding into that type of thing."
Hatten says her child's classroom is filled with loud talk. The mother says it happens when students discuss politics and religion.
"She says they just go back and forth," Matten said. "They get into arguments about it. That's just a mess to me. They should focus on things that matter in school and not politics."
Parents say if the assignment was handed to their children, they would have informed the school and told their children not to do it.
WBTV was told students did participate in the Bomb Shelter Activity, but felt very uncomfortable.
Copyright 2017 WBTV. All rights reserved.