Charlotte probably has too many malls. Here's what experts say about the future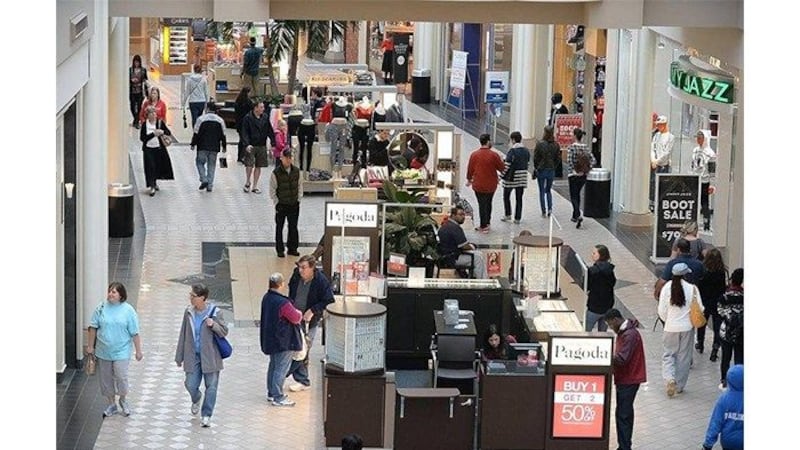 Updated: Apr. 15, 2017 at 2:30 PM EDT
CHARLOTTE, NC (Katherine Peralta/The Charlotte Obs - In east Charlotte, fast-food wrappers and other garbage litter a giant, weed-filled parking lot, the only remaining vestige of the once-bustling Eastland Mall, which closed in 2010 and was torn down three years later. The only sounds there are the traffic on nearby Central Avenue, and the clanks against the pavement by a few kids at a makeshift skate park on the lot.
PREVIOUS: As Eastland Mall 'fatigue' grows, can city find an answer?
City leaders still have not decided what to do with the old mall site. With major retailers like Sears and Macy's in a decline and continuing to close stores in malls here and around the country, it begs the question: Could another Charlotte-area mall meet Eastland's same fate?
"If you ask if we have too many malls, it's probably a 'yes,'" said Steven Cox, a marketing professor at Queens University of Charlotte, of the Charlotte area's retail scene.
RELATED: What to do with a dead mall? Charlotte City Council set to vote on $575,000 Eastland plan
The U.S. in general is "over-malled," Cowen Research wrote in a recent report. The country is home to 1,200 shopping malls, and Cowen anticipates that at least 240, or 20 percent, will either be repurposed or closed over the next decade.
Closures will likely be dominated by "lower class malls," Cowen said, and ones located in rural or smaller communities, since they experience less traffic and are less profitable. Large, elegant malls like SouthPark will probably fare better, since they are heavily trafficked and very profitable.
Mall closures are driven – unsurprisingly – by the continued boom in online shopping (and the growth of Amazon), as well as by the shuttering of anchor stores.
In the Charlotte area, the closure of mall anchors has accelerated. Just this week, Sears confirmed it will close its department store at Monroe Crossing in late June. That same shopping center is already losing its J.C. Penney in June as part of a company-wide cost-saving initiative. Macy's closed at Carolina Place Mall earlier this year. And Sears pulled out of Gastonia's Eastridge Mall in late 2014, and its space there remains vacant.
Belk is the only anchor that remains at Monroe Crossing. The store has no plans to close, though. In fact, it underwent a 30,000 square-foot expansion and renovation in late 2011, noted Andy Izquierdo, a spokesman for Belk.
"The Belk locations at Eastridge and Monroe Crossing are doing well, so it's business as usual," Izquierdo said.
The Monroe Crossing developer, Time Equities Inc., said there are no new tenants confirmed for leasing in the two vacant spaces.
"The team is currently vetting several retailers that have expressed interest in signing at the shopping center. TEI is working to hone the proper merchandising mix at Monroe Crossing," according to Ami Ziff, director of retail at TEI.
New uses for malls
Some mall owners have started "re-purposing" old shopping centers, getting creative in how they fill their vacant space. The Dick's Sporting Goods on Pineville-Matthews Road is moving across the street into the old Macy's spot at Carolina Place Mall, for example.
Other uses for former department store space could include schools, doctors' offices and grocery stores, Cowen notes in its report. That's the case in the Philadelphia area, where a Whole Foods and a Wegmans grocery store will open in two separate vacant mall spaces, the Philadelphia Inquirer reported this week.
That's the case with strip malls, too. When Park Road Shopping Center first opened in 1956, J.C. Penney was an original tenant. Now developers have sought to make the center a day and nighttime destination, with new tenants like Burton's Grill, Core Power Yoga and, eventually, an Amelie's bakery.
But while re-purposing space could mitigate the closure of some malls, it's inevitable that some will have to close their doors for good.
"The industry has to rightsize," said Cox, the Queens professor.
The Cowen report calls the process achieving "bricks plus clicks" equilibrium. Clicks, of course, refers to online shopping, which currently makes up about 20 percent of retail apparel sales. That figure could grow to between 35-40 percent, the Cowen report estimates. Apps like Apple Pay have made mobile shopping even easier, too.
Of course, back before the internet, shopping was only done in store, hence the need for so many shopping malls.
"Malls were built for the time," Cox said. "We needed to go to big malls for the assortment that we needed. Now we can do our research elsewhere. We don't need malls anymore for what they provided (back then.)"
But U.S. mall growth has significantly outpaced population growth. While the number of shopping malls increased fourfold from 306 in 1970, the U.S. population has grown by about 57 percent (to 321 million) since 1970.
The fast decline of brick-and-mortar retail has taken a toll on jobs. Retailers cut around 30,000 positions nationwide in March, Labor Department figures show. They cut around the same number in February, marking the worst two-month showing since 2009, according to Bloomberg.
Retail isn't dead, nor is it necessarily dying. Shoppers are shifting their spending away from traditional department stores, and are turning increasingly to specialty retailers like discount apparel sellers TJ Maxx and Forever 21. That's why, Cox said, it's increasingly important for retailers to differentiate themselves – something that's always been a struggle for department stores.
"What is it they are providing that we can't get in another form that's better faster and cheaper?" Cox said.