Recipe: Heidi Billotto's Beef Pot Roast
Published: Jan. 19, 2017 at 1:56 PM EST
|
Updated: Jan. 24, 2017 at 1:49 PM EST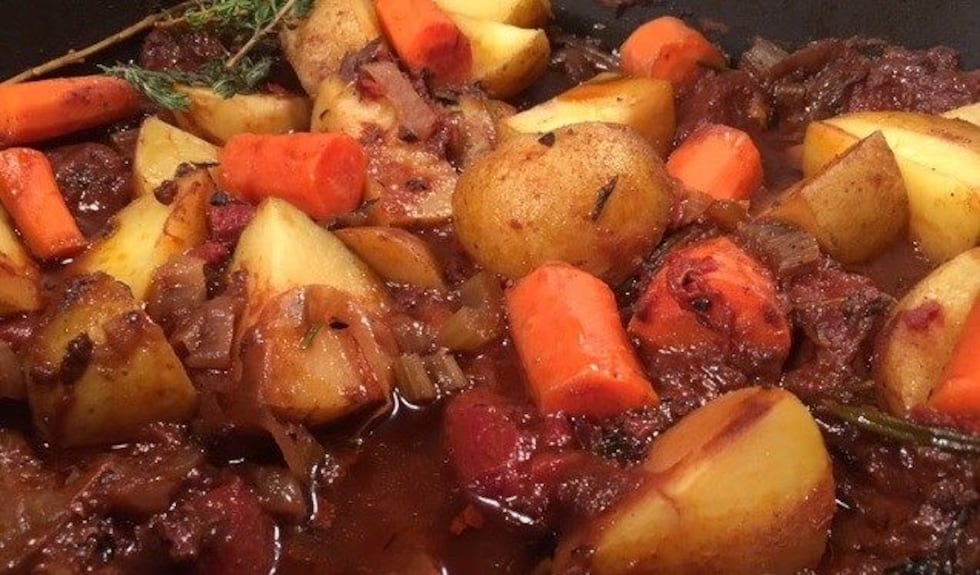 CHARLOTTE, NC (WBTV) - Charlotte Culinary Expert Heidi Billotto shares her recipe for GotToBeNC Proffitt Family Farms Grass Fed  Organic Beef Pot Roast.
Ingredients
1 ( 2-3 lb) GotToBeNC Proffitt Family Farms grass-fed, organic chuck roast

Coarse grain sea salt and Heidi's Hot Pepper Blend to taste

2 Tbsp. Kores Estate Greek Extra Virgin Olive Oil by Olive Crate in Waxhaw

2 springs fresh rosemary

3 organic onions, peeled and thin sliced

2 stalks organic celery with the leaves, chopped

1 (10-ounce) can organic whole or diced tomatoes

½ cup tomato chutney or chili sauce

2 cups full bodied red wine

¼ cup Cocoa Nibs

2-3 bay leaf

2-3 sprigs fresh thyme

1 sprig rosemary

1/4 cup chopped parsley

2-3 organic yellow potatoes, cut into wedges
Directions:
Preheat the oven to 350°F. Sprinkle the sea salt and Heidi's hot pepper blend to taste over the Proffitt Family Farms Chuck Roast. Heat the Olive Crate's Kores Estate Greek extra virgin olive oil with 1-2 sprigs of fresh rosemary over low heat in the bottom of an oven to table casserole. There is no need to brown the roast first, but for added flavor, add the sliced onions and celery in the warm Kores olive oil and toss until well coated..
Remove the pan from the heat. Add the seasoned roast over the onions and celery. Top roast with the tomatoes, red wine, tomato chutney or chili sauce, cocoa nibs, celery, bay leaf, thyme, rosemary and parsley.
Cover and bake in the oven for about 3 hours, basting often with the pan juices; and turning the roast over in the pan of juices and vegetables about half way during the cooking time.
Add the potatoes and bake, uncovered, for 30 minutes more, or until the potatoes are cooked.
Remove the roast from the pan of veggies and pan juices. Slice the meat against the grain ( that is the muscle line of the roast) and cut into slices. Place the slices back into the casserole dish, basting with the pan juices and keep warm until ready to serve.
Copyright 2017 WBTV. All rights reserved.