One year later, Family Dollar deal spurs uncertainty in Matthews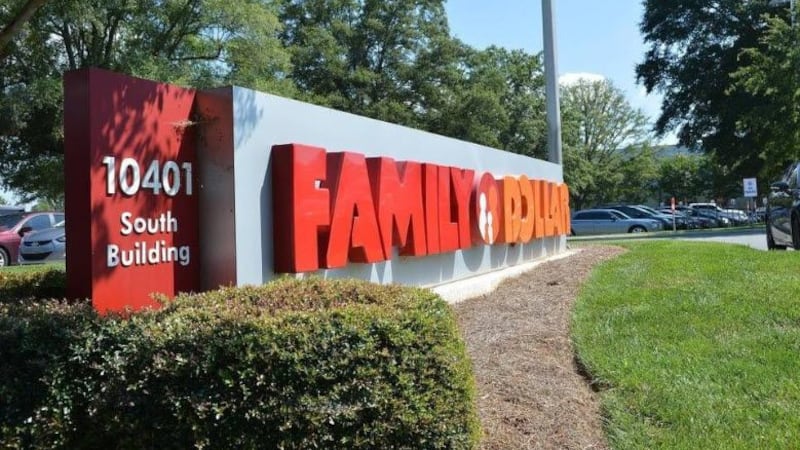 Published: Aug. 16, 2016 at 2:48 AM EDT
MATTHEWS, NC (Katherine Peralta/The Charlotte Observer) - A year after buying Matthews-based Family Dollar Stores, rival Dollar Tree says it's making progress in melding the two companies together.
The Virginia-based company has been refreshing Family Dollar locations, and re-bannering others as Dollar Trees. But as is the case with any merger, the combining of the two companies is causing concerns for employees and raising questions about the seller's presence in its hometown.
Under new owners, Family Dollar has seen significant changes at its former corporate headquarters, including the departure of dozens of employees, announcements of more layoffs and a shift away from the family atmosphere nurtured by past leaders, former employees say.
Employment at the local headquarters has fallen to about 1,100, roughly 300 fewer than it had in 2014. And earlier this month, Dollar Tree announced 370 more job cuts and a plan to build up its headquarters in Chesapeake, Va., signaling a further shift away from Matthews.
In the past few years, Charlotte has seen a number of its homegrown companies, from Wachovia to Harris Teeter to Belk, sell to companies headquartered in other cities. That's brought on unsettling times for employees as they adapt to new management.
Family Dollar's sale has caused uncertainty in the company's former headquarters town of Matthews, Mayor Jim Taylor told the Observer.
"We've reached out to (Dollar Tree) and we offered a gesture of friendship to try to show them what Matthews could bring to them as far as a good employee base. The response that we've gotten has been, 'We're looking at all options, and we'll see what happens,'" Taylor said.
Taylor learned about Dollar Tree's layoffs this month on Twitter: It wasn't until the following Monday he received an envelope with a letter from Dollar Tree describing its plans in a half-page memo.
'All the uncertainty'
Under pressure from investors to improve performance, Family Dollar in July 2014 announced its sale to Dollar Tree for $8.5 billion. Soon after, rival Dollar General made its own bid for Family Dollar, kicking off a grueling takeover battle.
Dollar Tree, the winner in the duel, closed its $9.1 billion purchase in July 2015, and since then has been absorbing Family Dollar into its operations.
Dollar Tree, which operates more than 14,000 stores, has kept the Family Dollar brand, but the business is now run by a former Dollar Tree executive, reporting to Dollar Tree CEO Bob Sasser. Former Family Dollar CEO Howard Levine left in January.
Sasser has said the integration is on track and that the company is committed to improving the Dollar Tree and Family Dollar businesses. While the company is converting some Family Dollar stores into Dollar Tree stores, Dollar Tree has also said it's switching another one of its brands, Deals, into Dollar Tree and Family Dollar stores, too.
Last year, Dollar Tree also sold 330 Family Dollar stores to private equity firm Sycamore Partners, which will operate them under a brand called Dollar Express, based in Charlotte.
The company's shares are up almost 24 percent since the deal closed, and profits in the most recent quarter more than tripled thanks to the Family Dollar deal.
But a former corporate employee interviewed by the Observer says morale has suffered at Family Dollar's Matthews office amid the uncertainty of the merger. The former employee said Dollar Tree has done a poor job of communicating with employees, allowing rumors to flourish.
That's led some employees to leave on their own, even before the recent announcement of 370 layoffs, which included the elimination of 100 positions that have been left unfilled.
"It really put a lot of people off because it didn't seem as though Dollar Tree cared," said the former corporate employee, who left Family Dollar this spring because of "all the uncertainty" under new owners. The person spoke on the condition of anonymity to protect professional relationships.
Regarding the layoffs, Dollar Tree spokesman Randy Guilar said there's "not much detail to provide beyond what was in our press release." Family Dollar spokeswoman Bryn Winburn relayed the same message.
A family feel
Before the new owners, Family Dollar was a public company that still felt like a family business, former employees say. Since its start on Central Avenue in 1959, it had been run by founder Leon Levine, and then his son, Howard.
When Howard Levine stepped down as CEO in January, that family feeling "went out the window fast," the former corporate employee said. Levine knew people's names, and he shook hands with people when he strolled the halls.
Almost every morning, Levine would have his secretary email two to three employees at the corporate office, inviting them to have lunch with him in a conference room, said a former Family Dollar executive, who also wanted to remain anonymous to protect business relationships.
To be sure, the company had faced challenges in recent years. Activist investors had pushed for a sale, saying the company had underperformed rival discount chains.
And some analysts say Dollar Tree is taking necessary steps to integrate the two companies. Dollar Tree has said it plans to eliminate $300 million in annual expenses over a three-year period.
In a recent research note, analyst Scot Ciccarelli of RBC Capital Markets said he remained optimistic about Dollar Tree as a corporation, and lauded the chain's recent restructuring plan as a "logical and necessary next step in the company's progress towards integrating" Family Dollar.
Taylor, the Matthews mayor, has had a long career in Charlotte banking, one that's seen its share of mergers and acquisitions at institutions such as Bank of America and Wachovia. So he said he understands the need for layoffs – they're a way to save money and become more efficient after a takeover deal.
But that doesn't mean those decisions are easy on the community, he said. "It was a sad day," he said of the layoffs.
The city of Matthews is "proud" that Family Dollar has maintained its strong community presence over the decades, and would "love for that relationship to continue with Dollar Tree," he said.
"We're making the offer, and we're going to try to work with them as best we can," he said, but he added: "We realize it is something completely outside our control."