6'7'' Charlotte Hornets star MKG was born a preemie
Published: Nov. 20, 2015 at 3:20 AM EST
|
Updated: Dec. 19, 2015 at 5:47 PM EST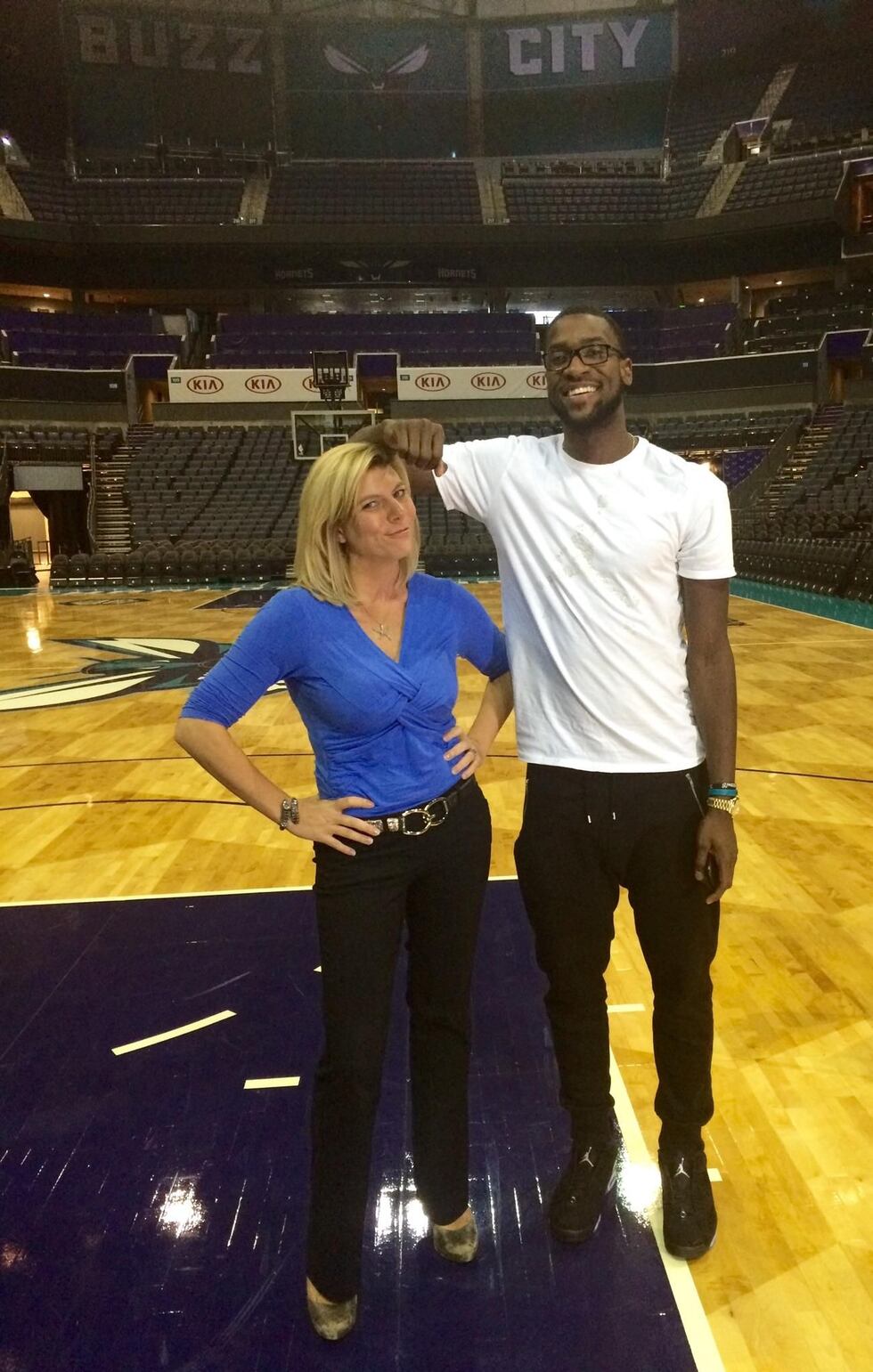 CHARLOTTE, NC (WBTV) - Charlotte Hornets guard Michael Kidd Gilchrist is 6'7'' and 230 pounds. Did you know he was born a preemie?
This week celebrates World Prematurity Day. In honor of recognizing the one in nine babies born early, Anchor Molly Gr antham sat down one-on-one to talk with an NBA star who is breaking all odds after being born ten weeks early.
It's the first time he has ever talked publicly about spending 7 weeks of life in the neonatal intensive care unit in Philadelphia.
"I don't remember anything because I was so little," he says.  "It's just part of me, just in my heart."

22-year-old Michael Kidd Gilchrist was under-developed when he was born at 30 weeks.  He weighed 4-pounds, 12-ounces.
Fast forward 18 years, and he was drafted into the NBA and became the youngest player to be in the league as a rookie.
"It's weird," he said. "It's actually crazy. I was always really tall but I was born smaller than everyone else." Even when being born at 30-weeks, he was long at 21-inches.
Last year Michael quietly asked if he could meet some of the kids through a Charlotte non-profit Bee Mighty, which helps local families of preemies.
"I enjoy being around the parents and children," he said. "I loved meeting the kids. They're great. All of them."
The kids came into Time Warner Cable Arena with gate-trainers and walkers – no level of equipment or developmental delay phased MKG. He got right down on the floor and played with each and every one.
But one girl, an 8-year-old from Fort Mill, really drew him in.
"Anastasia…" he said with a big smile as he remembered her. "Yeah, yeah. I don't know what she did to me. There was something that was just like, 'Wow', this is amazing. I pray for her and her family every day."
Anastasia has an incredible story. She was born in Poland at 24 weeks old. Her parents couldn't take care of her and she ended up in an orphanage. Four years later, a Charlotte-area couple was in Poland, wanted to adopt, walked into the orphanage, saw her, and took her home.
They now live in Fort Mill. Anastasia is now 8 years old and making strides. Through therapies funded by Bee Mighty, she has learned to start talking more.

"She was just amazing," MKG said.  "I want to call her and her parents. I want to invite them to go with me to the Redskins/Panthers game this Sunday."
It wasn't an hour later he called Anastasia's mom and invited them to do just that.
"He's incredible," says Anastasia's mom Stephanie Brooks. "Our little girl is crazy about him. I'll send you a picture from Sunday's game!"
Heather Hucks, with Bee Mighty, also sang praises for MKG.
"I don't think he knows how unique he is," Hucks said. "There aren't a lot of stories out there about kids who are born early but end up in athletics. You just don't see football players, basketball players, soccer players… all who have a story of being born early. Being born 30 weeks early is pretty significant. The fact that he not only made it through NICU and all those obstacles, but now he's an NBA superstar, that means something. You can see the same fight that he made to get out of NICU he shows on the court every night."
As for Michael, the actual basketball star, Hornets fans know he has been sidelined ever since the first pre-season game when he hurt his shoulder, a devastating blow to fans excited about this 2015-2016 year.
He says he doesn't know when he'll be back, but being off the court is giving him a new perspective. "I'm looking at everything from the sideline through the coaches' eyes and not the players' eyes," he said.
He said he's feeling "fine".
"It's hard. I just take it one day at a time," he said.  "I'm healthy and waking up every day. I LOVE this game of basketball, I'm just now loving it from another perspective other than being on the court. And when you love something or someone it's hard being away from them. It's hard for me to be away from the game."
Copyright 2015 WBTV. All rights reserved.