Undocumented parents can now volunteer in Charlotte-Mecklenburg Schools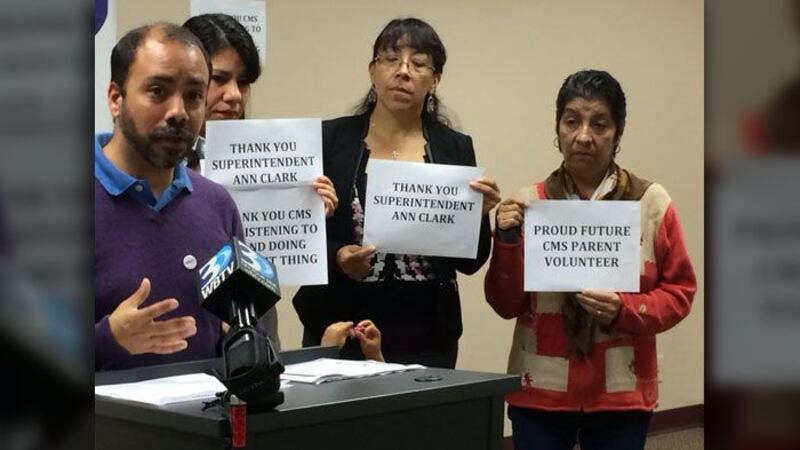 Published: Nov. 2, 2015 at 11:33 PM EST
|
Updated: Nov. 2, 2015 at 11:59 PM EST
CHARLOTTE, NC (WBTV) - People of Action North Carolina are pleased undocumented parents can now volunteer at their children's school.
Before they couldn't do much, because Charlotte Mecklenburg School (CMS) District required a driver's license and a social security number to have access to students.
The law now states a passport can be used as a government ID. Many believe that will make a difference.
"It means higher graduation rates," Action NC Hector Vaca said. "It means higher grades because it means parents will be able to get more involved and actually be there for the kids in school."
CMS Superintendent Ann Clark agrees. CMS has been working with parents to find solutions.
"Open up opportunities for parents to support teachers," Clark said. "Copying paper, helping with bulletin boards,...helping with teacher appreciation."
Passports are a compromise because they are easy to obtain.
"It's a lot easier to be able to get a passport," Vaca said. "Because it is offered by your home government."
Action NC says it is pleased with parents being able to use passports but it wants more access.
"What we want is nothing less," Vaca said. "Than full access for these parents. They are hardworking. They are honest."
Undocumented parents cannot be alone with students and are not allowed to go on field trips. Action NC is fighting for parents using their fingerprints to gain more access to their children's school.
"Fingerprinting is actually more secure," Vaca said. "It offers more security and opens up more doors for these parents, which means more parents will have the right to volunteer."
Clark tells WBTV that CMS needs a social security number from each volunteer so a background check can be conducted daily.
"We are open to exploring options," Clark said. "But we are committed to making sure our students and staff are safe at the schools."
CMS is talking to the Sheriff's Office to determine if fingerprinting is a viable option. Until a decision is made, Clark will just follow the law.
"We are tasked with educating all children in the county," Clark said. "And I am deeply committed to that. I am also deeply committed to parents being able to be fully be engaged in school, but I will do that within the law allows me to do."
Copyright 2015 WBTV. All rights reserved.