People impacted by coal ash in North Carolina form alliance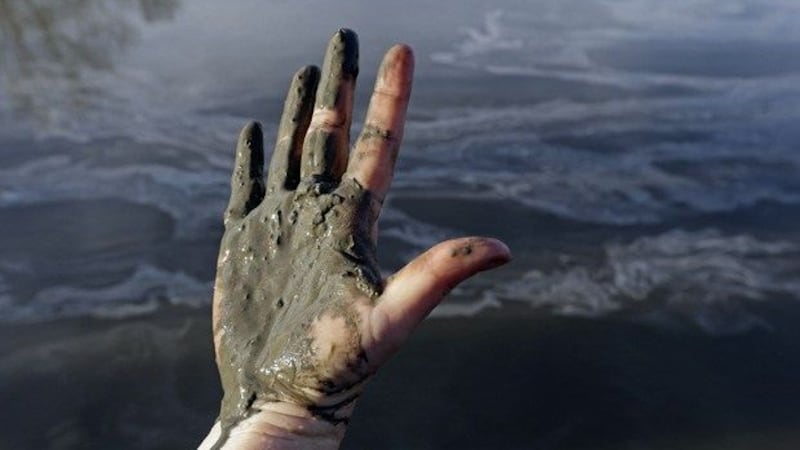 Published: Sep. 23, 2015 at 11:49 AM EDT
|
Updated: Oct. 23, 2015 at 11:49 AM EDT
RALEIGH, N.C. (WBTV/AP) - People from across North Carolina who have been impacted in some way by coal ash have announced a new alliance that combines environmental groups and other advocacy groups.
The announcement was made Wednesday morning in the General Assembly press room in Raleigh.
Leaders said the point of the announcement was to show that people from across the state have deep concerns about the way Duke Energy is handling coal ash created at the fourteen Duke coal plants across North Carolina, and they want to draw attention to the issue.
"Coal ash is the byproduct of burning coal and Duke Energy stores over 108 million tons of it in leaky pits and landfills across North Carolina. Duke's coal ash is illegally leaking into surface waters that supply millions of North Carolinians' drinking water," ACT leaders said. "The waste is laden with toxic heavy metals, including hexavalent chromium, a carcinogen found at unsafe levels in hundreds of drinking water wells within 1,000 feet of Duke's N.C. Coal Ash ponds."
Those in attendance frequently used the phrase "we're statewide, unified, and here to stay."
One of the speakers was Larry Mathis of Belmont.  His home is near the Allen plant.  Several months ago he was warned that his well, and about two hundred others, produced water with higher than average levels of certain toxins.  Dozens of residents of Rowan County who live near the Buck Steam plant were told the same thing.
"Our water was found to have 38 times the state standard for vanadium," Mathis said. "So far, the best that Duke can do is just to provide us some bottled water, and only for about two more months."
Mathis said that he discovered that Duke had used more than 278,000 tons of coal ash to fill a ravine in his backyard.
"Duke says they are not responsible for the contaminated water but are being a good neighbor by providing the bottled water, but good neighbors don't pollute, and they take responsibility for their actions," Mathis added.  "It's time for Duke Energy to own up to its mistakes and do the right thing, and then will be the good neighbor it needs to be."
Tracey Edwards, who lives near the Belew's Creek plant, believes toxic coal ash contributes to her mother's early death.  She brought a large picture of her mother's grave to make her point.
"I used to go and visit my mother daily, now this is where I have to go an visit her, she died prematurely, she was only 64 years old.  She grew up with asthma, she had neurological problems with her arm and she had heart disease, and we have lived in that area for all of our lives."
Bobby Jones of Goldsboro urged Governor Pat McCrory to visit his neighborhood, but offered one caveat: "just don't drink the water."
In 2014,  coal ash collected at Duke Energy's Eden power plant spilled into the Dan River, coating 70 miles in toxic, gray sludge. Last week a judge rejected a bid by the state's environmental agency to block Duke Energy from removing coal ash from more plants than required.
The new group includes support from Appalachian Voices, Blue Ridge Environmental Defense League, Clean Water for NC, NC WARN and more.
On Wednesday afternoon, Jeff Brooks, a corporate spokesman with Duke Energy, told WBTV that the company's top priority was the safety of the public.
"We share the objectives of this group and many others to safely close ash basins across the state and protect our local communities. The strategies and techniques we're using are based in science, and are designed to protect the environment and minimize impacts to local communities. The closure process, established under state law, offers numerous opportunities for public participation and input, and is designed to be transparent throughout," Brooks wrote in an email. "We appreciate the questions and concerns of our plant neighbors as we work to close ash basins across the state. Our first priority is protecting groundwater and the environment around our sites. We recently completed extensive groundwater assessments that generally indicate that groundwater around our sites is flowing away from neighbor wells and is not impacting drinking water. We hope that this extensive scientific data will provide peace of mind to many neighbors, even as we work to conduct extensive modeling at our sites to further enhance our understanding of groundwater now and in the future."
"We will also continue to explore creative solutions for safely and effectively storing or reusing coal ash. Our preference is always to reuse coal ash when we can for beneficial purposes, and to store coal ash in fully lined solutions on the plant site or as close to the source as possible. When onsite storage is not possible, we will always work to minimize impacts to the local community," Brooks added. "We continue to make good progress in responsibly managing coal ash across our system and executing on our closure plans for each of our coal ash sites. We have announced recommendations to excavate coal ash at 24 of our coal ash basins and are developing plans for all of our basins, subject to approval by state regulators. We are currently moving coal ash from several of our sites to fully lined storage solutions, with more plants expected to begin coal ash excavation soon.
Additionally,  Mike Rusher of the Department of Environmental Quality said that the McCrory administration has been proactive in working to get coal ash sites cleaned up across North Carolina.
"This administration was the first to tackle the more than 60 year old problem of coal ash and issued a record $25.1 million fine to hold Duke Energy accountable for groundwater contamination," Rusher said.  "State law mandates that DEQ oversee the cleanup and closure of all of coal ash impoundments based on sound science and public participation.  We are proud of the progress made by this administration and remain committed to protecting public health and the environment through science-based decisions and rigorous oversight of the cleanup process."
Copyright 2015 WBTV.  All rights reserved.