Changes in place on highway where girl was hit and killed crossing street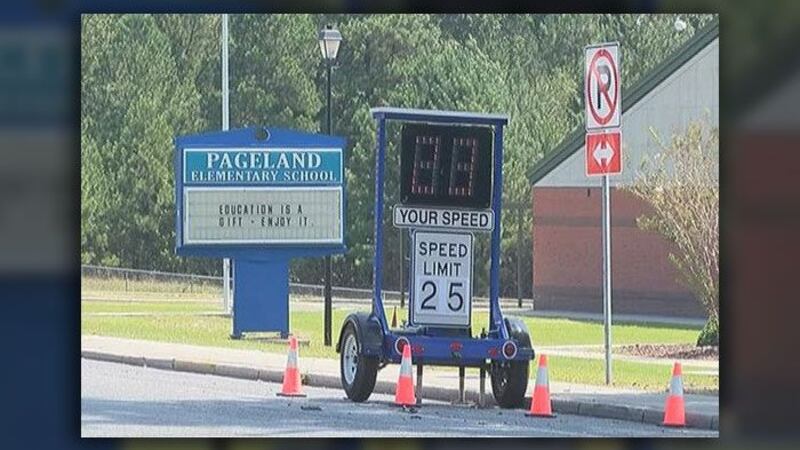 Published: Sep. 10, 2015 at 10:16 PM EDT
|
Updated: Jan. 18, 2017 at 5:22 PM EST
CHESTERFIELD COUNTY, SC (WBTV) - Almost a week after an 8-year-old was hit and killed walking from an elementary school to her parents' car, changes are already being made to prevent a similar tragedy.
Nelly Herrera died after police say her parents sent her back to the car for paperwork. She was hit and killed by an SUV while crossing the street.
Outside of Pageland Elementary School, you'll notice a makeshift memorial of flowers and stuffed animals.
There are also new signs restricting parking off Highway 9.
Chesterfield County Schools Associate Superintendent Chan Anderson was glad to learn that the town asked state transportation leaders for changes to the road.
"That's what it's all about, coming together to keep our kids safe," Anderson said.
Highway 9 is one of the main thoroughfares through town and runs right in front of the school. Red "no parking" signs now are on both sides of the road.
"We just want to make sure that we watch out for our kids, watch out for our parents, the community at large, we want to keep our kids safe which is our priority for our school district and for the community," Anderson said.
The driver of an SUV told police the little girl came out of nowhere. Police believe it was a tragic accident and the driver has not been charged.
Now a speed trailer sits in front of the school to grab drivers' attention.
"Just a matter of taking their time as they cross the school, just being extra cautious and looking out for pedestrians," Anderson said.
People in the small town of Pageland raised money and donated all sorts of gifts to the family that had literally just moved to the area.
Anderson was moved by the town coming together for the Herrera family and town leaders looking to prevent any other tragedies on this highway.
"The response of the community is absolutely wonderful, absolutely wonderful. Everybody coming together at the school and around the school, the entire community," Anderson said.
The accident remains under investigation by the South Carolina Highway Patrol.
PREVIOUS ARTICLE:
Copyright 2015 WBTV. All rights reserved.