Nearly 1,000 CMS teachers resign as educators lobby lawmakers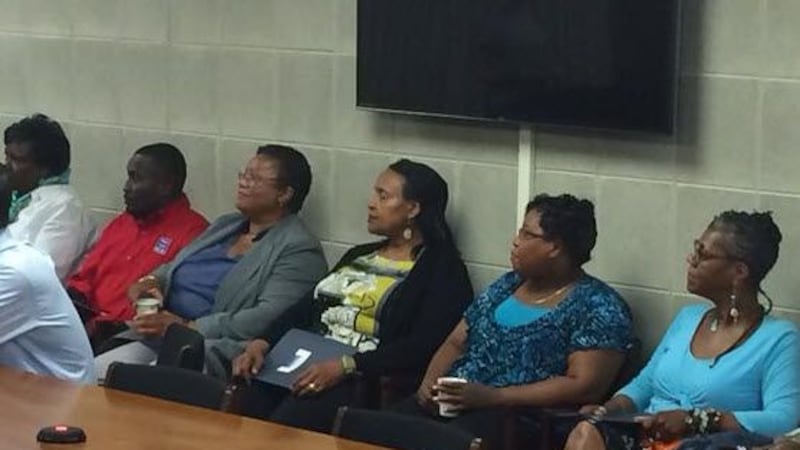 Published: Jun. 23, 2015 at 10:14 PM EDT
|
Updated: Jul. 23, 2015 at 10:14 PM EDT
RALEIGH, NC (WBTV) - Tuesday was North Carolina Association of Educators Day in Raleigh. Teachers came to the State House to tell politicians their concerns. Their main issue is teacher pay. Other concerns include 8,500 teacher assistants statewide could be on the chopping block and other reductions in the classrooms.
More than 100 teachers showed up. The largest delegation was from Charlotte-Mecklenburg. The educators went one by one to the politicians' office talking to them. Teachers think this personal approach works.
"When people reach out and touch each other," Charlotte Mecklenburg Association of Educators Vice President Erlene Lyde said. "It becomes more and affects us a little bit more."
The educators questioned the Senate budget. It calls for cuts to the classroom.
"They must realize and recognize that this is not the end." State Senator Joyce Waddell said.
Waddell says the budget is still being hammered out and knows it will tough, but believes her colleagues will work hard to come up with a solution.
Teachers tell WBTV their conversations with the politicians were fruitful. They are learning how to get things their way in Raleigh. One politician told the teachers to keep pressuring lawmakers and get the community involved. That will make a difference.
"People from the community," CMS teacher Sylvester Maxey said. "To assist in voting the candidate in who will support education."
Representative Charles Jeter knows pay is an issue. His idea is to have teacher pay tied into where a teacher lives. He knows there are certain places in North Carolina that are cheaper than others so the paycheck should reflect that.
"Lowes Corporation which is based in my neck of the woods," Jeter said. "Right in the Mooresville area is not going to pay someone the same amount as someone who works in New York City as someone in Omaha, Nebraska."
The politician says the State Constitution is preventing lawmakers to tweak the pay by district.
"That is big structural flaw," Jeter said. "We got to fix unfortunately. It's not an easy fix, but I am going to continue to pursue to get something done."
While state lawmakers work on that, reaction is coming in concerning the number of teachers in Charlotte Mecklenburg Schools (CMS) who resigned. CMS says 957 teachers resigned - called it quits.
"That is horrible," Lyde said. "That is unprecedented."
CMS says that number doesn't stand out and is no different than any other years. Others disagree.
"900 teachers resigning," Lyde said. "In one system is unheard of in my 33 years of education. This is a crisis point and people need to wake up."
Waddell is also concerned about that number.
"That's a lot," Waddell said. "We can't afford to lose teachers to other states so we got to make sure we are taking care of our own."
CMS also released other departure numbers. The number of non-instructional employees resigning in CMS is 631 and 139 of them are retiring. The number for licensed support is 88 people are resigning and 32 are retiring, administrative is 22 resigning and 16 retiring. Lyde is concerned with this number students will be the one suffering. It may take longer to find qualified teachers.
"Students won't have teachers on their first day," Lyde said. "They may not have teachers on the 60th day."
CMS says it is using all methods to recruit teachers to the district while state lawmakers say they will do their part to fund education.
Copyright 2015 WBTV. All rights reserved.