Heartfelt is 'most important job' for Scouts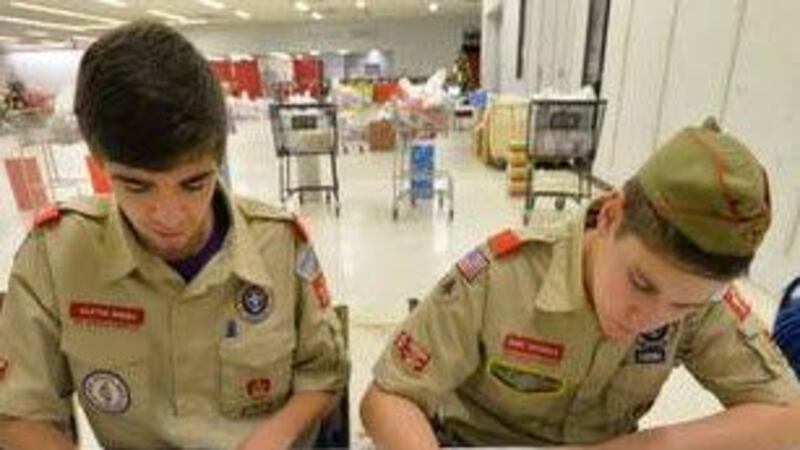 Published: Dec. 10, 2014 at 3:59 AM EST
|
Updated: Jan. 9, 2015 at 3:59 AM EST
CHARLOTTE, NC (Mark Price/The Charlotte Observer) - Leave it to a bunch of Boy Scouts to turn holiday cheer into a competition.
It happened Monday when Troop 118 showed up to organize the Salvation Army's Christmas Center on East Arrowood Drive, in preparation for a charity event that will give away toys to nearly 12,000 needy kids.
The Scouts, who are based out of St. Stephen United Methodist Church, played their part by folding, sorting, stacking and stuffing every imaginable holiday fixture and frill.
But it was the task of writing "mushy" messages in Christmas cards for senior citizens that had the boys challenging one another to see who could be the most heartwarming. The seniors will receive gifts and cards from the Salvation Army's Silver Bells program.
The cards were deemed the toughest task of the night "because we actually have to think," said Alex Withrow, 16.
Some drew elaborate art in their cards. Others added color and glitter, and one overachiever wrote his greetings in Latin and Sanskrit.
Cody McFall – who appeared to be the self-appointed rabble-rouser – lectured the group sternly that competing would make them try harder, which he said would lead to better cards.
"Plus, I can out-Scout you any day," said McFall, 16, challenging Andy Kamath, 15, who sat nearby etching those fancy cards in Latin and Sanskrit.
"How many old people can read Sanskrit? That's not old-timey," McFall teased.
Fellow Scout Matt Adams, 16, said he'd like to believe their Christmas card assembly line was the most valuable job among the many volunteer tasks they tackled at the Christmas Center.
"It think it's more important to show people how you feel about them than just giving them a toy," Adams said. "A toy makes people happy for a day. Knowing people care about you can make you happy for a long time."
Troop 118 is part of a larger effort by St. Stephen United Methodist that includes providing 1,300 stuffed stockings for the Salvation Army's Christmas program.
In all, Salvation Army officials say up to 3,000 volunteers will have performed various tasks for the program by the time the last gift is given out Dec. 23.
This includes hundreds sent from major employers like Carolinas HealthCare System and Bank of America, as well as partnerships with businesses like Two Men and a Truck, which hauls donated toys to the center.
Even the center itself is a donation, offered rent-free to the project by Victory Christian Center in Charlotte.
Emily Louden, a volunteer coordinator, says many of the tasks are unusual, including folding 9,000 trash bags a special way so reference numbers on each one will face up. Once folded, they have to be lined up perfectly on the floor, in preparation for being filled with donated toys.
"It doesn't sound fun, but we tell people that each one of those bags represents a family," said Louden. "No matter what you're doing in here, it will have an impact."
Boy Scout Neelu Gupta, 14, kept that in mind while he worked at the center Monday.
"This is for children who are in tough situations, with troubled backgrounds," he said.
"They might be struggling in school and their lives might not be easy, and they deserve a little happiness and joy for the holiday."