BalloonFest takes flight in Statesville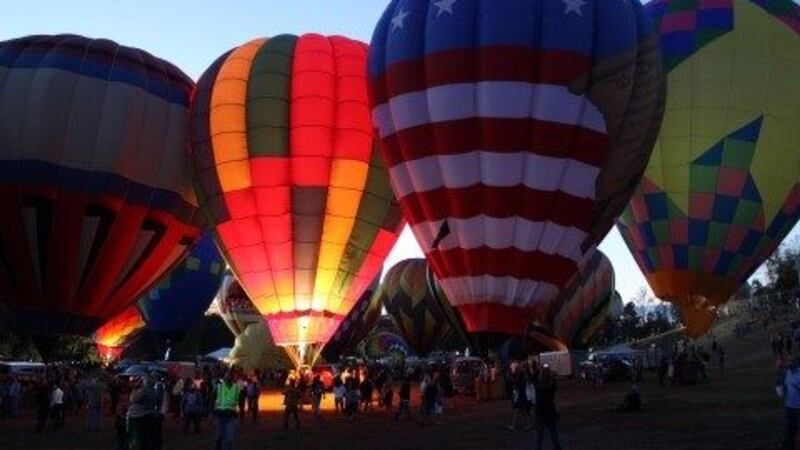 Published: Oct. 19, 2014 at 5:17 PM EDT
|
Updated: Nov. 18, 2014 at 6:17 PM EST
STATESVILLE, NC (WBTV) - Carolina BalloonFest is underway at the Statesville Regional Airport with over 50 hot air balloons prime to fly.
Like any outdoor event, organizers keep their fingers crossed for good weather, and no rain. There's an added element of concern for BalloonFest organizers, wind. Saturday, it was just too windy for the balloons to fly, but as Chairman Don Kelley told WBTV, "tomorrow is a new day".
Sunday looks to be an ideal day for hot air balloon rides. The weather is supposed to be so nice that Balloon Miester Sam Tarks says it looks to be "as perfect of a fall day as you can get."
Weather aside, Saturday's crowd was full to capacity Saturday with between 12,000 and 15,000 people in attendance. Chairman of the National Balloon Rally Charities, Don Kelly, says he expects it to be the largest crowd ever. Even though no balloons flew, the enthusiasm was contagious when around 6:00 p.m. hot air balloons started to inflate. Children jumped and squealed as cameras flashed to capture the action.
As over 50 balloons rose above the crowd, and the sun set, a voice over the sound system counted down from 10. "9, 8, 7" it went on, "3, 2, 1". Then the magic happened, what one woman told me made the long day all worth it, Balloon Glow. The pilots would fire the burners in spirts and the massive balloons lit up as if the light was dancing across the field. Kelly said he's seen that for 20 years and he "never gets tired of seeing that".
For 41 years, Carolina BalloonFest has grown in size but according to Kelly, their message has stayed the same. Their goal is to celebrate the history of Hot Air Ballooning in Iredell County, highlight the community, and raise money for non-profit organizations. For the past two years, the Fest has donated $60,000 each year to the American Cancer Society and other local non-profits such as local Boy and Girl Scout troops, band boosters, athletic boosters, and local Habitat for Humanity efforts. He couldn't tell WBTV how much they are planning to give in 2014, but he hopes they increase their donation this year.
Hot Air Balloon pilots come to the event to show off their craft and make money by giving rides, but they also compete. Some of the best pilots in the country gather in Statesville for the weekend in hopes of making their mark in precision events as part of the Hot Air Competition Division. Kelly compared it to NASCAR, this is just one stop of their year of competition to declare an overall winner.
The Balloon Miester expects the balloons to take flight around 5 p.m. Sunday. Organizers encourage guests to get to the grounds early and stay late so they are not turned away due to being at capacity.
Copyright 2014 WBTV. All rights reserved.