New crosswalk created where CMS student died
Published: Sep. 18, 2014 at 12:53 AM EDT
|
Updated: Oct. 18, 2014 at 12:32 AM EDT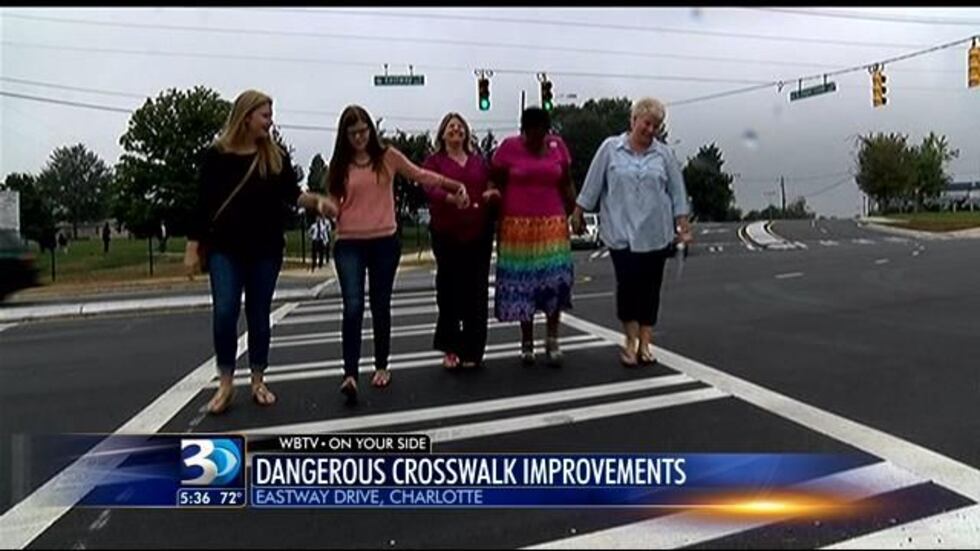 CHARLOTTE, NC (WBTV) - A crosswalk at the site where a Charlotte Mecklenburg school district (CMS) student was killed has been made over. On March 14, 2012 Brittany Palmer was hit by a car while on her way to Garinger High School. It was discovered that intersection was too dangerous for pedestrians to cross.
The Charlotte Department of Transportation and State Department of Transportation invested about $1.1 million to create crosswalks for people to use to get to the other side of the street.
"We've tightened this whole intersection up," CDOT Director Danny Pleasant said. "We put in a high visibility crosswalk. We put in the curb ramps. We put in the countdown pedestrian signal."
Brittany's mother, Katrina White, says this day was a special one.
"I am at peace," the mother said. "For this day is for the hundreds of teenagers who have to cross this busy street everyday and for the families who cross this same street on the weekends."
There was an emotional ribbon cutting at the dedication ceremony. A plaque is at the corner to serve as a reminder someone died so others might live.
"That there was something special about her," White said. "That something happened here that should not have happened and we won't let that happen again."
Transportation officials say about 300 people are hit each year in Charlotte. They say most die. There are other intersections in Charlotte that need attention. Officials are just waiting for more money to fix them. Officials are pleased they were able to improve the intersection near Garinger High School.
"This particular project," Pleasant said. "Really shows a way that we can come in and right a wrong, try to build an intersection that's more compatible with our city."
Family, friends, students, and others gathered for the dedication. They say they are pleased but are sad it took a death to prompt change.
Improvements to the intersection are not complete. Crews will soon plant trees in the median to make the area more beautiful.
Copyright 2014 WBTV. All rights reserved.