NC Budget and highway safety
Published: Jul. 11, 2014 at 1:58 AM EDT
|
Updated: Aug. 9, 2014 at 10:22 PM EDT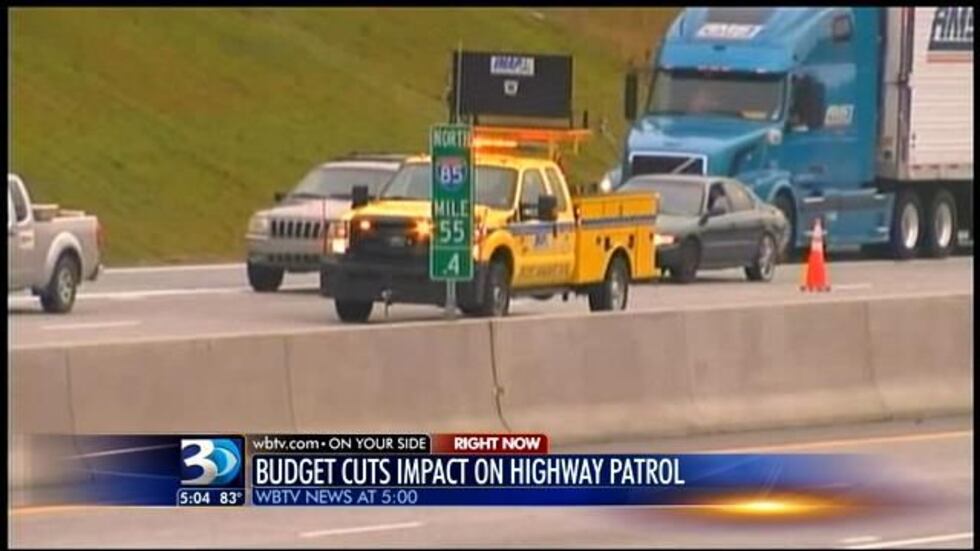 CHARLOTTE, NC (WBTV) - Teachers, activists, state bureaucrats - the list of people who are watching what happens in Raleigh is growing. Lawmakers are still working on the budget even though the fiscal year started July 1.
It's making people who rely on the state for their paychecks nervous. And if you are out driving on the highways it could affect safety services there.
 
State Highway patrol says they respond to wrecks on interstates 485, 85 and 77. Combined they say there have been 4,800 wrecks a year. And they rely on NCDOT crews who have their back keeping the highways safe.
 
It's hard to miss the yellow trucks on the road. They are the Incident Management Assistance Patrols, (IMAP) trucks that park to warn traffic an accident or wreck is ahead. They protect those involved, drivers approaching the scene and State highway patrol troopers responding to the scene.
 
"You want to see them because they're there to help you no matter what it is," said Trooper John Burgin, "They're going to stay with you until a wrecker comes to tow your car again, they are going to change a tire for you, if you're out of gas they're going to give you enough gas for you to get to a service station to refuel. They're just invaluable to the public in general."
 
IMAP used to be a 24/7 service now it is from 5 am to 11 p.m. And those hours could be reduced more because NCDOT is anticipating cuts from state lawmakers.
 
"Sometimes where we have three trucks that may go to two trucks, but we won't know that until we get the final budget numbers," said NCDOT division engineer, Louis Mitchell.
 
Mitchell explains IMAP isn't the only place where they might have to reduce crews.
 
"The same thing is going to occur with litter removal, mowing, guardrail repair," said Mitchell.
 
Mitchell added safety is how they prioritize those decisions. He says nothing is final until lawmakers approve the budget.
 
State troopers fall under a different budget. But they are watching and waiting to see what happens to IMAP because they say those men and women protect them out on the roads.
 
"The department heads I'm sure will make the right decision and cut where they see it needs to be cut for the public safety," said Trooper Burgin, "It's probably going to hurt a little bit. If you have to cut somewhere you have to cut."
 
State employees are concerned about what happens with this budget. Mitchell said at this point at NCDOT in Division 10, they are not considering laying anyone off.
Copyright 2014 WBTV. All rights reserved.