Charlotte mom in the fight against cancer, tanning beds for teens
Published: May. 9, 2014 at 11:53 PM EDT
|
Updated: Jun. 8, 2014 at 7:44 PM EDT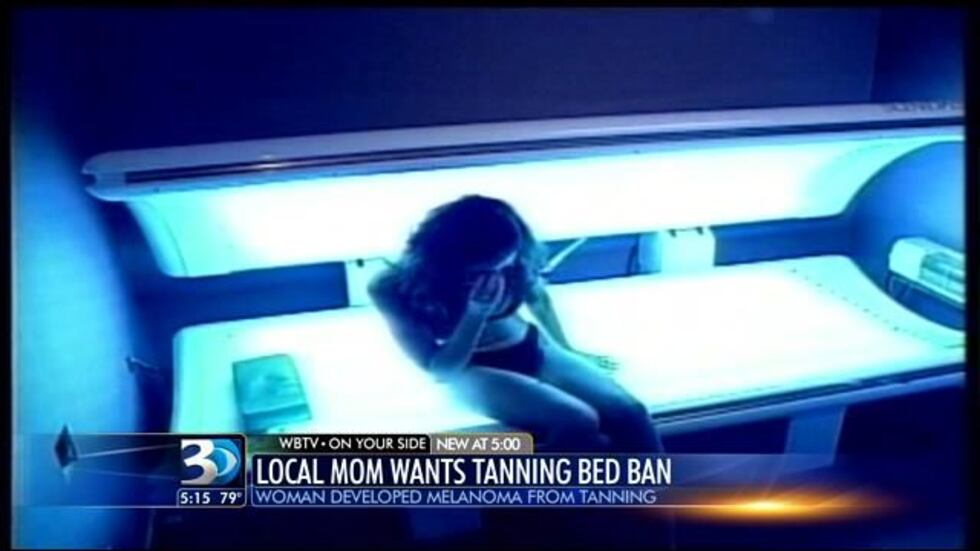 Anne Bowman was only 32 and had two small children when she was diagnosed with early stage melanoma four years ago.
She and her doctors believe infrequent use of tanning beds as a teenager put her at risk for the deadly form of skin cancer.
"It totally turned my world upside down. I would rock my 9-month-old to sleep at night worried I wouldn't be there to watch him and his older sister grow up," said Bowman.
She's a survivor in good health, but a recurrence is something she thinks about every day. She has three small children who depend on her now.
Bowman spoke with WBTV, along with dermatologist Dr. Elizabeth Rostan, about a proposed bill they hope will be passed in Raleigh when lawmakers reconvene this month for the short session.
House Bill 18 would ban tanning bed use for people under 18. It passed the House last year, and has good support.
It even has support from the American Suntanning Association. Joseph Levy says his organization has opposed the bill in the past, but his group supports the bill now, as it does in 11 other states.
"We want to elevate the discussion about a balanced message about UV exposure and we believe in responsibly teaching people about the risks of overexposure to UV," said Levy.
Levy says minors contribute to about two-percent of the tanning bed business.
The Centers for Disease Control says on its website that "people who begin tanning younger than age 35 have a 59% higher risk of melanoma." Early detection greatly helps long-term survival.
"It's devastating when you see these young individuals coming in and they have a diagnosis that could be potentially fatal and it could have all been prevented by good sun protection and not getting into tanning beds," said Dr. Rostan.
She says she is proud of her patient for taking a stand to help change state law.
Bowman says she can't undo the tanning bed use of her teen years, but she believes she can help prevent others from going through what her family has dealt with the past few years.
Her melanoma was discovered during a routine skin exam. To see the symptoms of skins cancer and learn more, click here for the CDC's website.
Copyright 2014 WBTV. All rights reserved.