Man wants cremated remains in mayonnaise jar
Published: Apr. 3, 2014 at 12:38 AM EDT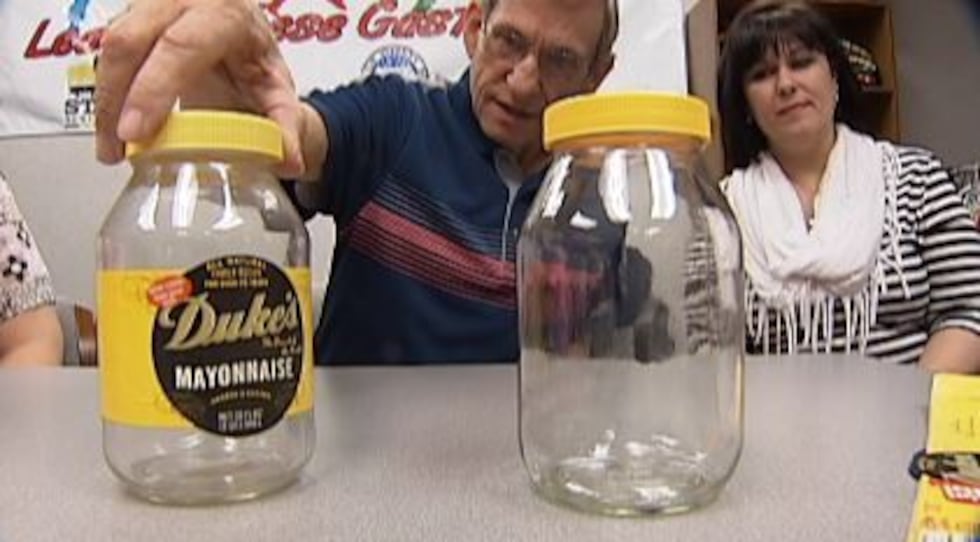 You might call Larry Clinton an absolute fanatic about Duke's mayonnaise.
"Besides having the best taste in a mayonnaise spread you can get, it's just always been a part of my life so," Larry said.
Larry loves it so much, he decided to also make it a part of his death. Several years ago, at a funeral of all places, he told his wife Sue, "I looked at her and said you know I think I want to be cremated and put in a Duke's mayonnaise jar."
"We laughed about it and thought it was kind of a joke," Sue Clinton said. But Larry's wife quickly found out he wasn't joking at all.
Larry's daughter Teresa Clinton-Edge decided it was a wish, she was going to make come true. She contacted Duke's parent company, C.F. Sauer, not really even expecting a reply.
"I get an e-mail from the executive Vice President of C.F. Sauer, saying that they would be honored."
The company sent two glass jars and for that extra special touch of customer service? Custom made labels, with Larry's full name.
"One thing you have to learn is I'm not afraid of death, I'm a Christian and I know what's going to happen," Larry said.
A little perspective comes from this particular empty jar. Instead of fearing the reality at the end of every life, Larry says why not have a few laughs about it.
Send us your Good News! E-mail us at goodnews@wbtv.com