Lancaster Co. residents concerned over 'unsafe' bridge
Published: Mar. 7, 2014 at 11:48 PM EST
|
Updated: Apr. 6, 2014 at 8:38 PM EDT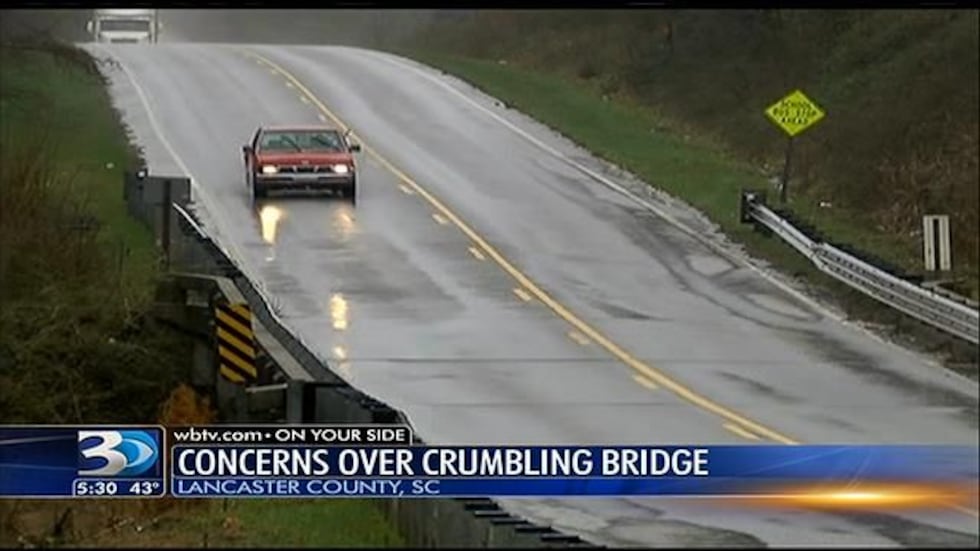 LANCASTER COUNTY, SC (WBTV) - Residents in Lancaster County are worried about a highly traveled bridge that South Carolina Department of Transportation officials have deemed to be in poor condition two years ago.
WBTV has received a number of requests that we look at the condition of this bridge because they thought it would be fixed after a 2012 state report called it unsafe.
Residents say no repairs have been made to the bridge and they say it needs to be replaced.
Lancaster County resident Judy Knight says she was in shock when she found out the condition of Wildcat Creek Bridge on State Highway 9 that she travels a handful of times a week.
"I didn't realize this particular bridge was in that bad of shape," said Knight.
"We have family that go up and down that road all the time and school kids, so that would be a bad place for anything to happen," she continued.
According to State DOT records in 2012, the bridge was built in 1946 and in that same inspection, DOT officials say the bridge's super and sub structure were in poor condition.
The report also states the bridge is functionally obsolete, structurally deficient and "meets minimum tolerable limits to be left as is."
"Oh my gosh, where's our tax money going to," asked Knight.
WBTV reached out to State DOT officials for a comment and to see if any improvements have been made to the bridge since the 2012 inspection, they were unavailable.
Resident Cecil Wallace wants to see improvements to the bridge sooner rather than later.
"I hope something is done before it does turn into a tragedy down the road," said Wallace.
According to the report, the Wildcat Creek Bridge is inspected every 24 months, which means another assessment won't be performed until August of this year.
That inspection from 2012 points out the average daily traffic volume for the bridge is 4,500 vehicles per day, 6% of those are semi-trailer trucks.
Copyright 2014 WBTV. All rights reserved.