'Pop-up' market offers vintage and handmade gifts
Published: Nov. 11, 2013 at 8:52 PM EST
|
Updated: Nov. 12, 2013 at 1:48 AM EST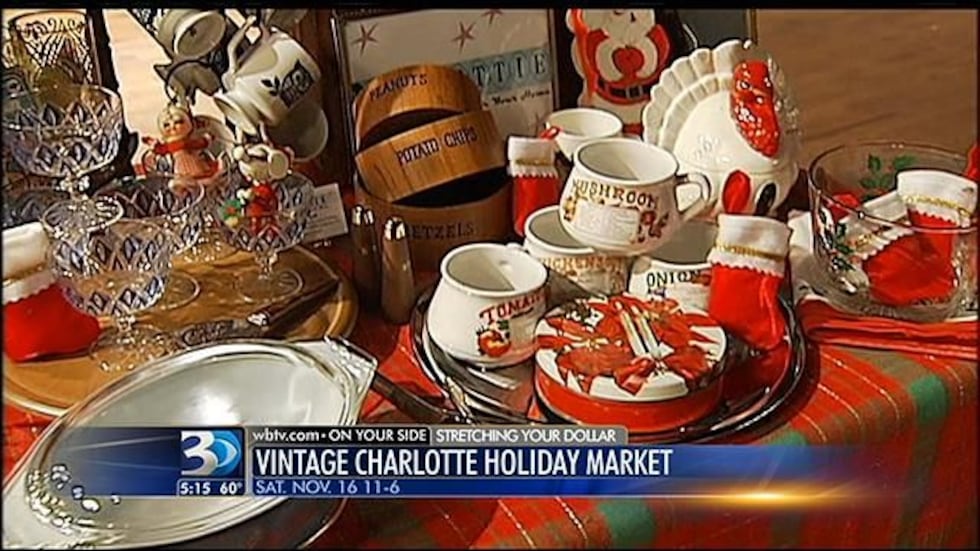 There is a unique shopping experience coming to a place you typically think of as a music venue.  The Vintage Charlotte Holiday Market will 'pop-up' again this Saturday November 16 at The Fillmore at the NC Music Factory.
The shopping experience is the brainchild of Amy Herman.  She moved to Charlotte from Chicago where 'pop-up' markets were more common.  "The Holiday Market is really about Christmas shopping, it's about getting your local handmade and vintage goods all in one spot.  It's everybody coming together at one time!  It's a lot of fun," she told me.
This year, 52 vendors will pack The Fillmore, selling everything from vintage to handmade.   If it's anything like their last market, expect a line when doors open at 11am.  There is no price for entrance, but you can pay five dollars for the 'early bird special' and get in to shop at 10am.
I got a sneak preview from a few vendors who let me check out their wares.  You'll find everything from vintage glassware to items re-purposed from antique pieces.  Live Pretty Jewelry features items from five dollars to forty.  I saw a 1940's Ford carburetor turned into a beautiful lamp!  Another artist hand paints, and then prints incredible Christmas scenes for very unique holiday cards.
Katie Bly, owner of Bly Design, says this market is a great chance to meet her customers face to face. "I realy like it cause mostly I do sell online which I don't get to see my customers and they tell me what they like and I get the feedback I love it," Bly told me.
Donna Scott owns Mod Bettie.  She thinks shopping vintage this time of year is especially heartwarming.  "My favorite part of the whole market is watching people kind of look along and recognize something from their mom's house or their grandma's house and they get a big smile.  It's kind of what you're buying when you're buying vintage.  You buy the memories and the history along with it," Scott told me.
I met the gentlemen who started Go Go Fresco.  They'll also have a table set up selling edible locally produced gifts.   They've been in business for about seven months, and give a portion of their proceeds to local missions.  They tell me in less than a year they've been able to give back $5,000. 
If you come, Amy says bring a tote.  Most vendors will take cash or credit.  The event goes until 6pm.  Enjoy!
Copyright 2013 WBTV. All rights reserved.