"Hanging Obama" truck makes way into Charlotte
Published: Sep. 6, 2012 at 7:02 PM EDT
|
Updated: Oct. 6, 2012 at 7:02 PM EDT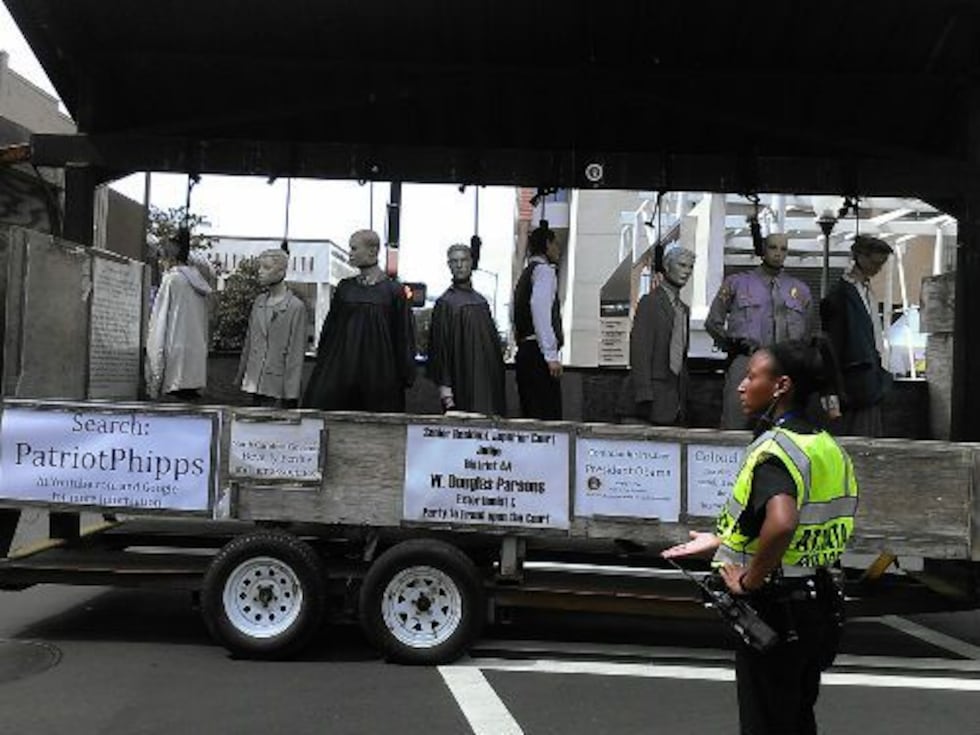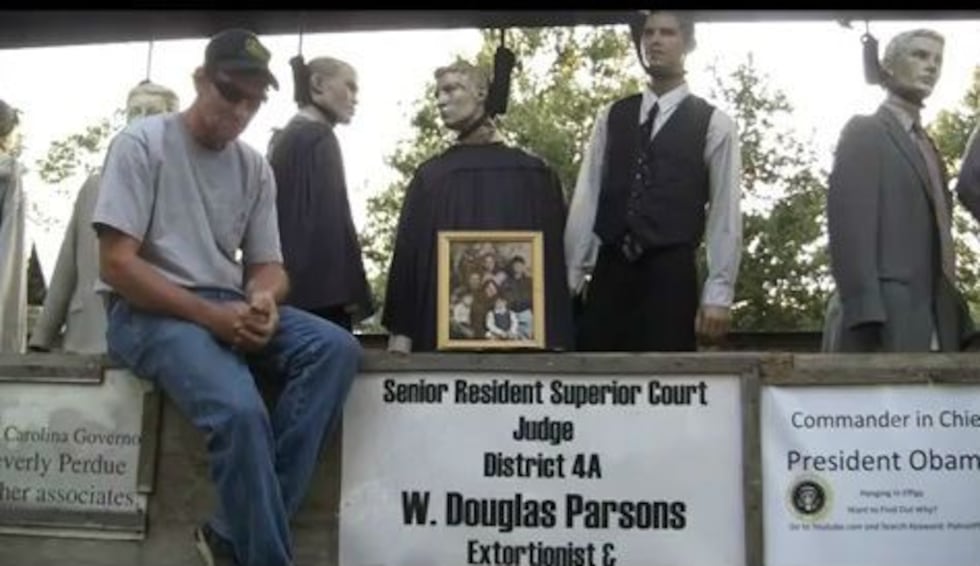 CHARLOTTE, NC (WBTV) - A truck with a disturbing display has made its way into Charlotte for the Democratic National Convention.
The truck is hauling a trailer with eight mannequins hanging from ropes with nooses from a rafter.
The mannequins are all dressed as different people, including President Barack Obama, North Carolina Governor Bev Perdue and Senior Resident Superior Court Judge W. Douglas Parsons.
A WBTV web producer snapped a photo of the truck as it traveled up College Street near uptown Charlotte on Thursday afternoon, ahead of President Obama's acceptance speech.
The truck is owned by a man who calls himself "Patriot Phipps" on YouTube.
He says the truck was made to bring attention to a murder case for William Henry Phipps, who was shot and killed while he was riding down the highway with his father.
"You say it's racism. I say it's not. Absolutely not," he insisted in a YouTube video from May 2012 that explains the display. "Had we been hanging people in effigy when George Bush was president, I would have hung him, no problem. It wouldn't have been a problem at all."
Phipps says that he took the display to New York City, sans President Obama, two years ago and "people hardly remember, hundreds of thousands of pictures was taken then."
He says they added the president to the display after a federal case into the murder investigation went nowhere.
"Wouldn't it have been better for Timothy McVey to do this, than what he done?" he asked at one point in the video. "We have nothing else."
Phipps says that people don't understand how long and how hard they have fought before going to this extreme.
"We did not want to do this, " he said, gesturing to the mannequin display. "Mister Barack Obama can get down, he can get his mannequin down any time he wants to, but it is a federal investigation we are after."
He says the display isn't a racist display.
"It is not our fault that Mister Barack Obama is President and he just happens to be black," he said in the video. "We had nothing to do with it. That was God."
He says be believes most people would do the same things in his situation.
A WBTV viewer also snapped a photo of the same truck on Wednesday after it was stopped by the Highway Patrol along Interstate 85 at Peeler Road near the Rowan, Cabarrus counties line.
According to the viewer, the truck had a sign reading "Obama on board. Dummies in nooses."
Troopers told WBTV they stopped the vehicle for a vehicle equipment violation. The driver was issued a written warning and allowed to leave.