Teen athlete will be able to graduate with classmates, district says
Published: Jun. 6, 2012 at 2:20 AM EDT
|
Updated: Jul. 6, 2012 at 2:19 AM EDT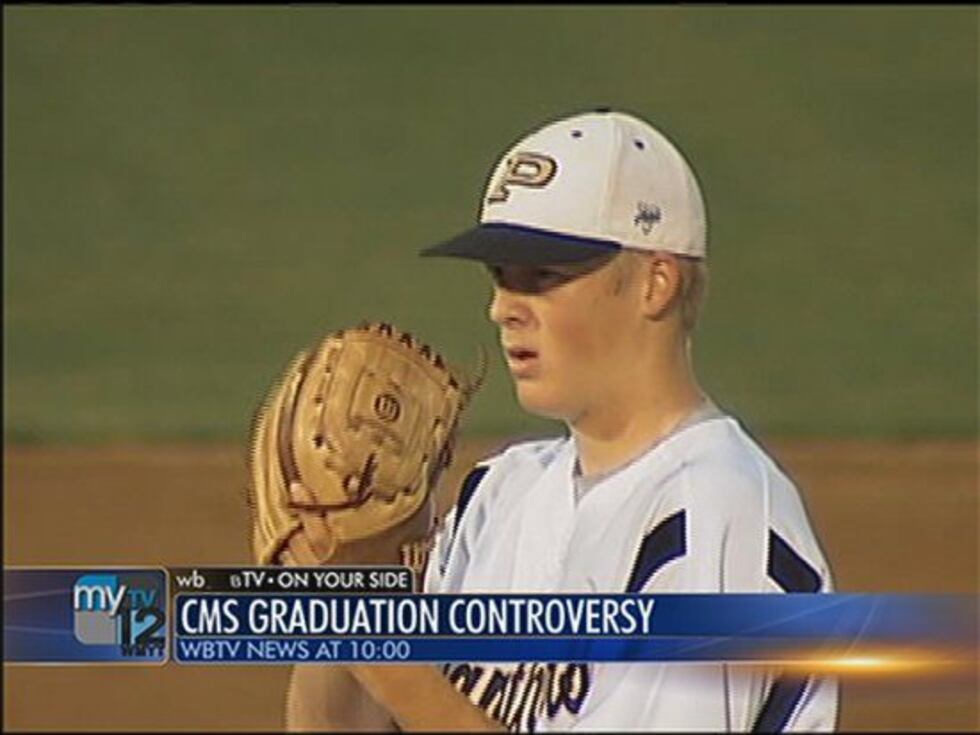 CHARLOTTE, NC (WBTV) - A star pitcher for Providence High School will get to graduate with his classmates after his family says he had to skip a graduation rehearsal in order to accept a contract offer with a Major League Baseball team.
Ty Buttrey was drafted by the Boston Red Sox on Tuesday evening.  The night before, while his classmates were rehearsing for their June 12 graduation, Buttrey was by the phone working out a major league deal, his parents say.
According to school rules, if a student doesn't take part in the rehearsal, they aren't supposed to take part in the graduation ceremony. Exceptions to this provision "must be reviewed by the principal and decisions shall be made on a case-by-case basis," the rule continues
Tuesday night, Buttrey's family told WBTV News that they and Buttrey's coach asked Providence High School's Principal Tracey Harrill to make an exception to a standing rule. The family said Harrill denied their request.
"His coach tried to work with the principal and she wouldn't have anything to do with it," said Dan Buttrey, Ty's father. "So it's not like we didn't try."
Buttrey's father says students were told that no cell phone would be allowed at the practice.
The family says that teams and advisors were set to call Buttrey at the exact same time as the graduation rehearsal. With new collective bargaining agreement rules, he needed to be on the phone to get the information and negotiate from various teams, his father told WBTV.
But Mike Teevan, Senior Director of Public Relations for Major League Baseball, says the league has "no requirements that a player has to be available during the Draft."
On Wednesday, Principal Harrill told WBTV via email that she wanted to clarify information about the situation.
"The parents assumed that [Buttrey] would not participate in the ceremony without having a conversation with the principal prior to the rehearsal," Providence High School principal Tracey Harrill told WBTV.
"I have worked with several families who contacted me prior to rehearsal to accommodate extenuating circumstances including a college athlete and a rising college freshman who attended an orientation. Graduations are a milestone and should be a memorable event for all families. I look forward to meeting with the [Buttrey's] parents to discuss the matter at hand."
Harrill met with Ty Buttrey and his mother Wednesday afternoon to discuss his participation in the graduation ceremony. During the meeting, Harrill shared her thoughts about the situation and made a decision at 5:30 p.m. to allow Ty to participate in the graduation.
"No decision had been made prior to this meeting and Ms. Harrill never told Ty or his parents that he could not walk," school officials told WBTV Wednesday evening. "She communicated her decision directly to Ty and his mother at today's meeting."
School officials say they wish Buttrey well in his future endeavors.
"We are proud of all he has accomplished."