Family files lawsuit after zipper reportedly yanked out baby's tooth
Published: Oct. 24, 2011 at 4:13 AM EDT
|
Updated: Dec. 30, 2011 at 3:51 AM EST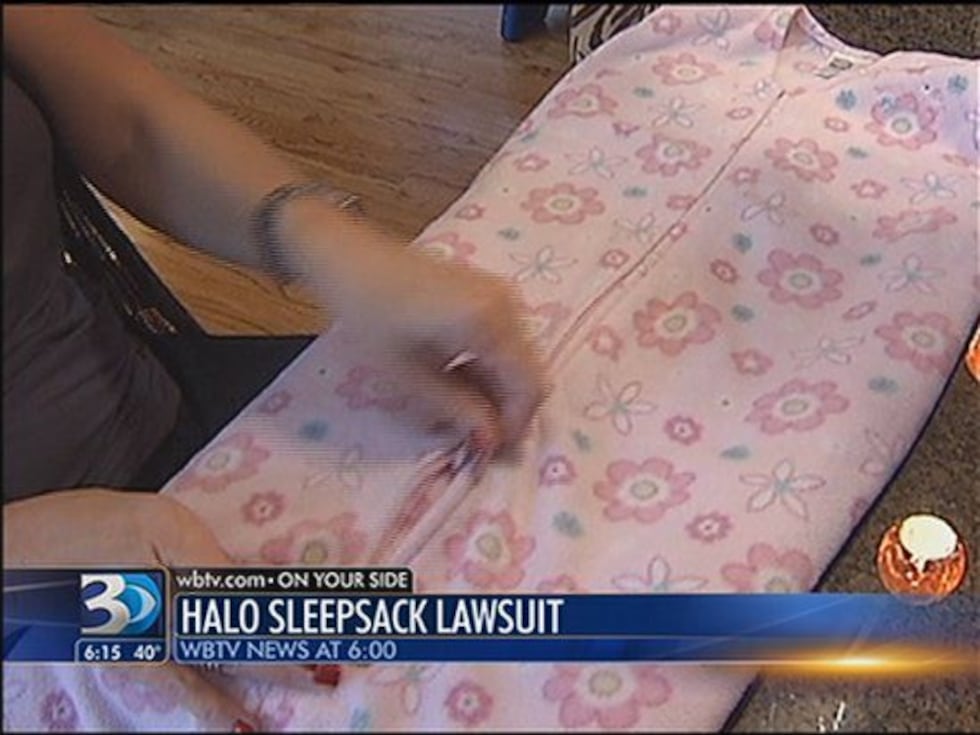 MATTHEWS, NC (WBTV) - Lora Stern vividly remembers the day her 14-month-old girl woke up from a nap, panicked and scared.
"I could hear a piercing scream. Not like a cry, but a piercing scream," said Stern.
Little Taylor's tooth was stuck on the zipper tab of her wearable sleep blanket. Her mother says when she found Taylor, her feet were up near her mouth. When Taylor kicked her feet, the tooth was completely yanked out.
Stern says the tooth got lodged in the hole of the zipper tab, as Taylor was moving around in her crib.
Now this Matthews family is taking action against the popular HALO SleepSack. They filed a federal complaint, and now a lawsuit.
The SleepSack can be found in stores, online and at baby consignment sales. The are also passed around between family and friends as a popular hand-me-down item.
The company advertises them as a safe alternative to blankets, which have been linked to suffocation and SIDS in babies.
Taylor is three years old now and wears a fake tooth, kept in place with a retainer. She can still describe the moment she lost her tooth.
"I kicked up and had blood all by myself," said the toddler, trying to find the right words. "It kicked, kicked, kicked out." she said, talking about her tooth.
The incident started the Sterns down a path of dealing with doctors, a national company and federal regulators.
They filed a complaint with the Consumer Product Safety Commission hoping to get the product off store shelves so another child wouldn't get hurt.
Little did they know, eight months later the same thing happened to another family in California.
"It was literally stuck on his tooth and his feet were up here and he was panicked trying to get it loose," said Lucinda Alden. Her son was nine months old at the time.
The CPSC sent another investigator out to Alden's home last month.
Just like Taylor, the dental damage could be permanent.
HALO tells WBTV the risk of these incidents is "extremely low -- less than one in a million." However, the company "concluded it was appropriate to re-design the zipper to eliminate the hole."
Not good enough, according to both families. The  Sterns and Alden say HALO told them, the hole was designed to prevent choking by creating an airway if swallowed.
That kind of concern is exactly why five other parents filed complaints with the Consumer Product Safety Commission concerning HALO zippers that fell apart.
"I'm really not that satisfied," said Gary Stern, Taylor's father.
In their civil lawsuit, Stern says the company failed to provide a safe product without any warnings, and that Taylor suffered traumatic injury. They are suing for the cost of her dental care, which they believe could be thousands of dollars, long-term.
Right before Thanksgiving, HALO responded saying their product already exceeded federal and state safety regulations which relieves them of responsibility. Their response also questions whether Taylor wore the correct size garment, which her family says she did.
The company stands by their product. HALO says it exceeds those federal safety standards and zippers are the safest closure they can choose.
Both families are still talking with the Consumer Product Safety Commission. The agency will not comment on their communications with HALO.
The CPSC says not all complaints turn into a recall. They look for the most substantial hazards, often relating to products like faulty cribs linked to deaths.
Copyright 2011 WBTV. All rights reserved.