Pro-life group protests against pro-life church
Published: Jul. 22, 2010 at 2:37 AM EDT
|
Updated: Aug. 22, 2010 at 2:24 AM EDT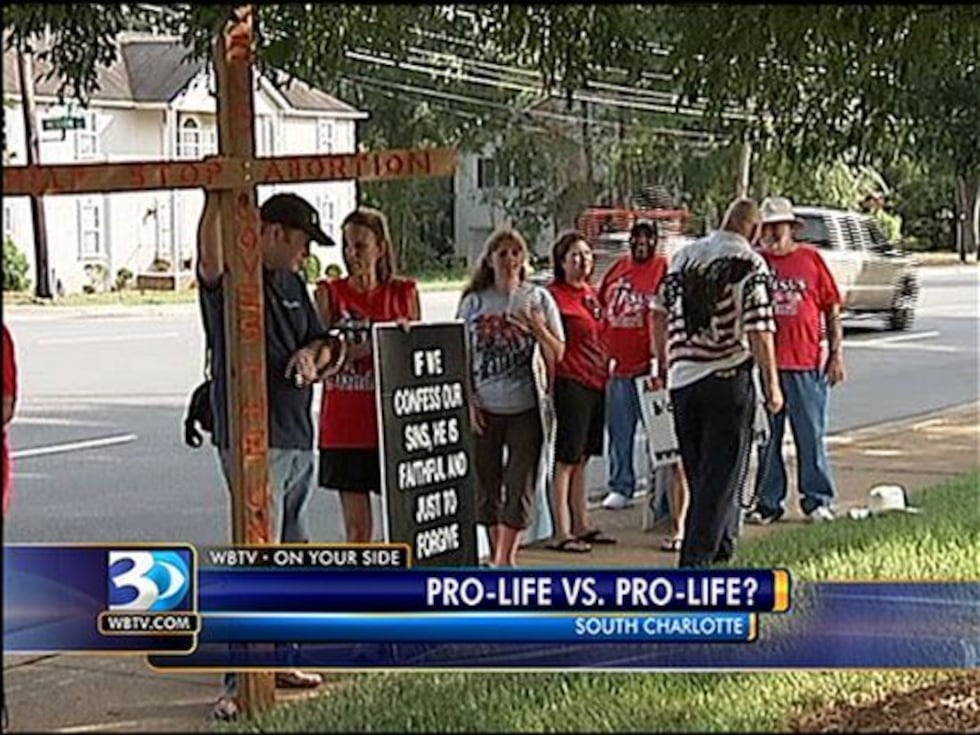 CHARLOTTE, NC (WBTV) - For the second time in four days, a Concord-based pro-life group protested outside Central Church of God in southeast Charlotte.
Although the church is also pro-life, members of Operation Save America say it isn't doing enough to fight abortion, and that's why they say they chose the public sidewalk outside the church for their protest.
Protestors held signs and also showed graphic pictures of aborted fetuses.  WBTV felt the pictures were too graphic to show on television, but has put a link on this page for anyone that wants to see them unedited.
Central Church of God pastor Loran Livingston says he's concerned folks who drove by on Sardis Road thought the church was sponsoring the protest.  He says he doesn't agree with Operation Save America's methods.
"We are passionate about saving lives, and we are pro-life," Livingston said.  "But there has to be compassion.  This group seems to be militant.  It seems to be an angry organization."
But members of Operation Save America say their method of showing pictures of aborted fetuses is effective at getting their point across.
"This must be seen," said protest leader Rev. Rusty Lee Thomas.  "This is a silent holocaust.  Without these pictures, abortion is just a word that we debate, that we banter about.  But this is the reality.  This is what abortion does to innocent babies."
Thomas said although Central Church of God is pro-life, he feels the church isn't doing enough to fight abortion.  He said the church should do more to protest nearby abortion clinics.
Pastor Livingston says what the group is really upset about is that his church won't endorse Operation Save America's methods.  But he says the church is going about trying to prevent abortions the way it prefers.
"I am doing something," he said.  "But I'm trying to do it in a compassionate way that brings people to the love of God."
One nearby resident drove into the church Wednesday night to tell protestors he didn't think they should show their signs.
"I agree with [being] pro-life," said Rob Mays. "However, these pictures are terrible for kids to see."
Mays says his two young kids saw the pictures when he had driven by earlier.
Group members claim that this week a two year old girl saw the pictures, and her reaction caused her father to talk his girlfriend out of getting an abortion.
They say they see nothing wrong with showing them to folks of all ages.
"I have two grown up children -- 26 and 24 -- they grew up seeing these pictures, and all they want to do is help [stop abortion]," said protestor Wendee Brisart.
But Mays was not convinced by the argument.
"No kid should be seeing pictures like this," he said.  "We don't show our kids this stuff on television, and they shouldn't see it when they pass by the streets of our neighborhood."
Operation Save America also protested outside of Central Church of God on Sunday.  Although Wednesday night's protest before the church's prayer meeting was small, Livingston says on Sunday there were about a 150 protestors.