News Anchor
Jackson, MS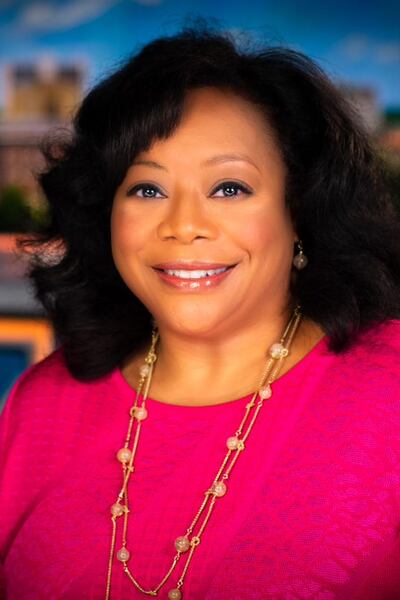 Maggie is a native of Crystal Springs, Mississippi. She attended Hinds County Public Schools and is a graduate of Utica High School.
In May, 2017 Maggie received an Honorary Doctorate from Belhaven University in Humanities. An Emmy nominated News Anchor, Maggie attended Jackson State University, becoming the 89th member of her family to attend JSU. She transferred her sophomore year to Mississippi College to pursue a career in Corporate Law. But it was at MC she discovered her ability in radio. She worked for the school radio station, WHJT-FM, and later was hired at WJDX-MISS 103 as a radio announcer, marketing researcher and weekend news anchor.
Maggie was hired at WLBT her senior year. Since that time she has worked as weekend weather anchor, news reporter, coordinator and producer of children's programming, and now serves as 5, 6 and 10 p.m. news co-anchor and covers stories on education, and children's issues.
Maggie received the 2014 Woman of the Year Award from the Mississippi Commission on the Status of Women. She has received more than 500 other awards, including being recognized by the United States Congress in October 2011 as an Angel In Adoption for her work on Wednesday's Child. She was nominated by Senator Thad Cochran. She also received the award in September 2001 for the segment featuring foster children in the state in need of permanent homes. Maggie was nominated by Congressman Ronnie Shows. Congressman Shows also recognized Maggie's work for children in the state on the floor of Congress. The National Association of Social Workers, Mississippi Chapter selected Maggie as their Citizen of the Year in March 2009 for her work with Wednesday's Child. Maggie was honored as the 2009 Volunteer of the Year by Tougaloo College. In October, 2011 Maggie was also appointed to a 3 year term by Governor Haley Barbour to the Mississippi Commission for Volunteer Service.
Maggie has also received the Salvation Army Lifetime Achievement Award and was a recipient of the Father Donald W. Lloyd Memorial Award in recognition of Lifetime Achievement in Philanthropy by the Marie R. Hoerner Foundation. She was also been recognized by Catholic Charities for her support.
Maggie is now a proud member of the Mississippi Association of Public Broadcasters Hall of Fame. She has also received the Top 40 under 40 Business Award from the Mississippi Business Journal , she has been recognized by the Mississippi Junior Chamber of Commerce as an Outstanding Young Mississippian, and she was inducted into the Hall of Fame by Mississippi Families for Kids. She has received both the district and state Service to Mankind Award, Outstanding Young Woman in America, Woman of the Year from Alcorn State University, Meritorious Leadership Award from Tougaloo College, and the State NAACP Vernon Dahmer Award for service to children. The NAACP also recognized her work with Wednesday's Child. She was honored with the Service to Education Award from Jackson State University, Outstanding Career Woman from Jackson Sales and Marketing Executives, and Woman of the Year from the State Martin Luther King, Jr. Committee. She was also honored for Outstanding Community Service by the Jackson Music Awards. Maggie was recognized with the Angel in Adoption Award from Southern Christian Services for Children and Youth.
Maggie has appeared in two movies. She was on the set of A Time to Kill for five days, although most of her part was edited out. She appeared as herself in the Rob Reiner film Ghosts of Mississippi.
Maggie speaks to groups all over the State of Mississippi. She serves on numerous boards, including the Salvation Army, Merit Health River Oaks Hospital, Mississippi Blood Services and the Diabetes Foundation of Mississippi. She was also asked to serve as one of the representatives of Mississippi at the 1997 Presidential Summit and served as an Olympic Torchbearer.
Maggie serves on the advisory board for Southern Christian Services for Children and Youth, and has worked as a board member for Friends of Children's Hospital at University Medical Center, the Jackson Chamber of Commerce Mentoring Project, the Mississippi Public Education Forum, The Council on Reform and Excellence for Jackson Public Schools, and the United Way of Central Mississippi. Maggie also served as a board member for the Eudora Welty Foundation. She was selected Chairperson of the National Children's Study, Community Advisory Board, at the University of Mississippi Medical Center in January, 2008. The study focused on the health, growth and environment of children in Hinds County from pregnancy to adulthood. In February, 2011, Maggie became one of 11 people in the nation to be selected by the National Institutes of Health to serve on the National Steering Committee for the National Children's Study.
Maggie's was presented with the Legends for Children award by Mississippi Families for Kids for outstanding commitment and support of families and children in Mississippi. Maggie was also recognized by the Brain Injury Association of Mississippi. Maggie was honored with the Eternity Award. It is given to an individual who has been a champion and advocate for children, the disadvantaged and the disabled of Mississippi. Her work has been recognized by the Jackson Association of Black Journalists, the Mississippi Association of Broadcasters and the Associated Press. Maggie was also the proud recipient of the Jackson Free Press Best News Anchor for nine years in a row. In 2002 she was recognized with the Associated Press/Howard Lett Newsperson of the Year Award. Maggie was also chosen as Best Media Personality 2007 in the July/August issue of Mississippi Magazine in the Best of Mississippi article.
In October, 2000, Maggie traveled with other journalists to Spain for special reports on the "Majesty of Spain" Exhibition, which was featured in Jackson from March through September of 2001.
Maggie is the proud recipient of the March of Dimes 2006 Mississippi Citizen of the Year award. Maggie is the recipient of the Hinds County Human Resource Agency Medgar Evers Humanitarian Award. She was also recognized by the Girls Scouts as a Woman of Distinction, for her work with children in 2005. Maggie was honored January 23, 2007 to receive the Founders' Memorial Award presented by The Mississippi Religious Leadership Conference for her work with children. She was also recognized by the Phi Beta Sigma Fraternity Mu Sigma Chapter with the Image Award for her work in the Media.
Following Hurricane Katrina in August, 2005, Maggie was invited to appear as the first guest co-host of the Montell Williams Show in New York City. She appeared on the show in September, 2005.
Maggie served as an adjunct professor at Belhaven University in Jackson for almost 14 years. She and her husband who is a proud U.S. Navy Vet, have two children and one granddaughter.
Education
Mississippi College