FIRST ALERT WEATHER DAY: Heavy rain, storms likely Tuesday
Dry and cool conditions return by the Thanksgiving holiday!
Published: Nov. 20, 2023 at 6:36 AM EST
|
Updated: Nov. 21, 2023 at 12:09 AM EST
CHARLOTTE, N.C. (WBTV) - Tuesday will be an impactful travel day across the East.
Tuesday: First Alert Weather Day; rain, storms, wind
Wednesday: Isolated shower chance, low 60s
Thanksgiving: Mostly sunny, dry and chilly, 50s
After a dry start to the week, our next cold front will bring rounds of heavy rain and the potential for thunderstorms. Tuesday morning low temperatures will start in the 40s and low 50s in most locations, but the 30s in the mountains. Rain will begin to work in overnight and will impact most day parts.
As highs reach the low 60s by the afternoon hours, storms will be moving through the area. Areas along and SE of I-85 will stand the best chance at seeing a strong to severe storm capable of producing damaging wind gusts and a brief tornado. Heavy rain could also pose a localized flash flooding threat through the evening hours as the line slowly works east.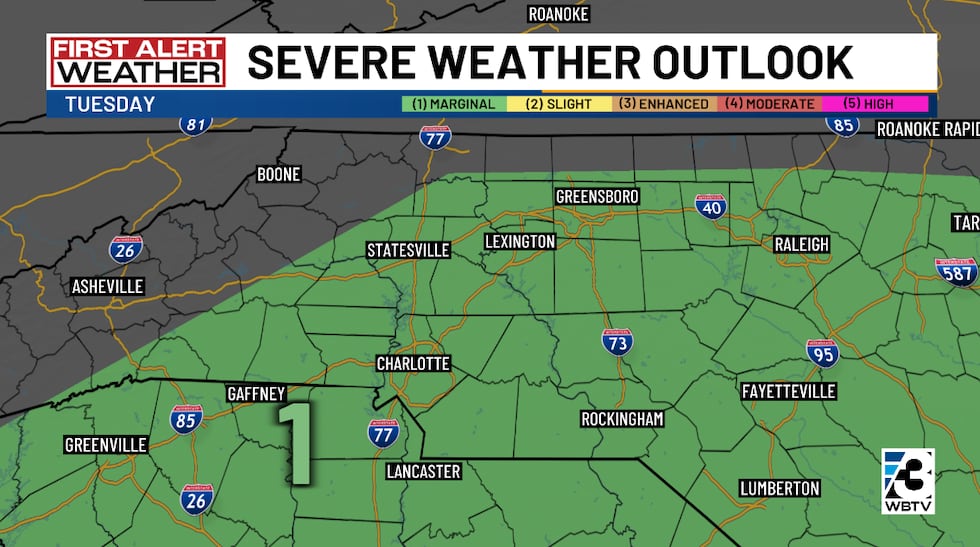 There could be a lingering morning shower early Wednesday, and another chance for an isolated shower late in the day, but Wednesday will be much drier overall. Highs will reach the lower 60s, Wednesday afternoon.
Thanksgiving will fortunately be dry, just cool! Highs will only reach the upper 50s after a morning low around 40-degrees.
A small shower risk returns on Friday, but most Black Friday shopping and weekend plans will be dry with highs on either side of the 60-degree mark.
Download the free WBTV Weather app on your mobile device, to receive weather alerts and get your latest WBTV weather forecast on the go. You can also get the latest weather forecast on Roku and Amazon Fire's WBTV app.
Hope you have a great start to your holiday week!
- Meteorologist Rachel Coulter
Watch continuing news coverage here:
Copyright 2023 WBTV. All rights reserved.