Measurable rainfall moves in Tuesday
A First Alert has been issued for Tuesday due to high rain chances.
Published: Nov. 19, 2023 at 8:45 AM EST
|
Updated: Nov. 19, 2023 at 5:53 PM EST
CHARLOTTE, N.C. (WBTV) - An area of high pressure over the mid-Atlantic will slowly move east over the next 24 hours and make way for a strong area low pressure to head our way and bring some much-needed rainfall on Tuesday.
• Monday: Increasing clouds, scattered showers late
• Tuesday: Showers likely, cooler
• Wednesday: AM showers, PM clearing
After a beautiful weekend, we are gearing up for some measurable rainfall to impact the Carolinas.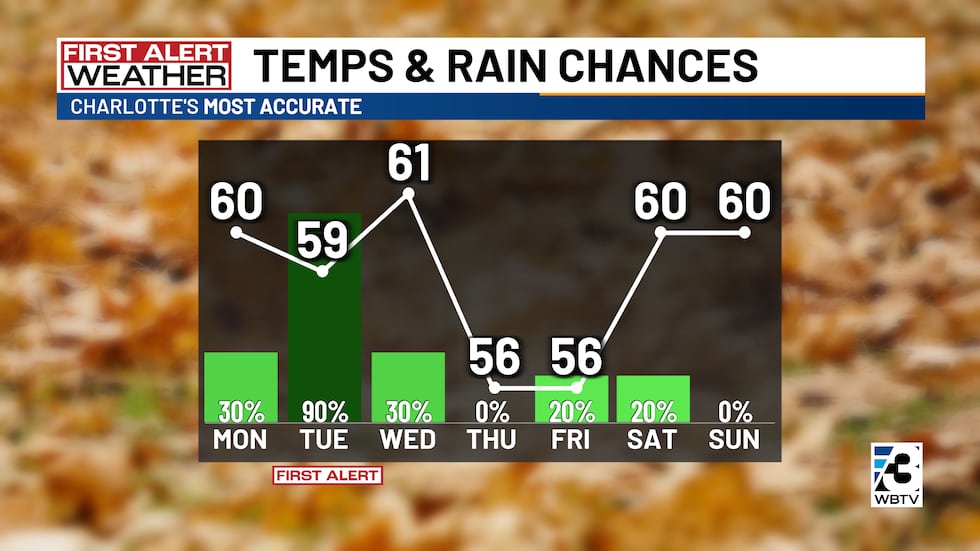 The overnight will stay quiet and cool with lows in the 40s. On Monday, expect increasing clouds throughout the day with chances for scattered showers after sunset. Tomorrow's highs will only climb into the upper 50s and lower 60s. By Tuesday, an area of low-pressure lifting northeast out of Arkansas will bring widespread rainfall and some rumbles of thunder into the Charlotte metro area. Tuesday's highs will range from the 40s in the mountains to 50s in Charlotte.
A few more scattered showers will be possible Wednesday morning but by the afternoon expect gradual clearing with highs in the upper 50s and lower 60s. Thanksgiving Day looks mostly sunny and cool with highs in the 50s. On Friday a few isolated showers will be possible otherwise expect partly cloudy skies with highs in the mid 50s. The outlook for next weekend will include a mix of sunshine and clouds with highs in the lower 60s.
Download the free WBTV Weather app on your mobile device, to receive weather alerts and get your latest WBTV weather forecast on the go. You can also get the latest weather forecast on Roku and Amazon Fire's WBTV app.
Have a great day!
Elissia Wilson
Copyright 2023 WBTV. All rights reserved.