Panthers look to pull off upset over high-powered Dallas Cowboys
Carolina is hoping to win its second game of the year on Sunday.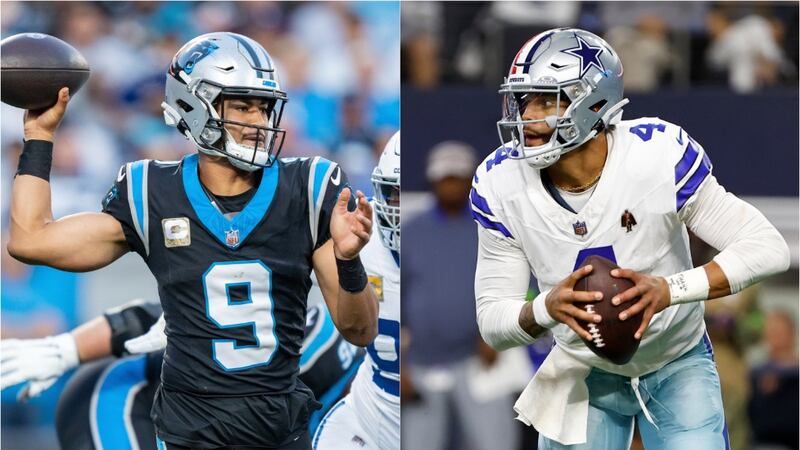 Published: Nov. 19, 2023 at 10:40 AM EST
CHARLOTTE, N.C. (WBTV) - The Carolina Panthers will attempt to pull off perhaps the biggest upset of the NFL season when they host the Dallas Cowboys on Sunday.
Carolina, 1-8, won its only game three weeks ago when Eddy Piñeiro made a last-second game-winning field goal. Meanwhile, Dallas, who enters Sunday at 6-3 and sits second in the NFC East, is powered by one of the league's best offenses and MVP candidate Dak Prescott.
The Cowboys currently average the second-most points per game, just under 30, and are fourth in total offensive yards. The Panthers on the other hand, are continuing to scuffle offensively.
The biggest development for Carolina leading up to Sunday's game is the switch in offensive playcalling from Thomas Brown back to head coach Frank Reich. Reich announced the change on Wednesday, calling the move "what's best for the team."
During the first six games of the season, when Reich called plays, the Panthers offense averaged almost 19 points per game and 294 yards. Over three games with Brown calling the shots, they scored 15, 13 and 13 points, and averaged a meager 237 yards per contest.
"We have eight games left and I just want to give my attention and everything I can do, and everything I can bring to help the offense take a next step," Reich said this week. "It'll still be collaborative, Thomas is still running the show as far as the offense and install meetings and game-planning."
Panthers rookie quarterback Bryce Young said the change is no one's fault in particular, and should not change much for the players moving forward.
"There's no one that's at fault, it was just the call that coach made and we have his back," Young said. "Every week we turn the page and you have a new game plan, and you got different things up and you got new things, and stuff from the past. It's an every week thing, and [this change] is no different. It doesn't affect me."
Carolina's offense could be faced with some tough sledding on Sunday, though, as Dallas is also backed by one of the league's stingiest defenses. Through nine games, the Cowboys are surrendering the fourth-fewest points (18.3) and third-fewest yards (275.1) per game.
Despite the team's struggles, Young said belief in the coaches and players on the current roster remain.
"We have what it takes here. We haven't put it on display, and that's on us," the rookie quarterback said. "There's no lack of faith in personnel, no lack of faith in the coaching staff. At the end of the day it boils down to us executing."
Sunday's game at Bank of America Stadium is scheduled to kick off at 1 p.m. on FOX. Dallas enters the matchup as a 10.5-point betting favorite.
Related: 'It's about the team': Reich retaking playcalling duties as Panthers offense continues to struggle
Watch continuous news coverage here:
Copyright 2023 WBTV. All rights reserved.