Staying mild, dry through Sunday before rain on Tuesday
Looking ahead to next week, Monday may still be mainly dry until late in the day.
Published: Nov. 18, 2023 at 8:20 AM EST
|
Updated: Nov. 18, 2023 at 10:30 PM EST
CHARLOTTE, N.C. (WBTV) - The mild and dry conditions will carry us through the remainder of the weekend. On Monday we will turn our attention to a storm system moving out of the central Plains that will likely bring some much-needed rainfall into our area on Tuesday and Wednesday.
• Sunday: Plenty of sunshine, pleasant
• Monday: Increasing clouds, scattered showers late
• Tuesday: Showers likely, cooler
An area of high pressure over the southeast will continue to keep us mild and dry for the balance of the weekend. Overnight expect clear skies with lows in the 30s and 40s. Sunday will be another beautiful day with mostly sunny skies and in the upper 60s.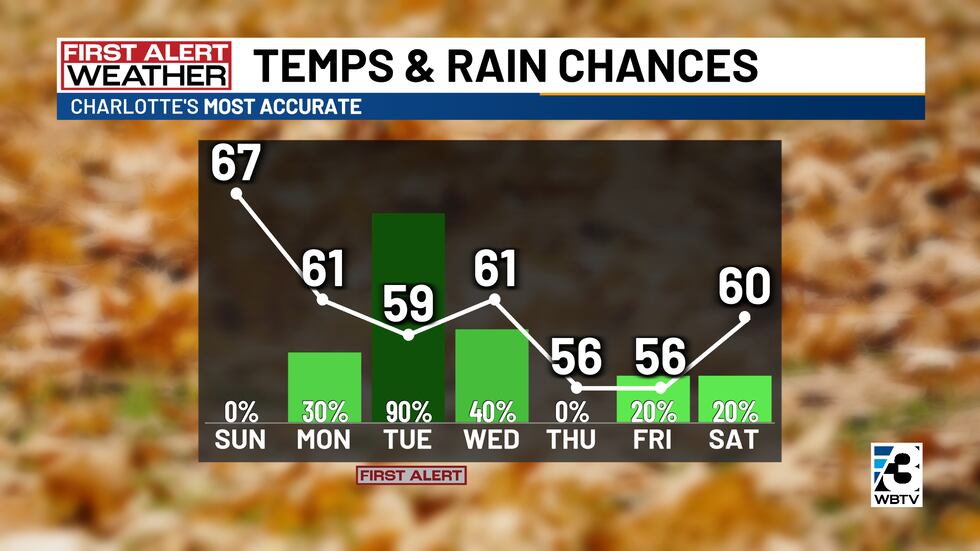 On Monday, a strong storm system will continue to track east increasing cloud cover over our area. Toward the late afternoon hours there will be a chance for some scattered showers otherwise expect mostly cloudy skies with highs in the lower 60s. A First Alert is in place on Tuesday for widespread showers and some rumbles of thunder. Tuesday's highs will only climb into the upper 50s and lower 60s. Showers will linger into Wednesday; expect highs in the lower 60s. Thanksgiving Day looks mostly sunny and cool with highs in the 50s. More sunshine can be expected for Friday with highs in the mid 50s.
Download the free WBTV Weather app on your mobile device, to receive weather alerts and get your latest WBTV weather forecast on the go. You can also get the latest weather forecast on Roku and Amazon Fire's WBTV app.
Have a wonderful weekend!
Elissia Wilson
Copyright 2023 WBTV. All rights reserved.