Lots of sunshine for the weekend!
First Alert: Rain to impact Tuesday travel plans
Published: Nov. 17, 2023 at 7:42 AM EST
|
Updated: Nov. 17, 2023 at 5:10 PM EST
CHARLOTTE, N.C. (WBTV) - Saturday will be the warmer weekend day, but sunshine will prevail both days!
• Weekend: Mostly sunny, cooler by Sunday
• Tuesday: Rain likely, storms possible
• Thanksgiving: Likely dry, just cool with highs in the mid 50s
A cold front will be crossing the area as we kick off the weekend, but dry conditions are expected for any outdoor plans. Temperatures will start off in the low 50s Saturday morning before topping out in the low 70s by the afternoon hours. You may notice the wind pick up at times, but overall, a pleasant day is in store!
Cooler temperatures work in by Sunday, however, and we'll be waking up to the 30s again. By Sunday afternoon, high temperatures will lift into the low 60s.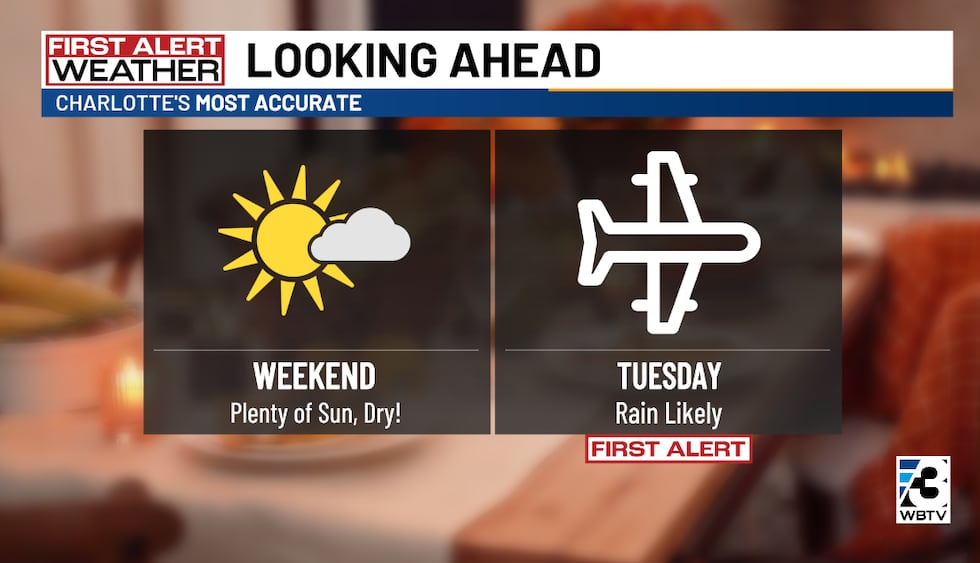 Clouds and cool temperatures will be around for Monday ahead of our next storm system.
First Alert: Rounds of rain are likely and storms will be possible for local and regional travel plans on Tuesday. The low pressure system and associated cold front is set to lift east in time for Thanksgiving, though.
So far, Thanksgiving looks dry, mostly sunny, and cool with highs in the low to mid 50s.
Download the free WBTV Weather app on your mobile device, to receive weather alerts and get your latest WBTV weather forecast on the go. You can also get the latest weather forecast on Roku and Amazon Fire's WBTV app.
Have a great weekend!
Meteorologist Rachel Coulter
Copyright 2023 WBTV. All rights reserved.