'It's about the team': Reich retaking playcalling duties as Panthers offense continues to struggle
Offensive coordinator Thomas Brown had called the team's offensive plays over the past three games.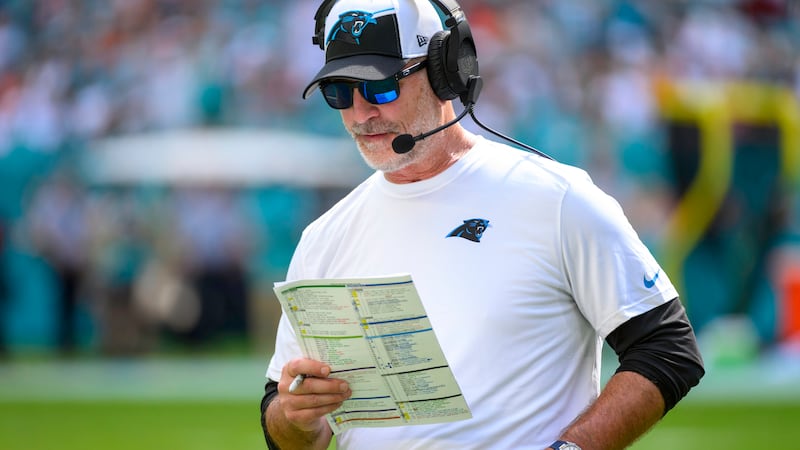 Published: Nov. 16, 2023 at 9:54 AM EST
CHARLOTTE, N.C. (WBTV) - Less than a month after making a change, Carolina Panthers head coach Frank Reich is taking back over the team's offensive playcalling duties.
For the past three games, the role has belonged to offensive coordinator Thomas Brown. Now, just weeks after Brown was given the responsibility, Reich, a seasoned playcaller, is retaking the reigns.
Reich informed the media of his decision during his Wednesday press conference, repeatedly stating that it is what he feels is best for the team.
"This is not about Thomas. This is not about me, it's about the team," the Panthers' head coach said. "I'm in the position that I'm in because of years of being a successful offensive coordinator and playcaller."
Quarterback Bryce Young said Reich relayed that same message to the team, and that players are on board.
"It's the result of a lot of things, but ultimately...it's just what's best for the team," Young, the No. 1 pick in this year's draft, said. "There's no one that's at fault, it was just the call that coach made and we have his back."
The change back to Reich comes after the Panthers have continued to struggle offensively, failing to score more than 15 points in any of the previous three contests.
Over the three-game span in which Brown called plays, Carolina scored 15, 13 and 13 points, respectively. During that time, the offense averaged a meager 237 yards per game. Both the point totals and yardage totals were notably lower than during the six games with Reich calling plays, when they averaged almost 19 points and 294 yards per game.
Despite the lack of a turnaround under Brown's watch, Reich said he believes the three games should have no bearing on his offensive coordinator's long-term goals.
"This should have zero impact on Thomas' career arc," Reich said Wednesday. "First of all, anyone that knows Thomas knows he's brilliant. He's a great leader, alpha male, he's fast on his feet. This is a three-game sample size on a team and an offense that's been struggling."
Both Reich and Young reiterated that the change is far from a complete one, with both using the word "collaborative" to describe the team's offensive game-planning this season.
"Every week we turn the page and you have a new game plan, and you got different things up and you got new things, and stuff from the past," Young said of the play-calling swap. "It's an every week thing, and [this change] is no different. It doesn't affect me."
With Carolina seemingly out of playoff contention and performing below its preseason expectations, some have wondered if Reich could be on the hot seat. He addressed that question on Wednesday, claiming that he has not been given any type of "ultimatum" by ownership.
"We have eight games left and I just want to give my attention and everything I can do, and everything I can bring to help the offense take a next step," Reich said. "It'll still be collaborative, Thomas is still running the show as far as the offense and install meetings and game-planning."
As for the remaining eight games, it could be tough sledding for Carolina. The Panthers still have games against the Dallas Cowboys and Jacksonville Jaguars, as well as four divisional matchups down the stretch. Still though, Young said belief in the coaches and players on the roster remains.
"We have what it takes here. We haven't put it on display, and that's on us," the rookie quarterback said. "There's no lack of faith in personnel, no lack of faith in the coaching staff. At the end of the day it boils down to us executing."
Panthers fans will get a second first look at Reich when Carolina hosts the Cowboys on Sunday. Kickoff is scheduled for 1 p.m.
Related: Records: Panthers file application to potentially alter Uptown practice facility
Watch continuous news coverage here:
Copyright 2023 WBTV. All rights reserved.