Charlotte airport expecting nearly one million people this holiday weekend
"I'd like to announce the kick-off to the busy Thanksgiving Day travel period." Chief operating officer Jerome Woodard told us.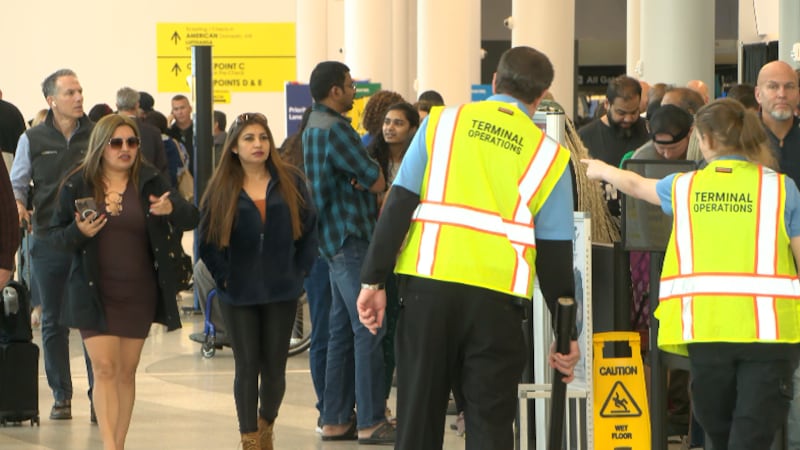 Published: Nov. 16, 2023 at 5:43 PM EST
CHARLOTTE, N.C. (WBTV) - Tomorrow marks the beginning of the biggest travel days of the year. Friday through Tuesday is expected to break records at Charlotte Douglas Airport. The roadways will also be jammed packed with travelers.
Airport officials are saying they're expecting close to a million people to fly in and out of the area over the next 12 days. So, they're gearing up and bracing for what's about to come.
"It's kind of our Superbowl." airport officials said.
And like a football game, if you don't do things just right there's a real chance of fumbling your way through the season.
"I'd like to announce the kick-off to the busy Thanksgiving Day travel period." Chief Operating Officer Jerome Woodard told us.
Just a couple of years out of the pandemic, Charlotte is geared to smash all kinds of records when it comes to people flying in and out of the Queen City.
"We're expecting over 30-million passengers to go through screenings at airports all across the country." Mark Howell with the TSA said.
And that means long lines and frayed nerves.
"It's going to be busy, traffic is going to back up. So finally I ask you guys to be nice." CMPD officer Will Farrell told WBTV's Ron Lee.
Being nice might turn out to be a relative term depending on what people have to go through. The first thing that'll disappear are the parking spaces. Officials say make sure you grab those reservations while you can. Pre-check is a good idea as well. The airport opened a new security checkpoint to streamline the process to get everyone on their flights.
"Probably one of the busiest Thanksgivings that we've seen in recent years."
Tiffany Wright with Triple-A says it's not just the airport that sees a travel spike. Roadways will be packed to the gills as well so leave as early as you can.
"One-point-six million people are going to be traveling fifty-miles or more away from home this holiday season." Wright said.
But there may be things that could affect your travel plans that are totally out of your control, no matter how prepared you are. The flight attendants union for American Airlines is threatening a walk-out if negotiations for a new contract aren't reached. Even though the company says there's no chance for a strike, there are concerns out there.
"We can't say yes and we can't say no with holidays but keep in mind that we don't want to strike either. It's not in the best interest of anybody but we'll do what we need to to get what we earned." Krissy Pereira with the contract action team said.
The union says if negotiations fall apart there's a 30 day cooling period before anything like a strike could happen. That could put us clear of the holiday travel season.
Copyright 2023 WBTV. All rights reserved.