Wanted teen considered 'armed and dangerous' apprehended by Rowan Co. deputies
Defiant Ethan Ghent says "I'll be out!"
Published: Nov. 14, 2023 at 2:11 PM EST
|
Updated: Nov. 15, 2023 at 5:49 PM EST
ROWAN COUNTY, N.C. (WBTV) - Deputies had been searching for days for 19-year-old Ethan Ghent, who they had described as a one-man crime spree.
On Tuesday morning they were able to capture him, reportedly hiding under a blanket in a house on Holshouser Road.
Ghent is now in the Rowan County Detention Center under a $430,000 bond. Charges include felony breaking and entering a motor vehicle, felony larceny, four counts of larceny of a vehicle, three counts of possession of a stolen vehicle, possession of stolen goods, three counts of resist, obstruct, delay, three counts of failure to appear in court, speeding, felony flee to elude arrest, three counts of driving with a license revoked, aggressive driving, and a turn signal equipment violation.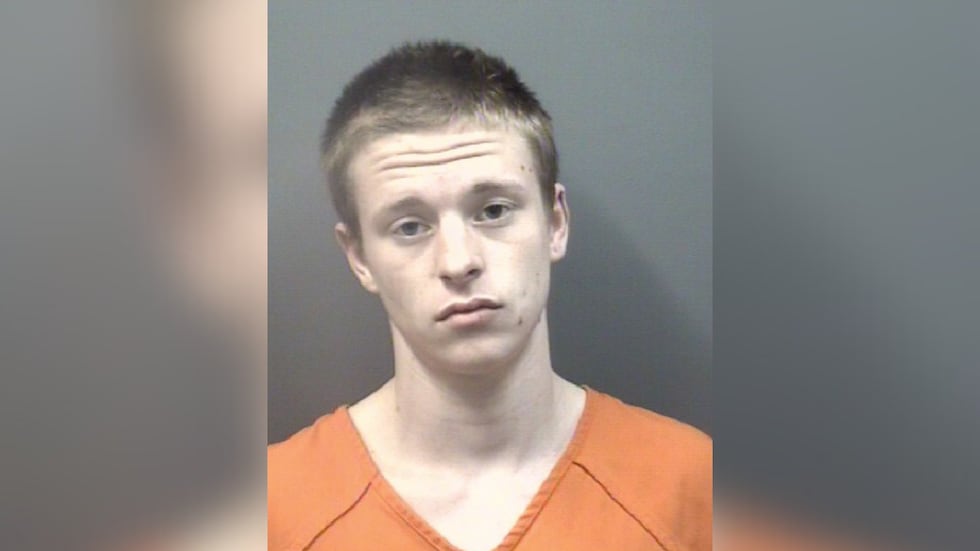 Sheriff Travis Allen said the apprehension began when his deputies received information from Chief Cody Trexler of the Rockwell Police Department.
"We sent our SOCAT Team out there. They searched the residence and found him hiding near a chair under a blanket," Allen said. "He had covered himself up; they found him hiding inside the house."
The Sheriff's Office Criminal Apprehension Team (SOCAT) is a street crimes unit that serves the citizens of Rowan County through community projects, street-level narcotic cases, fugitive apprehension/warrant services, gang identification and investigation.
Sheriff Allen also credited his patrol divisions for being on the lookout for Ghent constantly over the last two weeks.
"Squads have been vigilantly looking. I had a patrol squad last night, trying to set him up, trying to get a capture on him, so the whole office has been working towards it. We're thankful to Cody Trexler and the Rockwell Police Department for providing that good information," Allen said.
Ghent was wanted on several outstanding charges.
In one development, deputies arrested his mother Tiffany Ghent, 41, last Thursday morning and charged her with harboring a fugitive.
Tiffany Ghent is now out on a bond of $1000.
Related: Panic button on spare key leads woman to recovery of stolen SUV, arrest of suspect
Deputies say the latest events involving Ghent began on Nov. 1 when a deputy was in the area of U.S. Highway 52 and Gin Road. The deputy reportedly noticed a suspicious vehicle pulled onto a service road at the railroad tracks, with the driver's side door open.
When the deputy pulled in behind the vehicle to investigate further, the driver who appeared to be wearing a blue hoodie and ski mask pulled the door shut and began traveling down Gin Road. A license plate check revealed that the vehicle had been reported stolen out of East Spencer.
The driver pulled into the driveway at 280 George Brown Road and drove to the end of the driveway, where the driver got out of the vehicle with what appeared to be a rifle in his hands and then ran north towards the woods behind the house at 280 George Brown Road.
Witnesses confirmed that the driver of the vehicle was Ethan Bradley Ghent.
Deputies from the Rowan County Sheriff's Office, along with officers from Rockwell Police Department, Stanly County Sheriff's Office and the North Carolina State Highway Patrol assisted in the search for Ghent but he was not located.
On the following morning at approximately 9:24 a.m., the Rowan County Sheriff's Office received a call to respond to the same area at 730 Gin Road in reference to a vehicle that was stolen from that residence.
That victim stated that she had left the keys in the vehicle and that it had been taken sometime overnight. On Sunday, Nov. 5, 2023, the victim in this case observed her vehicle being operated in the area of Hutchens Street. She followed her vehicle until it pulled into a driveway on Faith Road.
Deputies arrived and found Zachary Scott Ghent standing by the stolen vehicle. Zachary Scott Ghent is the brother of Ethan Ghent. Ethan was not located at that time. However, Zachary Ghent was arrested and charged with possession of a stolen motor vehicle.
On Nov. 7, at approximately 8:45 p.m., deputies with the Rowan County Sheriff's Office responded to the area of Old Beatty Ford Road and Martha Jane Road in reference to a stolen vehicle, a 2011 Dodge Ram 2500 pickup, that had just been seen turning onto Martha Jane Road. The reporting person was the owner of the stolen vehicle. He had reported his vehicle stolen on Nov. 7.
Once deputies arrived on the scene along with officers from N.C. Highway Patrol, they began searching the area and located the Dodge pickup truck at the rear of Horse Whisperer Lane which runs parallel to Martha Jane Road. While there, they also located a 1988 GMC Sonoma which had also been reported stolen from Carter Loop Road on Nov. 6, 2023.
Deputies say because Ghent was seen in a stolen vehicle in this same area and due to the fact that three other vehicles were stolen from this same general area and around the same time frame, Ghent is considered a suspect in all of these cases.
It should also be noted that Ghent is from this area and known to frequent this area, investigators said.
"The whole office has been working toward this," Sheriff Allen added. "I think a lot of people in eastern Rowan County were watching their cars and their outbuildings and things at night. It's a good relief to get him put away."
Copyright 2023 WBTV. All rights reserved.