49ers earn automatic bid for 17th NCAA Tournament appearance; set to host High Point Thursday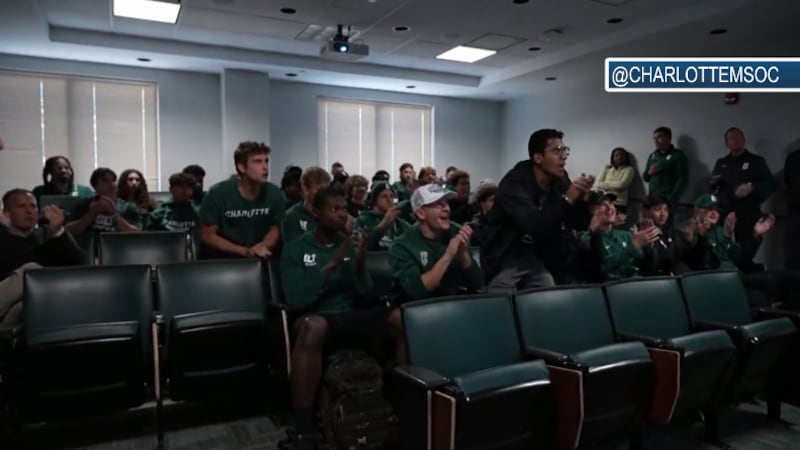 Published: Nov. 13, 2023 at 11:59 PM EST
Press release provided by Charlotte 49ers Athletics
CHARLOTTE, N.C. – After earning an automatic bid in the 2023 Division I NCAA Men's Soccer Championships, Charlotte Men's Soccer (12-3-1) will host High Point (10-3-5) in the First Round of the NCAA Tournament on Thursday, November 16 at Transamerica Field.
Charlotte makes its 17th overall NCAA Tournament appearance and 10th bid in 12 seasons under head coach Kevin Langan.
Tickets for Thursday's contest, priced at $10 for general admission and $7 for youth, are available for purchase at charlotte49ers.com. The winner of Charlotte versus High Point will go on the road to battle ACC champion and No. 8 overall seed Clemson (10-3-5) in the second round on Sunday, Nov. 19.
NCAA TOURNAMENT HISTORY
The Niners hold a 9-13-6 overall record in the National Tournament.
Charlotte's NCAA History features a pair of trips to the College Cup in both 1996 and 2011. In 2011, the 49ers made their best run at the final trophy, advancing all the way to the National Championship match, before falling, 1-0, to Chapel Hill in Hoover, Alabama.
ALL EYES ON THE AMERICAN
Four AAC teams earned a bid to the 2023 NCAA Tournament. SMU, FIU, and Memphis all earned at-large bids, alongside the conference champion and automatic qualifier Charlotte.
ACROSS THE NATION
The 49ers rank eighth nationally in win-lost-tied percentage (.781), 12th in goal differential (plus-21), 15th in goal against average (.760), and 18th in scoring offense (2.06).
ROAD TO THE COLLEGE CUP
The College Cup is made up of the last two rounds of the NCAA Division I tournament, consisting of two semifinals and one final to determine the ultimate national champion. The top four teams will make a trip to Louisville, Ky. to play in the College Cup at Lynn Family Stadium. The semifinals will be played on December 8, 2023 and the final will be played on December 11.
Copyright 2023 WBTV. All rights reserved.