First Alert: A few more showers before sunshine returns
Highs will be only in the 50s this week and a few degrees cooler for Sunday.
Published: Nov. 11, 2023 at 8:32 AM EST
|
Updated: Nov. 11, 2023 at 5:00 PM EST
CHARLOTTE, N.C. (WBTV) - After the passage of a cold front, temperatures have finally started to feel more November-like in the Carolinas. In addition to the cooler temperatures, we still have one more day of rain chances to deal with before sunshine returns.
• Sunday: Scattered showers, chilly
• Monday: Mostly sunny, dry
• Tuesday: Sun & clouds, pleasant
The balance of this weekend will remain cloudy, damp, and cool. Overnight, some occasional showers will be possible otherwise expect cloudy skies with lows in the 40s.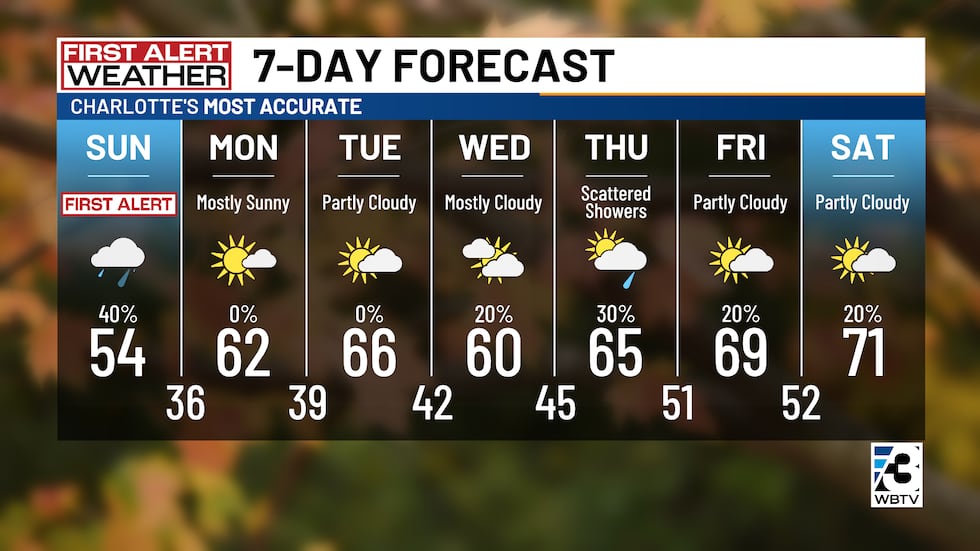 Sunday will start out chilly and wet but, in the afternoon, expect gradual clearing with highs in the 50s.
High pressure will build across the Carolinas on Monday and Tuesday. Monday and Tuesday look dry and pleasant with highs in the 60s. The chances for some isolated to widely scattered showers with return on Wednesday and Thursday; highs will climb into the low to mid-60s. A few isolated showers will be possible Friday morning otherwise expect partly cloudy skies with highs in the upper 60s and lower 70s.
Download the free WBTV Weather app on your mobile device, to receive weather alerts and get your latest WBTV weather forecast on the go. You can also get the latest weather forecast on Roku and Amazon Fire's WBTV app.
Have a wonderful weekend!
Elissia Wilson
Copyright 2023 WBTV. All rights reserved.