Salute to Veterans Parade returning to uptown Charlotte this weekend
The parade will begin at 11 a.m. on Saturday on North Tryon Street.
Published: Nov. 10, 2023 at 11:04 AM EST
CHARLOTTE, N.C. (WBTV) - An annual tradition will return to the streets of uptown Charlotte on Saturday when the 2023 Salute to Veterans Parade gets underway.
The parade is set to roll off at 11 a.m., beginning at North Tryon Street and 9th Street, and ending at South Tryon Street and Martin Luther King Jr. Boulevard.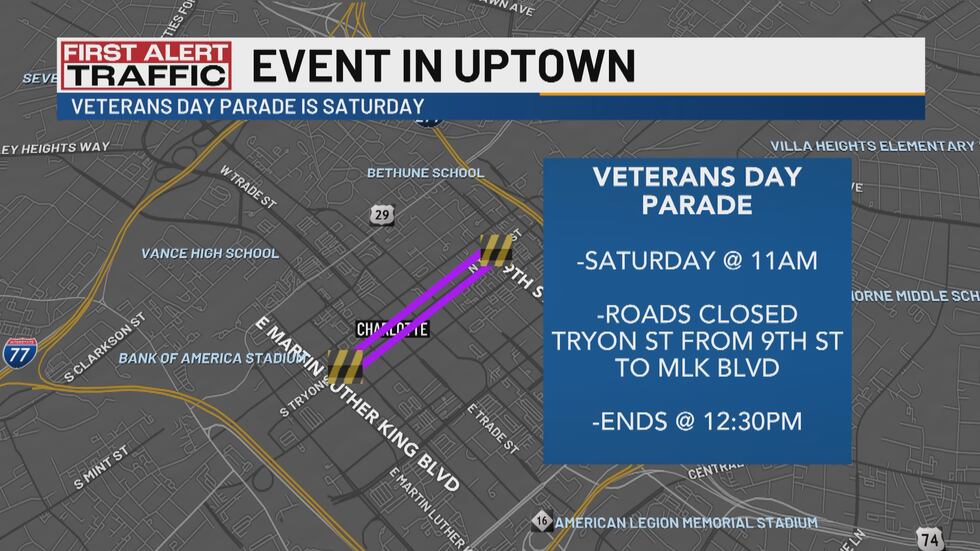 More than 2,000 people are slated to participate in the event put on by the Carolinas Freedom Foundation.
Participants include local bands, pipe/drum/bugle corps, JROTC, active military and first-responder units, motorcycles and classic cars, veteran organizations and more.
Roads in the area will be blocked off during the parade, but are expected to reopen around 12:30 p.m.
For more information about the parade, click here.
Related: Digital project designed to honor, remember U.S. war veterans
Watch continuous news coverage here:
Copyright 2023 WBTV. All rights reserved.