First Alert: From record warmth to the 50s
Weekend cool-down and rain chances ahead!
Published: Nov. 9, 2023 at 5:29 AM EST
|
Updated: Nov. 9, 2023 at 10:44 PM EST
CHARLOTTE, N.C. (WBTV) - A cold front will bring an end to the unseasonably warm weather that we have had over the past several days. Along with the cooler temperatures, we can expect some rain to move through our area this weekend.
Friday: Clouds, cooler, spotty showers
Weekend: Chilly with rain on Sunday
Drought Update: Severe drought has expanded as far east as the I-77 corridor
Temperatures will drop nearly 20 degrees by tomorrow afternoon! A cold front will track across our area; hence the temperatures drop. This will increase the cloud cover allow for the return of spotty showers. Now, these showers will be light. We're only talking about less than .10″ of accumulation.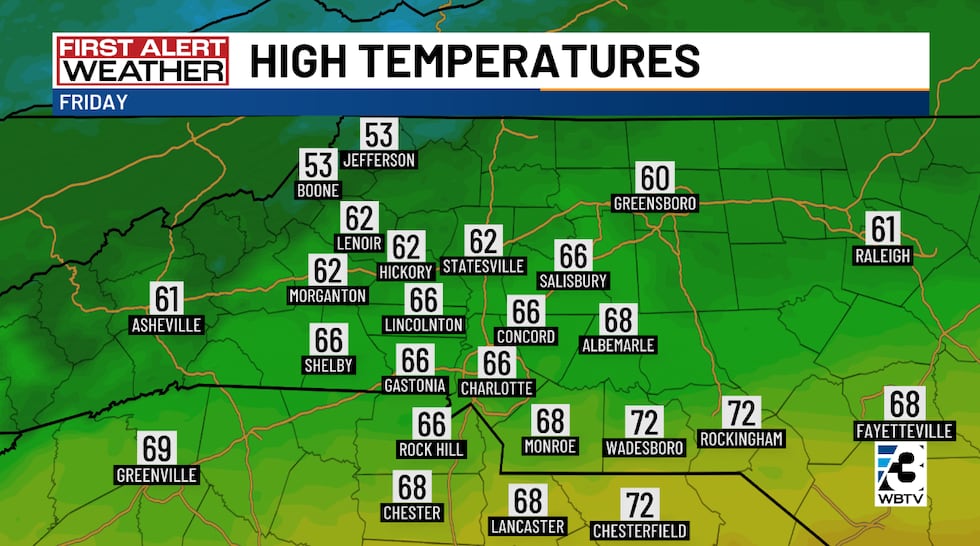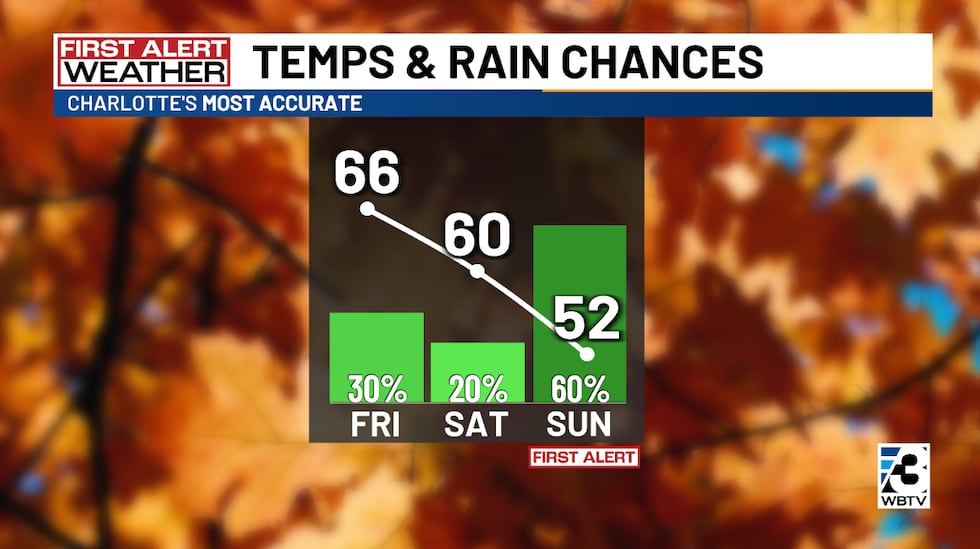 Rain chances will be very isolated on Saturday. Our southern counties could see a few sprinkles but most of the rain will remain south of the viewing area.
Sunday will be a First Alert day! Rain chances are looking more promising, and accumulation could be more significant. Unfortunately, this accumulation won't make a dent in our lasted drought - but anything will help! rain totals could range between .10-.30″.
We need about 3-6″ of rain accumulation to make any kind of improvement! Here is a look at the latest drought monitor that was issued Thursday morning:
Temperatures will be chilly too. Highs will only peak in the lower 50s. If you think about it, lately our overnight lows have been warmer than that!
By next week, we'll have more sunshine along with highs in the 60s.
Download the free WBTV Weather app on your mobile device, to receive weather alerts and get your latest WBTV weather forecast on the go. You can also get the latest weather forecast on Roku and Amazon Fire's WBTV app.
Have a good one!
-Meteorologist Lisa Villegas
Copyright 2023 WBTV. All rights reserved.