Filipowski leads the way as No. 2 Duke opens the season by beating Dartmouth 92-54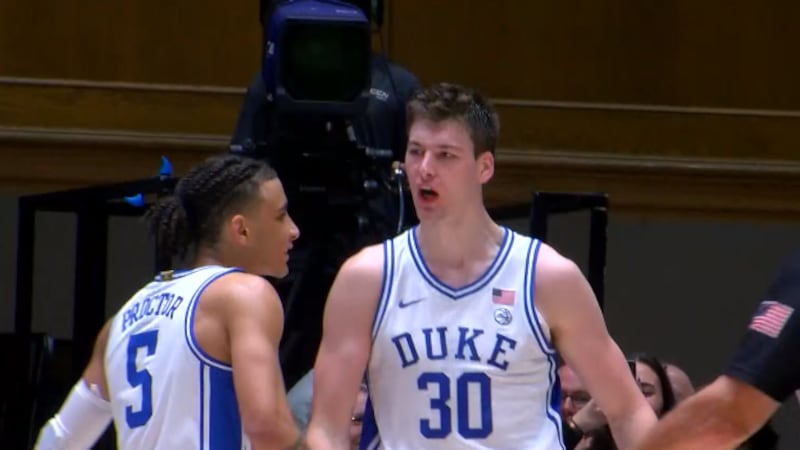 Published: Nov. 7, 2023 at 1:12 AM EST
DURHAM, N.C. (AP) — Second-ranked Duke was already up big when Kyle Filipowski saw a teammate rip down an offensive rebound, immediately cut into the paint for the feed and flushed a two-handed dunk.
Then he paused to blow a two-handed kiss to the baseline TV camera pointed his way under the basket.
"It was a little blow-a-kiss-to-the-fans for the start of a new college hoops season," Filipowski said. "Just wanted to have some fun."
The preseason Associated Press All-American opened the season with a flurry, scoring 25 points to lead the Blue Devils past Dartmouth 92-54 on Monday night to start Year 2 under Jon Scheyer.
Freshman Caleb Foster added 15 points for the Blue Devils (1-0), who shot 64.4% and had doubled up the Big Green by halftime (42-21). The preseason Atlantic Coast Conference favorite won its 23rd straight season opener despite playing without returning wing starter Mark Mitchell due to a lower-body injury.
Duke took over midway through the first half, making 11 of 14 shots through the final 10 minutes to stretch out a lead. That included a run of six scores in seven possessions, starting with Filipowski and Ryan Young inside and followed by against-the-zone 3s from Foster, Tyrese Proctor and then the 7-foot Filipowski.
"I think we look really good when we share the ball," point guard Tyrese Proctor said. "When we share the ball and everyone's getting a touch, it goes from one side of the floor to another. That's what Scheyer's been emphasizing. We move the ball, we get paint touches, we get wide open shots."
Duke made 32 of 44 shots (72.7%) after the opening 9 1/2 minutes.
Filipowski went 10 for 12 from the field. Jeremy Roach added 14 points, while Proctor had eight assists.
Dusan Neskovic scored 23 points for the Big Green (0-1), but the rest of his team combined to make 8 of 37 shots (21.6%). Dartmouth has lost 44 straight to ranked opponents and fell to 3-55 in those games all-time.
"We're a team that's not there yet," Dartmouth coach David McLaughlin said. "We're trying to figure out who we are, and we will. We're maybe 10 minutes now at the level we want to play against a team like this. We need to continue to bump that up as the games go along."
BIG PICTURE
Dartmouth: Seven of the top nine scorers are back from a 10-18 team for the Big Green, picked seventh in the eight-team Ivy League this year. Dartmouth hung around for the first 10 minutes but withered amid Duke's decisive burst and couldn't secure its first win against a ranked opponent since 1956.
Duke: The Blue Devils haven't lost an opener since an 0-2 start in the 1999-2000 season and were coming off a 16-0 record at Cameron Indoor Stadium in Scheyer's debut season as successor to retired Hall of Famer Mike Krzyzewski.
UP NEXT
Dartmouth: UMass Lowell visits the Big Green on Friday night.
Duke: The Blue Devils host No. 12 Arizona on Friday night. That includes a reunion with Wildcats guard Caleb Love, a transfer from Blue Devils rival North Carolina.
(Copyright 2023 The Associated Press. All rights reserved. This material may not be published, broadcast, rewritten or redistributed.)