First Alert: Record warmth likely mid-week
Back to the 50s and 60s by this weekend
Published: Nov. 7, 2023 at 8:06 AM EST
|
Updated: Nov. 7, 2023 at 11:42 PM EST
CHARLOTTE, N.C. (WBTV) - No shortage of warmth and sunshine for the middle of this week, big changes arrive as we approach Veteran's Day!
Mid-week: Record-challenging warmth
Rain outlook: Scattered showers Friday and this weekend
Weekend: Below-normal temperatures return
Temperatures will rise into the lower 80s tomorrow under sunny skies. It'll be a First Alert day as we get ready for the likelihood of record-breaking heat.
A cold front will impact our area on Friday. This will drop temperatures, increase the cloud cover, and produce spotty showers.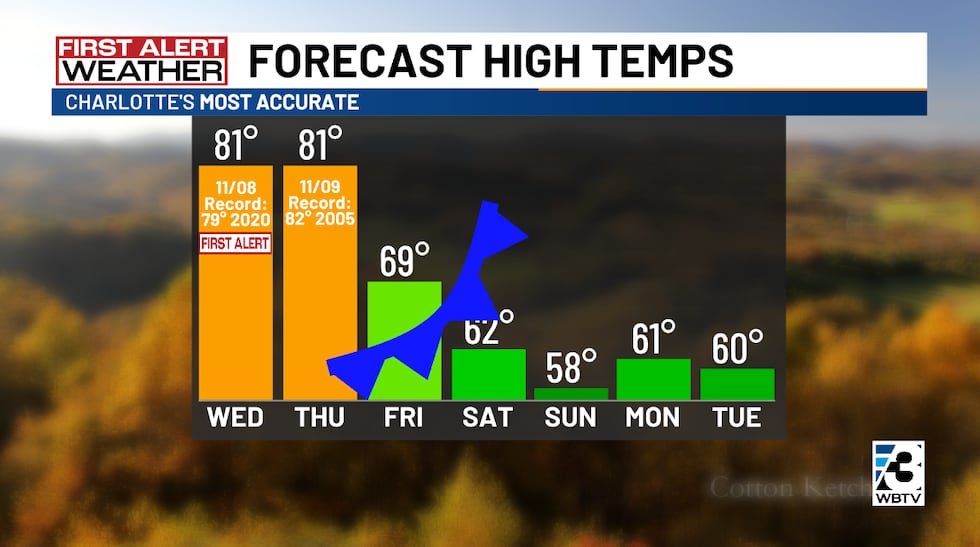 We're talking a 12 degree temperature drop as we roll into Friday. These numbers will continue to fall into the weekend too.
Rain chances will be spotty as we track the cold front. Keep it here for the latest updates!
Download the free WBTV Weather app on your mobile device, to receive weather alerts and get your latest WBTV weather forecast on the go. You can also get the latest weather forecast on Roku and Amazon Fire's WBTV app.
Have a good one!
- Meteorologist Lisa Villegas
Copyright 2023 WBTV. All rights reserved.