Bacot's big game leads No. 19 North Carolina past Radford 86-70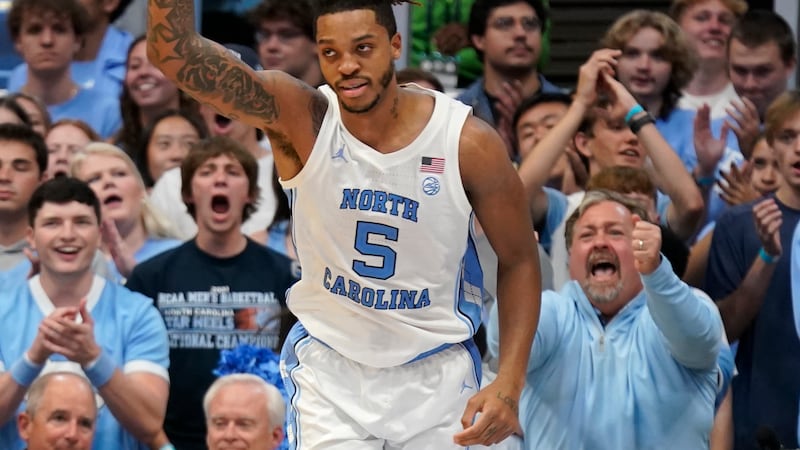 Published: Nov. 7, 2023 at 1:04 AM EST
CHAPEL HILL, N.C. (AP) — Armando Bacot has turned in plenty of big games for North Carolina, but nothing quite like this in a season opener.
Bacot scored 25 points and grabbed 13 rebounds in the best opener of his career, helping No. 19 North Carolina to an 86-70 win over Radford on Monday night.
"This is my year and it's our year," Bacot said. "I knew I had to go out and play hard and really set the tone because it really starts with me."
Bacot, a preseason All-American beginning his fifth season, scored 13 first-half points. His 25 points in an opener beat the 16 points he had last year against UNC Wilmington.
RJ Davis and Cormac Ryan both scored 13 points, and Harrison Ingram had 12 points for the Tar Heels.
North Carolina won its 19th straight season opener.
The Tar Heels had transfers Ingram (Stanford), Ryan (Notre Dame) and Paxson Wojcik (Brown) in the starting lineup. North Carolina is seeking a fresh start after last season began with a No. 1 national ranking and ended without a berth in the postseason except the Atlantic Coast Conference tournament.
Getting the ball to the 6-foot-11 Bacot makes sense in that quest.
"This game, especially, they did a great job of getting it to me early," Bacot said. "That could open everything else for everybody."
The Highlanders didn't have an answer in the low post.
"We thought that would be an issue," Radford coach Darris Nichols said. "He's a load."
DaQuan Smith and Kenyon Giles both scored 18 points for Radford, which was seeking its second victory against a ranked team in program history. Bryan Antoine added 13 points.
Ryan's 3-pointer from the corner in front of the North Carolina bench pushed the margin to 74-61, finally giving the Tar Heels some separation after Radford hung around and made some of the home fans uncomfortable.
"I think guys ran out of gas," Nichols said.
Wojcik had a notable first game day with his new team. He ran into a Bacot elbow in a morning shootaround, resulting in 10 forehead stitches. He wore a headband to cover the wound.
By game time he "was prepared for anything" Wojcik said.
North Carolina rattled off the last eight points of the first half for a 46-41 lead. Radford missed four straight shots and committed a turnover before the break.
"Being able to get a couple of stops in a row is a big thing," Ryan said.
North Carolina scored on its first seven possessions. Radford climbed back and it was 20-20 with less than 11 minutes to play in the half. The Highlanders later led 29-26.
Smith scored 12 points as Radford held a 35-32 edge.
BIG PICTURE
Radford: The Highlanders had spurts offense that allowed them to keep it close deep into the second half. They didn't have the means to shut off the interior. "The amount of time we were in the game. How do you sustain that?" Nichols said. "(I saw) how much better we've gotten since our exhibition game and how much better we can be over the course of a season."
North Carolina: The Tar Heels demonstrated the ability to get the ball inside, with some strong passing from the perimeter setting up easy shots. Ryan is a perimeter threat, accounting for three of the team's seven 3-point baskets.
UP NEXT
Radford: Friday night vs. Marshall in a neutral-site game at White Sulphur Springs, West Virginia.
North Carolina: Sunday vs. Lehigh.
(Copyright 2023 The Associated Press. All rights reserved. This material may not be published, broadcast, rewritten or redistributed.)