Mid-week warm up on the way!
Next cold front brings quick chance for rain and cooler temperatures by Veteran's Day Weekend.
Published: Nov. 6, 2023 at 5:23 AM EST
|
Updated: Nov. 6, 2023 at 5:07 PM EST
CHARLOTTE, N.C. (WBTV) - Highs in the low 80s this week will challenge records once again.
Mid-Week: Record-challenging warmth
Friday-Weekend: Next cold front, brings rain and cooler temperatures
Wildfire Risk: Severe drought prompting burn bans
With high pressure in control for the start of our work and school week, dry and sunny conditions will be around for the next few days! Highs will lift into the upper 70s and low 80s through Thursday.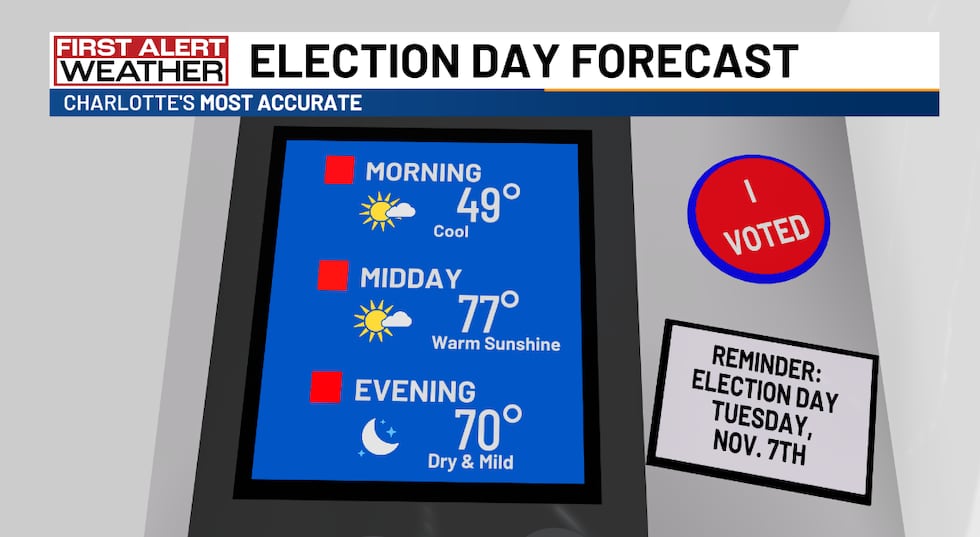 With a high temperature forecast of 81-degrees at the Charlotte-Douglas International Airport on Wednesday, a record high will be likely as the previous record, set back in 2020, was 79-degrees.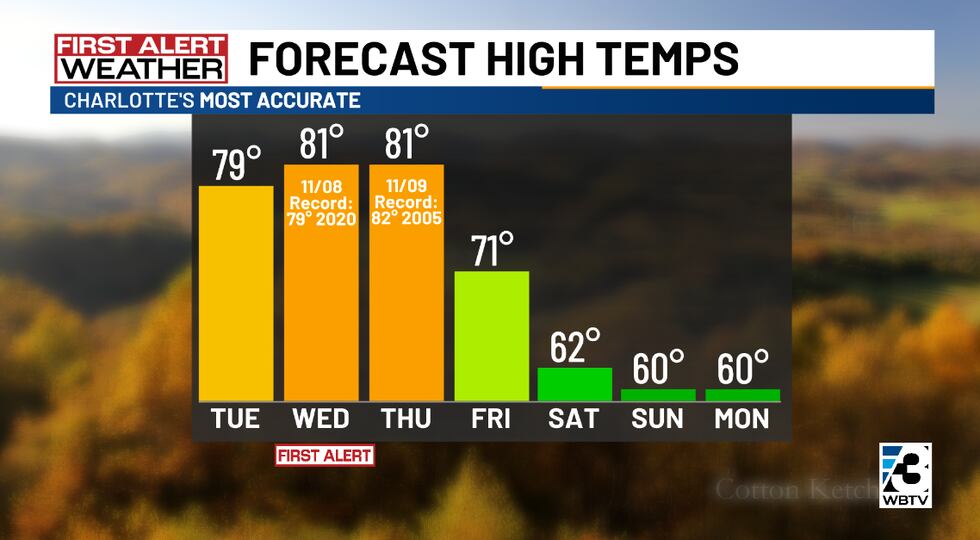 Morning lows will also gradually warm from the upper 40s, Tuesday morning, to the upper 50s by Friday morning. Our next cold front moves through Friday into Saturday and will bring us our next chance for much needed rainfall.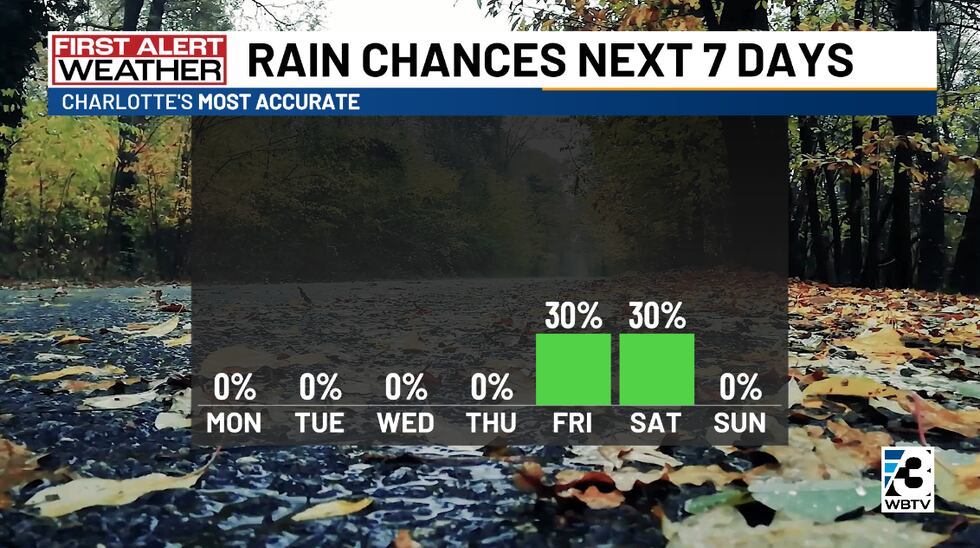 Behind that front, however, we'll be much cooler! Highs will only top out in the low 60s this weekend and morning lows will drop to the 40-degree mark by Sunday morning.
Due to our ongoing severe drought in parts of the Carolinas, burn bans have been issued as our wildfire risk grows. Avoid open burning in Burke, Cleveland, and Gaston Counties until further notice!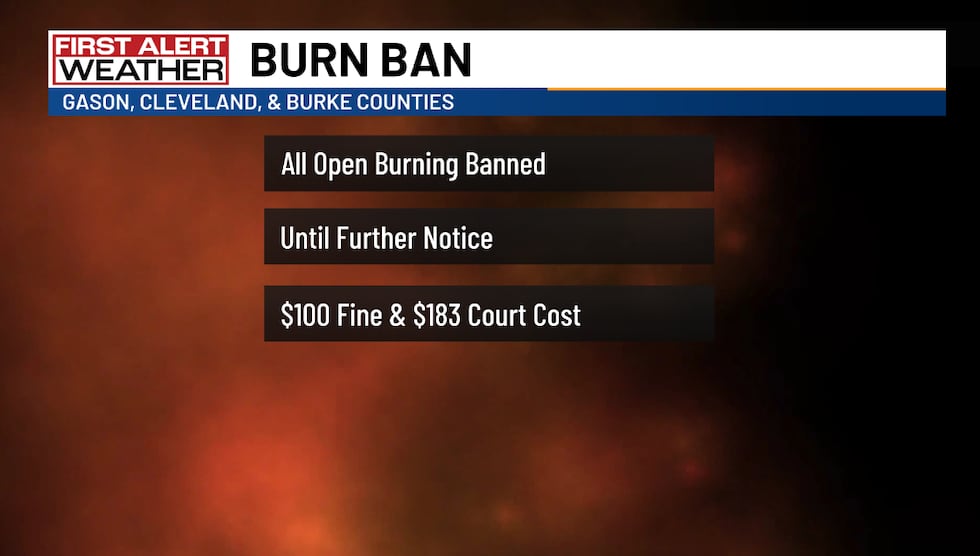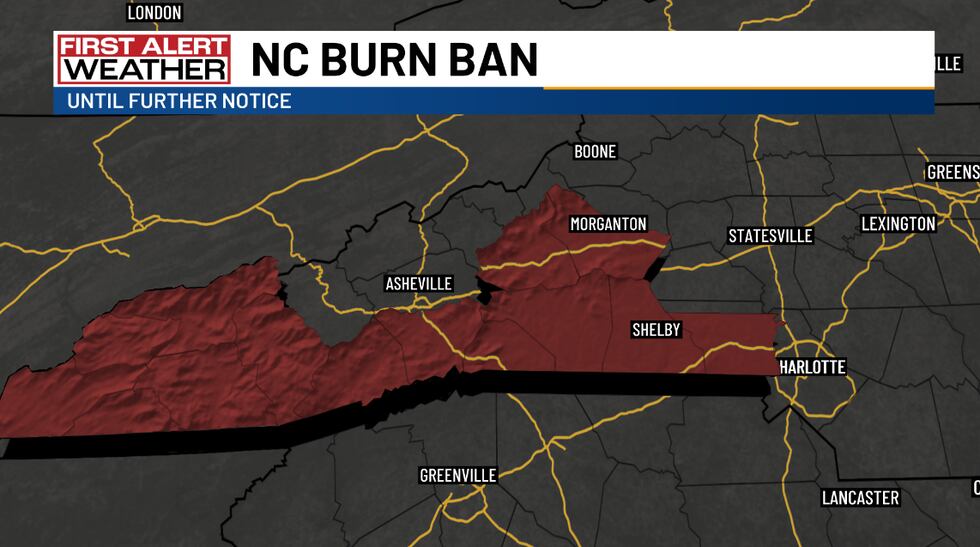 Stay tuned for frequent forecast updates!
Download the free WBTV Weather app on your mobile device, to receive weather alerts and get your latest WBTV weather forecast on the go. You can also get the latest weather forecast on Roku and Amazon Fire's WBTV app.
Hope you have a great week!
- Meteorologist Rachel Coulter
Copyright 2023 WBTV. All rights reserved.