Gorgeous weather continues into the new week as temperatures stay warm
The start of the new week will be beautiful, with potentially record-breaking temperatures midweek.
Published: Nov. 5, 2023 at 10:17 AM EST
|
Updated: Nov. 5, 2023 at 9:40 PM EST
CHARLOTTE, N.C. (WBTV) - High pressure will continue to build across the southeast and allow temperatures to become unseasonably warm for this week.
• Monday: Sunny, warm
• Tuesday: Mostly sunny, pleasant
• Wednesday: Mostly sunny, warmer
Tomorrow will be mild and dry with highs in the lower 70s. The clear and dry conditions will continue into the start of the work week, allowing for some chilly mornings and mild afternoons. Tonight, will be clear and cool with lows in the 40s.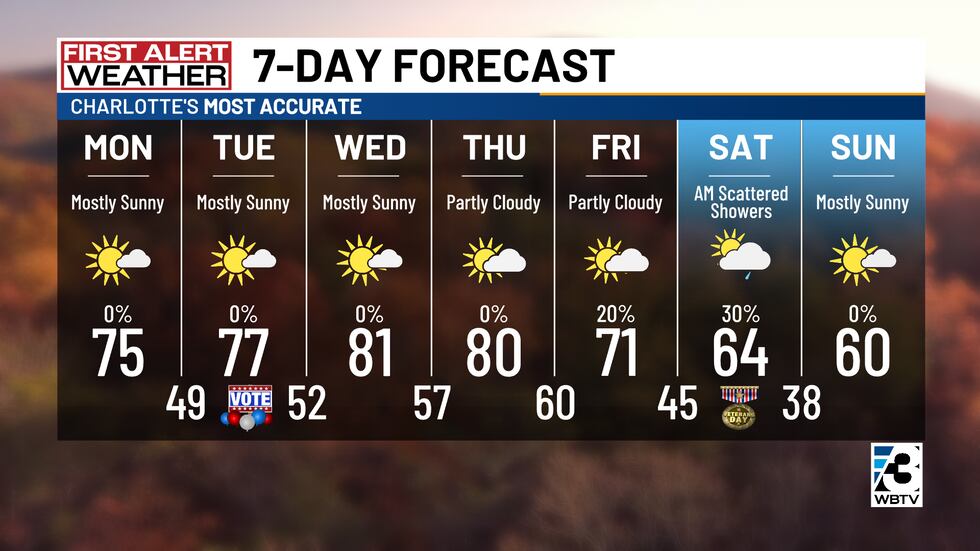 Tuesday will also be mild and dry with highs in the lower 70s. More warmth can be expected Wednesday and Thursday with highs in the lower 80s. Friday into next Saturday some isolated to widely scattered showers will be possible otherwise expect mostly cloudy skies with highs in the 60s and 70s. Next Sunday looks mostly sunny and cooler with highs in the lower 60s.
Download the free WBTV Weather app on your mobile device, to receive weather alerts and get your latest WBTV weather forecast on the go. You can also get the latest weather forecast on Roku and Amazon Fire's WBTV app.
Have a great day!
Elissia Wilson
Copyright 2023 WBTV. All rights reserved.