First Alert Weather Day: Widespread freeze likely Thursday morning
Freeze Warning in place for most of the area early Thursday
Published: Nov. 1, 2023 at 4:54 AM EDT
|
Updated: Nov. 1, 2023 at 10:44 PM EDT
CHARLOTTE, N.C. (WBTV) - Temperatures gradually warm from there! We're back to the 70s by this weekend.
Thursday: Widespread freeze to start, 50s by the afternoon
Friday: Freezing start, warmer afternoon
Weekend: Back to the 70s for highs
Temperatures continue to plummet at this hour! Most locations will wake up to temperatures below freezing as the wind speeds relax and clear skies prevail.
A Freeze Warning will go into effect from midnight-10 am Thursday. Air temperatures could drop as low as 26 degrees tomorrow morning. Here is a look at the warning: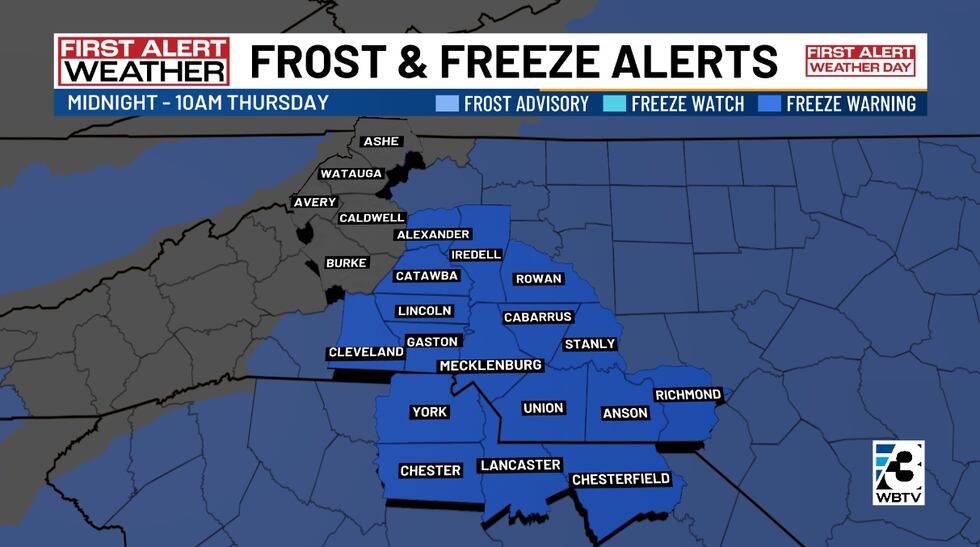 Bundle-up and take your freezing precautions right now if you haven't done so already.
As the First Alert Weather Day expires around 10am, we'll be left with sunshine and highs in the upper-50s. This trend, a gradual warm-up, will continue through the week.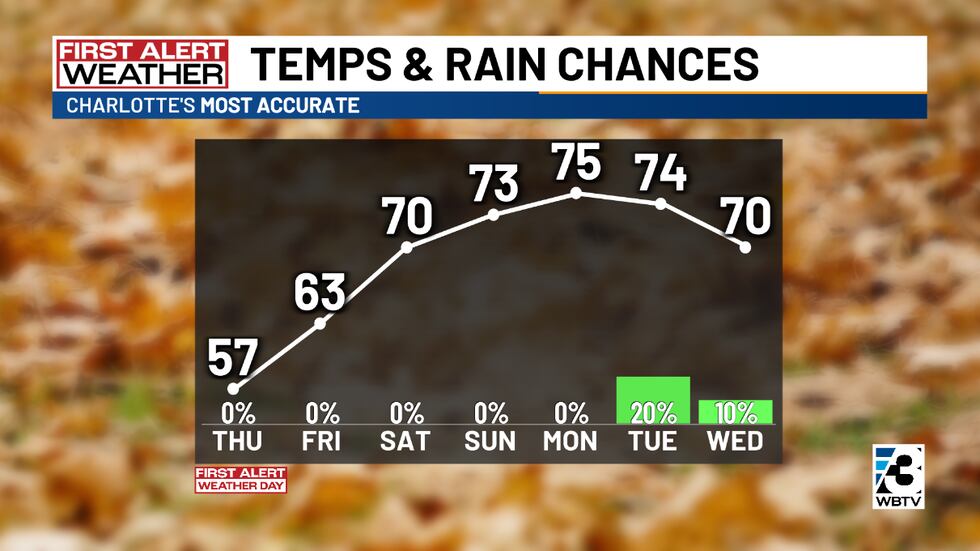 Expect sunny skies and highs in the 70s by this weekend! We have a slight chance of an isolated shower by the end of the 7-day forecast but, unfortunately, model guidance is looking less promising. We'll keep a close eye on that in the next few days!
Download the free WBTV Weather app on your mobile device, to receive weather alerts and get your latest WBTV weather forecast on the go. You can also get the latest weather forecast on Roku and Amazon Fire's WBTV app.
Have a good one!
-Meteorologist Lisa Villegas
Copyright 2023 WBTV. All rights reserved.