First Alert Weather Day: Freeze Warning in effect overnight
Highs only to rebound into the 50s through Thursday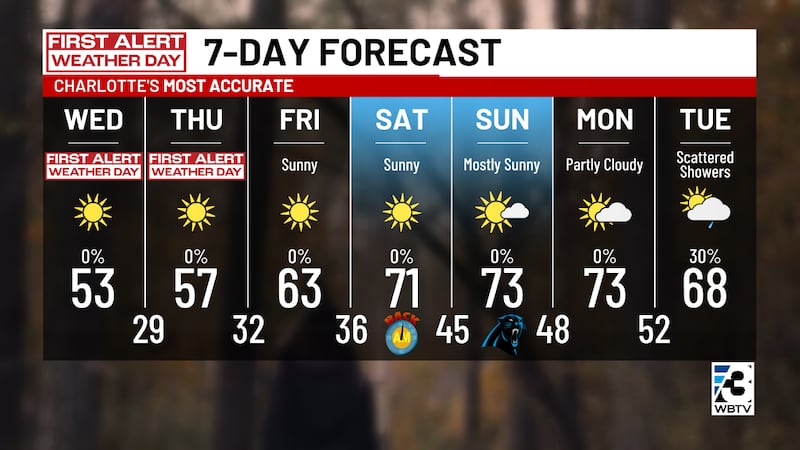 Published: Oct. 31, 2023 at 5:17 AM EDT
|
Updated: Oct. 31, 2023 at 10:28 PM EDT
CHARLOTTE, N.C. (WBTV) - A First Alert Weather Day is in place for our Wednesday and Thursday morning commutes ahead of the first true freeze of the season!
Wednesday: Freeze Warning to start, low 50s by the afternoon
Thursday: Likely below freezing in the morning hours
Weekend: Gradually warming back into the low 70s; lots of sunshine
We're getting ready for a winter smackdown! A First Alert Weather Day is in place as temperatures continue to tank tonight.
A *Freeze Warning* is in effect (Midnight - 10am Wednesday) for most locations. Temperatures will get close to that 32 degree mark! Take those freezing precautions if you haven't already.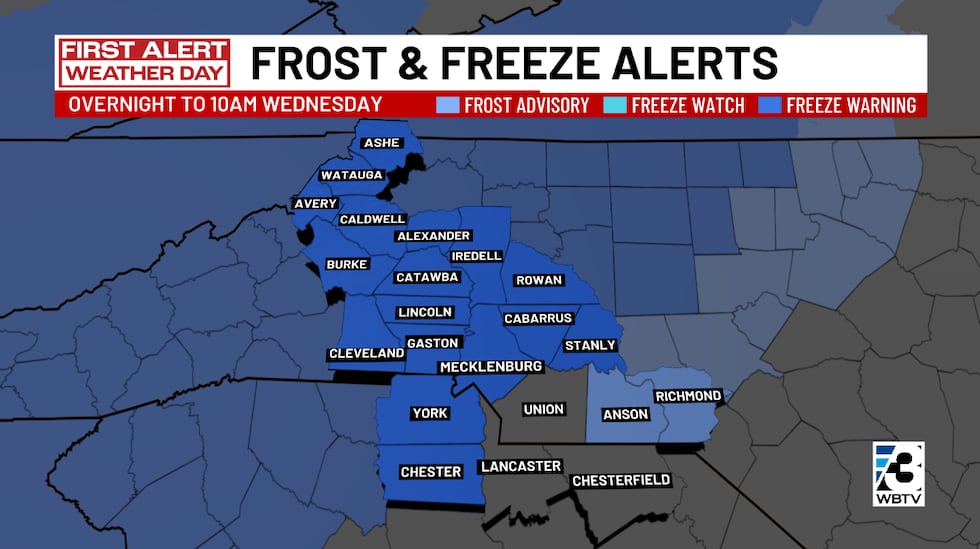 Now, on top of air temperatures falling, it'll FEEL even colder! This is because the wind speeds will increase overnight making it feel like temperatures are in the 20s tomorrow morning.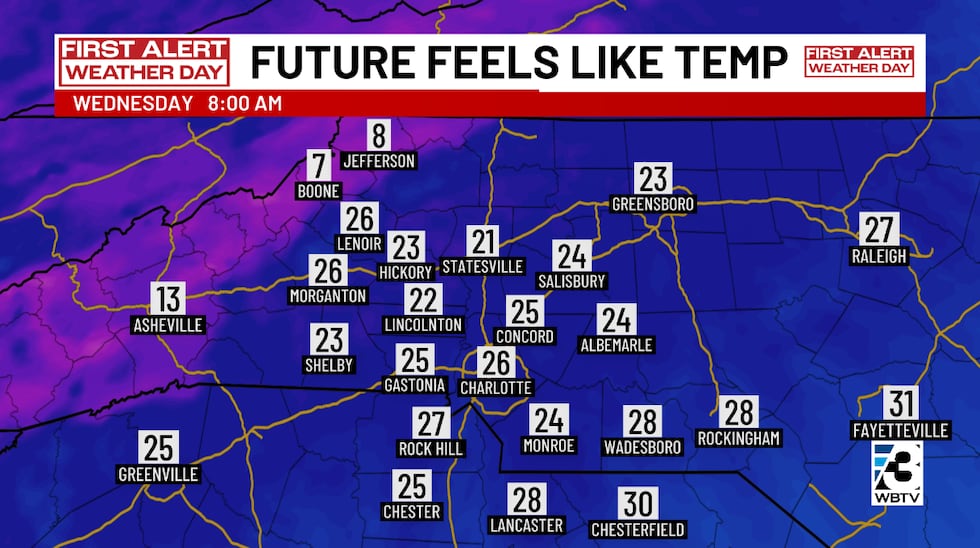 Air temperatures will rise out of the 30s by the late morning. Expect highs in the lower 50s tomorrow afternoon under sunny skies.
Another First Alert Weather Day will be issued for Thursday morning. Clear skies and calmer winds will allow for air temperatures to likely drop below freezing!
We'll slowly make our way back into the 70s by the weekend.
Download the free WBTV Weather app on your mobile device, to receive weather alerts and get your latest WBTV weather forecast on the go. You can also get the latest weather forecast on Roku and Amazon Fire's WBTV app.
Have a good one!
- Meteorologist Lisa Villegas
Copyright 2023 WBTV. All rights reserved.