Summer-like warmth stays around for a couple of more days
Halloween looks chilly and wet.
Published: Oct. 28, 2023 at 10:58 AM EDT
|
Updated: Oct. 29, 2023 at 8:52 AM EDT
CHARLOTTE, N.C. (WBTV) - The summer-like warmth will stick around for the remainder of the weekend. We are still on track to get a significant cool down along with some chances for rain early next week.
• Sunday: Mostly sunny, warm
• Monday: Mostly sunny, warm
• Tuesday: Showers at times, turning cooler.
Warm and dry conditions will carry us into the second half of the weekend. Overnight, expect mostly clear skies with lows in the 50s. Sunday will be another beautiful day with highs in the low to mid-80s. Monday will be our last unseasonably warm day before a strong cold front moves through the area, dropping temperatures by at least 20 degrees. Monday looks mostly sunny with highs in the 80s.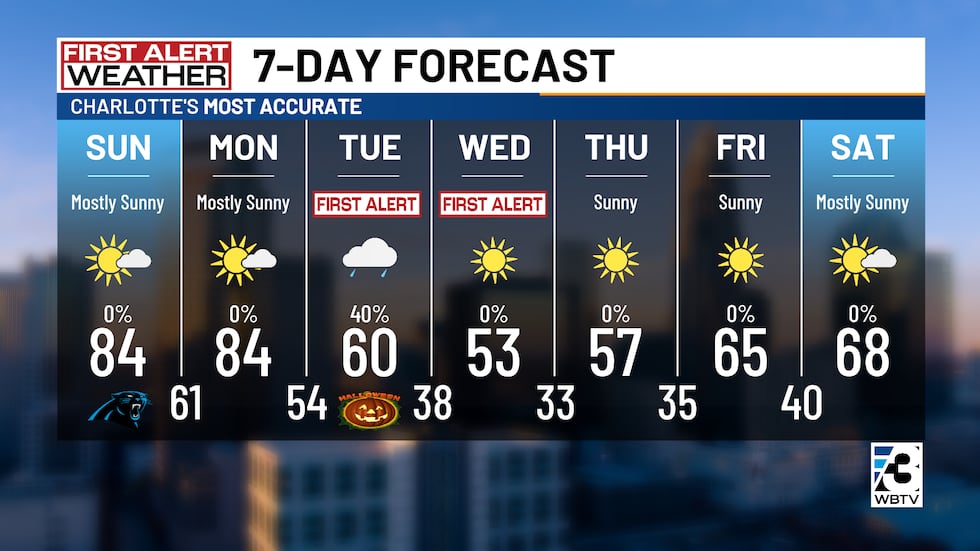 As the cold front moves through the Carolinas on Tuesday, the chances for showers will increase. On Tuesday expect occasional showers along with some gusty winds up to 30 mph at times. Tuesday's highs will only climb into the 50s and 60s. Wednesday and Thursday will be sunny but cold with highs in the 50s. Friday looks sunny and pleasant with highs in the low to mid-60s.
Download the free WBTV Weather app on your mobile device, to receive weather alerts and get your latest WBTV weather forecast on the go. You can also get the latest weather forecast on Roku and Amazon Fire's WBTV app.
Have a wonderful weekend!
Elissia Wilson
Copyright 2023 WBTV. All rights reserved.