One last day in the 80s before the big chill
Freezing temperatures possible Wednesday & Thursday night.
Published: Oct. 26, 2023 at 5:35 AM EDT
|
Updated: Oct. 29, 2023 at 5:34 PM EDT
CHARLOTTE, N.C. (WBTV) - Get ready for a cold blast of air to head our way this week! Monday will be our last day in the 80s before we get into more of a cool and dry weather pattern in the Carolinas.
• Monday: Mostly sunny, warm
• Tuesday: Showers at times, turning colder
• Wednesday: Mostly sunny, breezy, and cold.
As a strong cold front continues to move towards the southeast, we will quickly see our days of summer-like warmth coming to an end. Expect clear and mild conditions for tonight with lows in the 50s and 60s. Tomorrow will be another beautiful, warm day with near-record highs again in the low to mid-80s.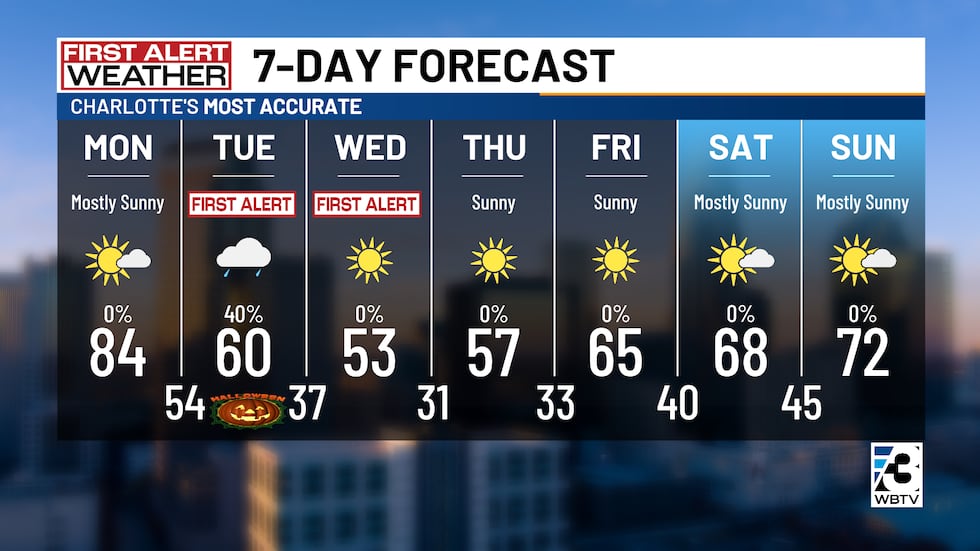 A few isolated showers will be possible Monday night, but most of the showers can be expected on Tuesday as the cold front pushes east. Tuesday will be cloudy, breezy and colder with showers at times; temperatures will fall from the 60s in the morning into the 50s by the afternoon. Wednesday and Thursday will be sunny but cold with highs in the 50s. During both Wednesday night and Thursday night, we will likely get our first freezing temperatures of the season with lows in the upper 20s and lower 30s. Friday into next weekend still looks dry. With the dry conditions, temperatures will gradually warm back up into the 60s and 70s under mostly sunny skies.
Download the free WBTV Weather app on your mobile device, to receive weather alerts and get your latest WBTV weather forecast on the go. You can also get the latest weather forecast on Roku and Amazon Fire's WBTV app.
Have a great day!
Elissia Wilson
Copyright 2023 WBTV. All rights reserved.