Snow in Charlotte this winter? We'll have to wait and see
Following what has been a very dry autumn, the winter will likely bring a shift back to wetter weather.
Published: Oct. 25, 2023 at 9:55 AM EDT
CHARLOTTE, N.C. (WBTV) - For the first time in recorded history, dating all the way back to 1878, Charlotte received not a single flake of snow last year!
For those who love snow, last winter was a real drag! As a point of reference, over the past 30 years, the Queen City has averaged five inches of snow, spread out over the winter season. But that's a value that has steadily declined over time.
So, after a snow-less winter last year, this season has to be better, right? Well, maybe…
Following what has thus far been a very dry autumn, the winter season will likely bring a shift back to wetter weather.
El Nino, a pattern of warmer-than-normal sea water in the Pacific Equatorial region, has been building for several months. That's important, because weather does not stop at the border. What happens off Peru has an impact in the Carolinas, the United States, Europe and beyond.
In active El Nino patterns, typically a parade of storms crashes along the U.S west coast, prompting heavier rounds of rain in California that spread east along the Gulf coast and then up into the Carolinas.
The most recent long-range outlook calls for a 30% chance for wetter-than-normal precipitation across the Carolinas. WBTV meteorologists feel confident that we'll at least experience normal precipitation, with the least likely scenario bringing us drier-than-normal conditions.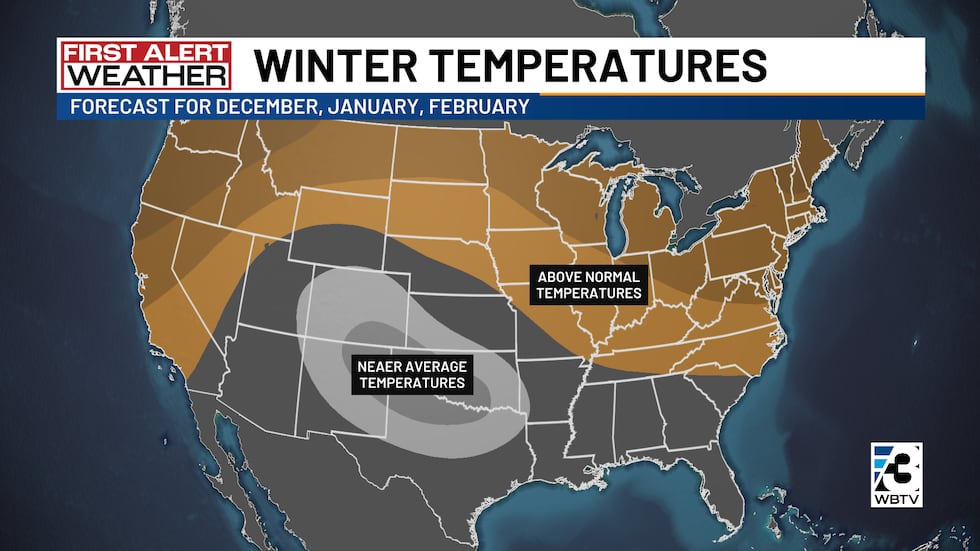 But precipitation doesn't necessarily mean snow. In fact, most of the time, regardless of the season, it means rain here.
For ice and snow, we need cold air and right now, that could be a limiting factor in us getting a lot of winter weather.
The long-range forecast mirrors what is typical for a strong El Nino-type winter season. Roughly speaking, a strong El Nino usually equates to a warmer-than-average winter in the Carolinas.
As it stands right now, there's about a 35% probability of above-normal temperatures for the WBTV area. The signal for warmer-than-average air is not nearly as strong as the above-normal precipitation signal, so snow lovers should not lose hope.
All it takes is for one storm system bouncing along the Gulf Coast to get drawn northward and link up with an arctic blast to create a potential winter wonderland!
As we say in the weather business, stay tuned!
- Chief Meteorologist Al Conklin
Copyright 2023 WBTV. All rights reserved.