Country music star, SC native Darius Rucker honored with humanitarian award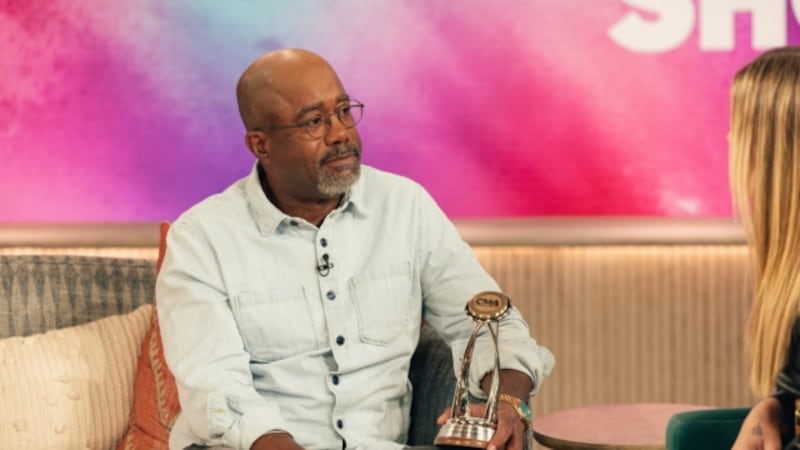 Published: Oct. 25, 2023 at 11:55 AM EDT
NASHVILLE, Tenn. (WMBF) – South Carolina's favorite son received a huge honor for his work when it comes to helping others.
The Country Music Association awarded country music star and South Carolina native Darius Rucker with the CMA Foundation Humanitarian Award.
He was surprised with the award on Monday while he was a guest on the Kelly Clarkson show.
The award recognizes a person who has served as a humanitarian through community leadership, financial support, personal volunteerism and advocacy.
When accepting the award, Rucker said his mother was the one who inspired his passion for giving back.
"When I was a kid, she instilled in us that you help people—not people that are less fortunate; you help people that need help," Rucker shared. "We grew up in a really poor neighborhood with not much and, you know, there was no reason for me to believe that I was gonna be here and make it. But she always instilled in me 'believe in yourself, you can do whatever you want.'"
One of the ways that Rucker gives back to the community is through his Monday after the Masters charity event in Myrtle Beach. It has generated millions of dollars for children's educational programs and the South Carolina junior golf program, according to the event's website.
Rucker has also co-chaired the capital campaign that generated $150 million to help build the new MUSC Shawn Jenkins Children's Hospital in Charleston. It's another effort directly inspired by his mother who was an MUSC nurse.
Copyright 2023 WMBF. All rights reserved.